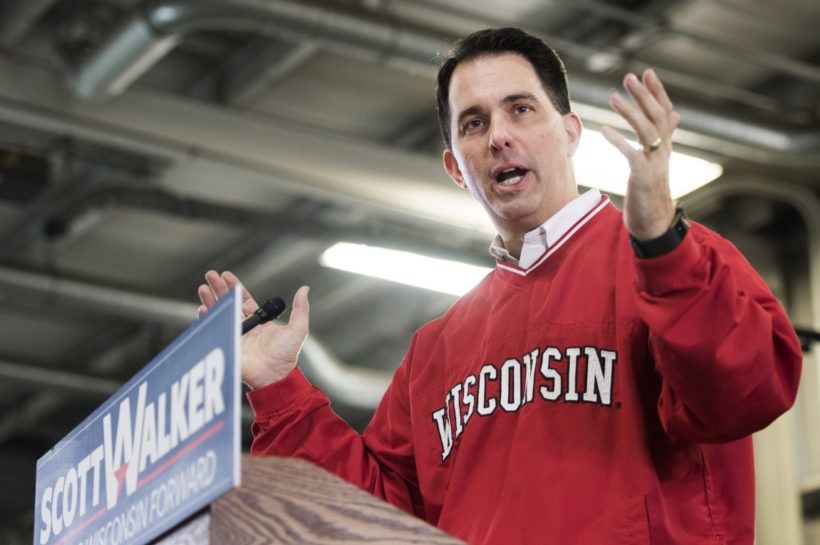 redo Jump to...
print Print...
(by Scott Bauer, Associated Press at StarTribune.com) MADISON, Wis. — Republican Gov. Scott Walker moved ahead Monday with his plans to make Wisconsin the first state to drug test able-bodied adults applying for food stamps, a move blocked by the federal government or found to be unconstitutional when other states have tried.
Wisconsin's plan was approved by the Republican-controlled Legislature more than two years ago, but it languished because it conflicts with federal rules prohibiting states from imposing additional eligibility criteria on food stamp recipients.
Florida had a drug test requirement for food stamp recipients that a federal appeals court blocked in 2014, finding it violated constitutional protections against unreasonable searches. Walker filed a federal lawsuit in 2015 seeking approval to test food stamp applicants, but it was rejected because then-President Barack Obama's administration had not yet formally rejected the state's request to do the testing.
Walker asked then-President elect Donald Trump's administration in December 2016 to make clear that drug screening is permissible, but it has not taken action and now Walker is moving ahead anyway.
Walker approved a rule change to implement the screening and sent it to the Legislature for review Monday. Walker spokesman Tom Evenson said the governor believes he has the authority to implement the rule.
The Legislature has four months to review the rule and it could take a year after its approval before the testing would begin. Lawsuits by those who oppose the drug testing are expected once it's implemented, assuming the federal government doesn't step in and block it in the meantime.
(Walker's drug testing program would require approximately 2,100 single, childless, able-bodied individuals out of 67,400 people on welfare to be drug tested, according to the Walker administration. If those people failed a drug test, they would not receive food stamps but would be eligible for state-sponsored rehabilitation.)
The Walker administration estimated that a small fraction of the program's applicants — 224, or 0.3 percent, of the 67,400 applicants a year — would actually test positive for drugs. (The plan would cost $867,000 to treat the 224 people the Walker administration expects to test positive each year. The state, federal government and private insurers would share some of those costs.)
Walker has touted the drug testing as a way to put more drug-free workers into the workplace. ("Employers have jobs available, but they need skilled workers who can pass a drug test," Walker said in a statement. "This rule change means people battling substance use disorders will be able to get the help they need to get healthy and get back into the workforce.")
Opponents say that's wrongheaded.
"The state could do far more to expand the workforce by investing in broader access to effective drug treatment programs, rather than spending scarce state resources on the administration of drug screening and testing requirements," said Jon Peacock, research director for Kids Forward, which advocates for children and families in Wisconsin.
Peacock said he was certain there would be a legal challenge over the constitutionality of drug screening food stamp recipients as well as whether such a move would be a violation of federal law governing the food stamp program.
Walker has pushed to expand drug testing for public benefit recipients. The budget he signed this year called for drug screening all able-bodied, childless adults applying for state Medicaid BadgerCare health benefits, pending federal approval. …
Walker and 11 other governors in 2016 asked the federal government for permission to drug test food stamp recipients.
From an Associated Press report. Reprinted here for educational purposes only. May not be reproduced on other websites without permission from the Minneapolis Star Tribune.
Questions
1. The first paragraph of a news article should answer the questions who, what, where and when. List the who, what, where and when of this news item. (NOTE: The remainder of a news article provides details on the why and/or how.)
2. a) When did the Republican-controlled Wisconsin legislature approve the Governor's proposal?
b) Why has the plan not yet been implemented?
3. On what grounds did a federal appeals court in 2014 block a Florida drug test requirement for food stamp recipients?
4. How will the drug test requirement help people who have substance use disorders?
5. a) How many people are on welfare programs in Wisconsin?
b) Who/how many would be required to take part in drug testing to receive their benefits?
6. If not blocked by the federal government or federal courts, Wisconsin would be the first state to implement such a requirement. How many other states have asked the federal government for permission to drug test?
7. a) How much would the drug treatment program cost for those who test positive each year?
b) Where would the money come from?
8. The Daily Caller reports: "When Wisconsin and states have proposed limitations on food stamps in the past — like drug testing or preventing welfare dollars from being used on sugary foods and soft drinks — the federal courts and the government have blocked those states' rules from going into effect." What do you think: should the state be able to require drug testing for single people who do not have children who are participating in government assistance programs? Explain your answer.
Resources
Watch a Dec. 4 local ABC news report:
Daily "Answers" emails are provided for Daily News Articles, Tuesday's World Events and Friday's News Quiz.