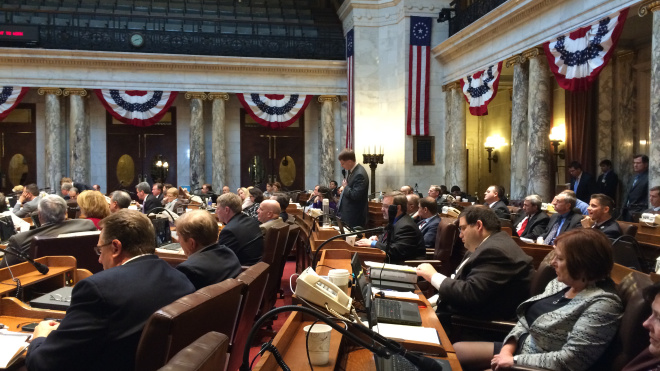 redo Jump to...
print Print...
(Associated Press) MADISON, Wis.—Wisconsin lawmakers voted Friday to make their state the 25th to enact right-to-work legislation, pushing a fast-tracked bill through the Assembly after an overnight debate and sending it on to Gov. Scott Walker for his promised signature.
The Republican governor, a likely 2016 presidential candidate who rose to national prominence by taking on public-sector unions four years ago*, plans to sign it Monday. The Wisconsin legislation is aimed at private-sector workers.
The Assembly passed the bill 62-35 after a marathon session that included about 20 hours of debate. It was a straight party-line vote, with no Democrats backing the measure. …
Union protests against the right to work bill weren't nearly as large as four years ago, growing only as large as about 3,000 people, compared with 100,000 in 2011.
Democrats accused Republicans of pressing the issue to help Mr. Walker's likely presidential campaign. "It's the workers in this state that are suffering through the politics of our governor's ambitions," said Democratic Rep. Cory Mason, of Racine.
Rep. LaTonya Johnson, a Democrat from Milwaukee, and a member of AFSCME, said she cares about people more than freedom. "It just angers me to know that we come here and we pass bills that affect people's everyday lives, and we don't have a clue as to how those everyday people live or how they survive," she said.
Republican Assembly Speaker Robin Vos accused Democrats of having "Walker derangement syndrome," and said the bill was about giving workers the freedom to choose whether to pay union dues.
Republican Rep. Jeremy Thiesfeldt, of Fond du Lac said, "I'm not going to apologize about using the word freedom. I'm going to use it over and over again because that's what this is about."
Supporters argued it would make Wisconsin more attractive to businesses looking to move in or expand. But opponents said the goal is to destroy unions, which tend to vote Democrat, and a right-to-work law would depress wage and create more dangerous workplaces, in turn hurting the economy.
Twenty-four other states have right-to-work laws. Michigan and Indiana were the two most recent states to enact it, both in 2012.

Minutes after debate began in the Wisconsin Assembly on Thursday, protesters in the chamber's gallery interrupted Mr. Vos, shouting "Right-to-work is wrong for Wisconsin!" Mr. Vos ordered the galleries cleared, leading to lawmakers debating in a chamber with no spectators.
Excerpted from an Associated Press report published at The Wall Street Journal.  Reprinted here for educational purposes only. May not be reproduced on other websites without permission from the AP.
Questions
NOTE TO STUDENTS: This is a controversial issue for many Americans. Be polite to those with whom you disagree when discussing these types of issues and always give the other person a chance to explain his/her point of view. Also, learn how to recognize when it is no longer productive to discuss an issue on which you strongly disagree.
1. Define the following terms, most of which are used in the article:
closed shop compared to union shop
right to work state
fast-tracked bill
public-sector unions
party-line vote
collective bargaining
public workers
private-sector workers
2. The first paragraph of a news article should answer the questions who, what, where and when. List the who, what, where and when of this news item. (NOTE: The remainder of a news article provides details on the why and/or how.)
3. How did the Wisconsin Assembly vote on the bill?
4. How many protesters gathered to oppose the passage of the legislation (compared to 2011 when Governor Walker ended collective bargaining for public sector unions)?
5. Which two states were the most recent to pass right-to-work laws before Wisconsin?
CHALLENGE QUESTIONS: In a Gallup poll (gallup.com) from August 2014, 71% of Americans say they would vote in favor of a right-to-work law.
Ask 3-5 people you know who work full-time whether their business is unionized. Ask at least one parent.
If their business is unionized, do they support the passage of a right-to-work law in your state? Explain your answer.
For those who work in non-union jobs, do they support the right of the union to have a closed shop state? Do they support the right of workers to work in a right-to-work or closed shop state? Ask them to explain their answers.
If you attend a public or private school, also ask at least 2 teachers if they support right-to-work laws, and to explain their answers.
Background
CLOSED SHOP / UNION SHOP:
A closed shop is a shop in which persons are required to join a particular union as a precondition to employment and to remain union members for the duration of their employment. [If you are not a member of the union, you cannot be hired for the job.]
It differs from a union shop, in which all workers, once employed, must become union members within a specified period of time as a condition of their continued employment. [You don't have to be a member of a union to get the job, but you are required to become a member of the union after you get the job.]
Closed shop agreements ensure that only union members who were bound by internal union rules, including those enforcing worker solidarity during strikes, were hired. (from wiki.answers.com)
FACT: 1959 Wisconsin became the first state to pass legislation legalizing collective bargaining for public sector employees, including public school teachers (from edufindlaw.com/219-closed-shop.html)
RIGHT TO WORK LAWS:
Right-to-work laws are state laws that prohibit both the closed and union shop.
A right to work law secures the right of employees to decide for themselves whether or not to join or financially support a union. However, employees who work in the railway or airline industries are not protected by a right to work law, and employees who work on a federal enclave may not be.
Under federal labor law and state right to work laws, which exist in slightly less than half of the states, you have the right to resign from membership in a union at any time.
If you resign from membership, you may not be able to participate in union elections or meetings, vote in collective bargaining ratification elections, or participate in other "internal" union activities. If you resign, you cannot be disciplined by the union for any post-resignation conduct.
If you resign from union membership, you are still fully covered by the collective bargaining agreement that was negotiated between your employer and the union, and the union remains obligated to represent you.
Any benefits that are provided to you by your employer pursuant to the collective bargaining agreement (e.g., wages, seniority, vacations, pension, health insurance) will not be affected by your resignation.
However, the union may exclude you from some "members-only" benefits. Although you may resign from union membership at anytime, you may be limited to a specific "window period" before you are able to end any automatic dues deductions.
(from definitions.uslegal.com/r/right-to-work)
Republican Gov. Scott Walker's "2011 Wisconsin Act 10"
After a protracted legal and political battle, on March 11, 2011, the Wisconsin state Legislature passed Act 10, the Budget Repair Act, which increased public employee contributions toward pensions and health coverage and restricted union powers of collective bargaining and dues collection.
Even following Act 10, pension benefits for Wisconsin public employees are roughly 4.5 times more valuable than private sector levels while health benefits are about twice as generous as those paid by larger private sector Wisconsin employers.
This difference results in a combined salary-benefits compensation premium of around 22 percent for state workers over private sector workers, with varying but often larger pay advantages for local government employees. (aei.org/publication/the-impact-of-act-10-on-public-sector-compensation-in-wisconsin/)
Daily "Answers" emails are provided for Daily News Articles, Tuesday's World Events and Friday's News Quiz.