redo Jump to...
print Print...
(by Jennie L. Phipps, YahooFinanceNews.com) – Eight years ago, at age 99, Leonard McCracken failed the eye test for renewing his driver's license. He put his Lincoln Continental up for sale and got $1,600. "I sold it in three days — I got a good price. I love to haggle," he says.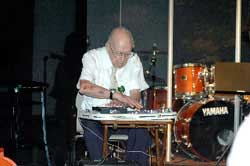 McCracken (pictured in photo at right), who lives in Florida, has been living in retirement since about 1969, when he left a position as a salesman with a now-defunct steel company in Ohio. Since then, he's been living on savings, Social Security and a lifetime annuity that he purchased before he retired. He has never had a pension. At 107, after living in retirement for 41 years, he's still paying the bills and getting by on his own resources.
"Dad never made more than $10,000 a year in his life," says his son Bob, a 73-year-old retired GE aircraft engineer.
How does a guy with modest income manage such a retirement planning feat? McCracken points to a half-dozen basic principles that have gotten him through life and continue to serve him well.
Thrift
In his whole life, McCracken says, he has only owned two new cars. The rest of the time he bought used. He still shops at the thrift store. And he remembers vividly the time that his wife was holding a garage sale and left him in charge. When she returned, he had sold the living room sofa for $100. "I had a very understanding, frugal wife (Dorothy, who died in 2002 at 95 after 75 years of marriage). We gave up a lot of things that other people were buying in order to break even."
Real Estate Investments
McCracken bought and sold 35 houses in his life, including five that he built himself. His son, Bob McCracken, says his parents "always invested in a nice house and that has helped my dad. He is living off the equity in the last home he and my mother owned."
The elder McCracken agreed that buying and selling real estate was a smart move for him. "We didn't make a lot of money in every case," he says. "But we made something and that helped."
What is his advice for current owners of real estate? "It's bad now, but it will come back," he says. "And people who buy now, they'll make a lot of money," he says.
Use Debt Well
During the Great Depression, McCracken worked for a bank. He watched people lose their shirts and learned from it. Throughout his life, he borrowed when he had to, but he borrowed as little as possible, he says, and he paid it back as quickly as he could.
Work Even When Jobs Are Hard to Find
McCracken was unemployed about 45 years ago after his previous employer went bankrupt. He had to take a job driving a truck that paid $5 per day. It was a low point in his life, but between that and a commission sales job that he took at night, he and his family muddled through until he got back on his feet.
Save and Invest Conservatively
All of McCracken's money is in CDs and bonds. He's always avoided the stock market, even when people who purported to know more than he advised him differently. "When the economy tanked, he made a lot of us look real silly," Bob McCracken says.
Stay Healthy
McCracken has hung onto his health and his wits and has had no major medical bills at all throughout his entire life. It has only been in the last year that he's needed a little assistance. And even then, he doesn't need much, his son says.
Copyright ©2011 Bankrate.com. All rights reserved. Reprinted here for educational purposes only. The information contained in this news report may not be published, broadcast, rewritten, or redistributed without the prior written authority of Bankrate.com. Visit finance.yahoo.com/focus-retirement/article/111841/view-of-retirement-at-107 for the original post.
Copyrighted, Bankrate.com. All rights reserved.
Questions
1. a) How old is Leonard McCracken?
b) For how many years has Mr. McCracken been retired?
2. How has Mr. McCracken survived for so many years on his own resources?
3. Define thrift as used in the article.
4. How does Mr. McCracken view debt?
5. Why do you think most Americans do not have the same view as Mr. McCracken on thrift and debt?
6. What do you think of Mr. McCracken's belief that you should work even when jobs are hard to find?
6. Today's article is a Human Interest story. A human interest story is a feature story that discusses a person or people in an interactive and/or emotional way. It presents people and their problems, concerns, or achievements in a way that brings about interest or sympathy in the reader or viewer. Was this human interest story of interest to you? Explain your answer.
Daily "Answers" emails are provided for Daily News Articles, Tuesday's World Events and Friday's News Quiz.