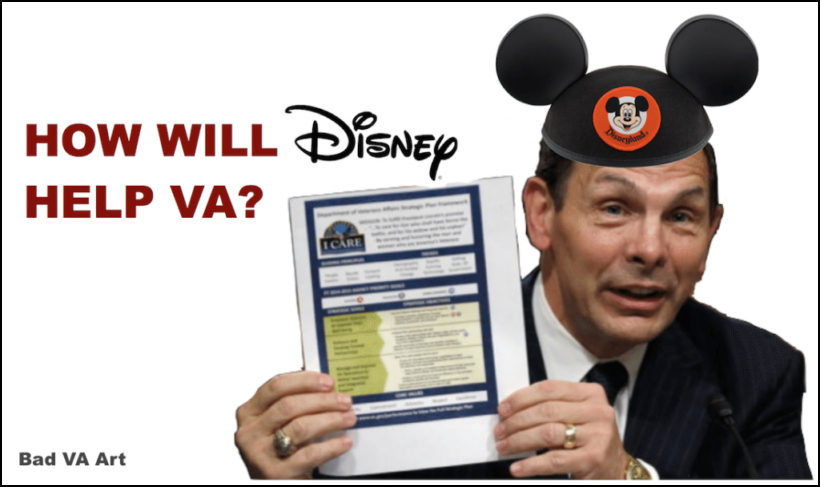 redo Jump to...
print Print...
(by Dennis Wagner, The Arizona Republic – azcentral.com) – In 2014, The Arizona Republic reported:  "Leaders at the Department of Veterans Affairs have asserted for more than two years that medical care and service for America's ex-warriors should be measured not by how long patients wait for appointments, but how they respond to surveys."
Indeed, VA Secretary Bob McDonald and his team [highlight] industry-recognized satisfaction surveys as evidence that VA hospitals are more customer friendly than other medical centers.
Despite months of requests, however, department administrators have failed to produce clear proof of those claims.
Instead, what emerges from VA interviews and literature is a dizzying maze of metrics used to evaluate success or failure of the nation's largest integrated health-care system.
While there are all kinds of spreadsheets and reports, this is the bottom line: The VA has no tool that fairly compares satisfaction scores in veterans' medical centers with those at non-VA facilities.
And, while the department has internal systems to evaluate care at its roughly 150 hospitals, administrators refuse to publicly disclose the rankings.
Dr. Peter Almenoff, special adviser to the secretary, was asked in a recent phone interview what surveys his bosses are referencing about patient satisfaction.
He did not identify one.
When asked again how one might honestly compare veterans' hospitals with non-VA facilities, he told The Arizona Republic, "I can't answer that."
The VA argument that measuring wait times is unfair — and patient satisfaction is a more appropriate gauge of health services — began to swell in April 2014.
Just days after The Arizona Republic first reported in 2014 that veterans were dying while awaiting treatment in Phoenix's Carl T. Hayden VA Medical Center, a department news release boasted about a 2013 survey known as the American Customer Satisfaction Index [ACSI].
The ACSI is used to measure customer response in 43 industries and at more than 200 private-sector companies.
According to VA officials, survey results show their hospitals are equal to or better than non-VA medical centers.
In an October 2014 speech for the Institute of Medicine, VA Secretary McDonald declared: "Since 2004, the ACSI has consistently shown that veterans receiving both VA inpatient and outpatient care give VA higher satisfaction ratings than patients at private hospitals."
Just one problem: ACSI spokesman Chaat Butsunturn said the company does not do VA health-care surveys.
Instead, Butsunturn said, the Veterans Health Administration contracts with a separate spin-off firm, CFI Group, to do polls using ACSI's model. "Though the Department of Veterans Affairs has called it an ACSI report, that is an error," he added.  A CFI spokeswoman did not respond to inquiries.
During a phone interview with The Republic this summer, VA Deputy Secretary Sloan Gibson expressed shock when he was told ACSI does not do patient polling for the VA.
"I will tell you that's completely misleading from my perspective, and unacceptable," he said.
Gibson also was advised that ACSI does conduct a survey on overall public satisfaction with key federal agencies, including the Department of Veterans Affairs. In 2015, ACSI placed VA among the U.S. government's "least satisfying departments" with a score of 60 on a 100 scale – 14 points down from 2012.
When apprised of that survey, Gibson said, "You are catching us completely and totally blind."
…..
In May, The Republic met with a dozen administrators at VA headquarters in Washington, D.C., to talk about progress in serving veterans.
When asked whether current appointment data is accurate, Assistant Deputy Undersecretary Thomas Lynch said: "…One way to put anybody to sleep, including Congress — and to frustrate them in the process — is to try to explain our mechanisms for measuring wait times. We're trying to change the message to patient satisfaction."
Lynch was asked if the VA would provide recent survey scores. The answer: "I think we can get you those results. At the moment, they're showing fairly high …"
Weeks passed. VA public affairs officers were reminded in phone calls and emails about the survey results. They provided blank copies of patient questionnaires. They pointed out websites with patient-satisfaction scores, but no rankings.
Directors at VA medical centers nationwide also harp on the patient experience, rather than appointment openings.
At the Edward Hines Jr. VA Hospital in suburban Chicago, Director Marc Magill put it this way: "The real thing that's important about access isn't days (waiting). It's whether the patient is getting the right care in the right place at the right time. I think (we) have really excelled on access when you look at it in those terms."
Reprinted here for educational purposes only. May not be reproduced on other websites without permission from The Arizona Republic. Visit the website at azcentral.com.
Questions
1. In a 2014 investigative report, The Arizona Republic revealed that 40 military veterans died while on a secret waiting list at the Phoenix, Ariz., Veterans Administration medical center. More than 1,400 others lingered on the same list, waiting to receive medical care. The secret waiting list was created by officials to hide the long waits for care our veterans endured.
Dennis Wagner, the Arizona Republic reporter who wrote the expose, attempted to follow up this year.
a) How do officials at the U.S. Department of Veterans Affairs (VA) say medical care and service for our veterans should be evaluated?
b) What evidence do VA officials give to back up their claim that VA hospitals treat patients better than non-government hospitals?
2. For how long has reporter Dennis Wagner been attempting to obtain proof from VA officials of their claims of great service?
3. What does the reporter conclude about the way the VA evaluates the quality of medical care it provides to our veterans? Be specific.
4. For what reason does the VA say that measuring wait times to receive medical treatment is unfair? — What do officials claim is the better way to demonstrate what they say is the good quality of the services they provide?
5. What is the problem with the ACSI (American Customer Satisfaction Index) VA officials use to back up their claim that Veterans give the VA higher satisfaction ratings than patients at private hospitals?
6. What does the ACSI survey on overall public satisfaction with key federal agencies including the Department of Veterans Affairs note about the survey results and the VA?
7. In May, VA Secretary McDonald gave an interview to the Christian Science Monitor. Addressing the concern over the amount of time it takes for a veteran to even see a doctor, he said, "When you go to Disney, do they measure the number of hours you wait in line? What's important is, 'What's your satisfaction with the experience?'"
How would you refute this assertion?
8. In an interview with The Arizona Republic in May, when asked whether current appointment data is accurate, Assistant Deputy Undersecretary Thomas Lynch said: "…One way to put anybody to sleep, including Congress — and to frustrate them in the process — is to try to explain our mechanisms for measuring wait times. We're trying to change the message to patient satisfaction."
How would you respond to this assertion?
CHALLENGE: Visit the websites for Democratic presidential nominee Hillary Clinton and Republican nominee Donald Trump.
a) How does each candidate propose to solve the corruption and incompetence at the Department of Veterans Affairs?
b) Which candidate do you think will do a better job of fixing the problems at the VA? Explain your answer.
Background
Mission Statement of the U.S. Department of Veterans Affairs (VA):
To fulfill President Lincoln's promise "To care for him who shall have borne the battle, and for his widow, and his orphan" by serving and honoring the men and women who are America's Veterans.
---
The U.S. Department of Veterans Affairs (VA) is a government-run military veteran benefit system with Cabinet-level status. It is the U.S. government's fourth largest department, after the Department of Defense, the Department of Health and Human Services, and the Department of Education.
The VA employs nearly 280,000 people at hundreds of Veterans Affairs medical facilities, clinics, and benefits offices and is responsible for administering programs of veterans' benefits for veterans, their families, and survivors.
In 2009 the VA budget was $87.6 billion; in 2012, the proposed budget was $132 billion. The VA 2014 budget request for 2014 was $152.7 billion. This included $66.5 billion in discretionary resources and $86.1 billion in mandatory funding.
The discretionary budget request represented an increase of $2.7 billion, or 4.3 percent, over the 2013 enacted level. (from wikipedia)
---
CFI's 2015 report on veteran surveys contains a single comparison showing inpatient satisfaction results for the VA are 12 percent higher than the overall industry scores, and outpatient scores are 6 percent higher. However, appendices suggest the numbers are misleading — based on apples-to-oranges comparisons.
To begin with, older patients are far more likely to give high satisfaction scores, and VA's population is outright geriatric: Nearly 8 of 10 VA respondents were 60 or older.
Distinctions are compounded by gender bias. Women in CFI's survey gave much lower scores, yet 96 percent of the veterans surveyed were males.
Methodology in the survey also raises questions. The VA gave CFI names and contact information for the patients to be surveyed. And the report says VA officials selected survey objectives different from the goals used to gauge satisfaction at private-sector hospitals.
Yet the notion put forward was hardly new.
McDonald, formerly chief executive at Procter & Gamble, made customer satisfaction a top priority when he was sworn into office. Some employees at VA medical centers already were getting Disney-style training.
And one of McDonald's appointments to the MyVA Advisory Committee was retired health-care administrator Fred Lee, who wrote the book, "If Disney Ran Your Hospital: 9½ Things You Would Do Differently." (One of Lee's chapter headings: "Regard Patient Satisfaction as Fool's Gold.")
In an email exchange, Lee said some health-care professionals place a mistaken focus on satisfaction, when patient loyalty is the real objective. "All anyone can learn from a Disney trainer is courtesy behaviors," he explained. "Disney does not deal with pain and suffering. Distressed patients need a special therapeutic relationship, beyond mere competence and courtesy …"
Last month, USA Today reported the backstory: "The Department of Veterans Affairs over the summer quietly stopped sharing data on the quality of care at its facilities with a national database for consumers, despite a 2014 law requiring the agency to report more comprehensive statistics to the site so veterans can make informed decisions about where to seek care."
"For years, the VA provided data on a number of criteria to the Hospital Compare web site run by the Centers for Medicare & Medicaid Services in the Department of Health and Human Services. … But the VA confirmed to USA TODAY … that it stopped reporting its information July 1."
"In a separate move, the VA also took down its own site in February — one that provided side-by-side quality comparisons of its hospitals. That page, is now simply blank," USA Today reported.
Resources
Read previous articles explaining the never-ending scandal at the Department of Veterans Affairs medical facilities:
Watch Arizona Republic reporter Dennis Wagner describing his quest to find out if care at VA hospitals has improved two years after he broke the story that led to the wait-time scandal:
Daily "Answers" emails are provided for Daily News Articles, Tuesday's World Events and Friday's News Quiz.