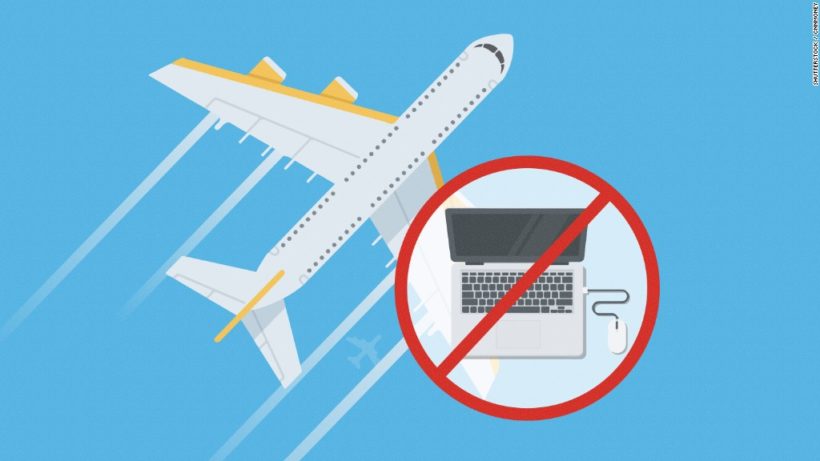 redo Jump to...
print Print...
(by Lorne Cook and John Leicester, Associated Press at ABCNews) BRUSSELS – The U.S. is expected to broaden its ban on in-flight laptops and tablets to include planes from the European Union, a move that would create logistical chaos on the world's busiest corridor of air travel.
…European governments held urgent talks on Friday with the U.S. Department of Homeland Security.
The ban would affect trans-Atlantic routes that carry as many as 65 million people a year on over 400 daily flights, many of them business travelers who rely on their electronics to work during the flight.
The ban would dwarf in size the current one, which was put in place in March and affects about 50 flights per day from 10 cities, mostly in the Middle East.
Chief among the concerns are whether any new threat prompted the proposal and the relative safety of keeping in the cargo area a large number of electronics with lithium batteries, which have been known to catch fire. American officials were invited to Brussels next week to discuss the proposed ban, the EU said. …
…The decision in March to bar laptops and tablets from the cabins of some international flights …[followed intelligence reports that terrorist groups are continuing to plot attacks against commercial aviation, U.S. officials said at the time.]
Experts say a bomb in the cabin would be easier to make and require less explosive force than one in the cargo hold. Baggage in cargo usually goes through a more sophisticated screening process than carry-on bags.
Jeffrey Price, an aviation-security expert at Metropolitan State University of Denver, said the original ban focused on certain countries because their equipment to screen carry-on bags is not as effective as machines in the U.S.
A French official who was briefed about Friday's meeting said the Americans announced they wanted to extend the ban, and the Europeans planned to formulate a response in coming days. The official said the primary questions revolved around when and how — and not whether — the ban would be imposed.
The official spoke only on condition of anonymity to discuss the plan.
Jenny Burke, a Homeland Security spokeswoman, said no final decision has been made on expanding the restriction.
But Homeland Security officials met Thursday with high-ranking executives of the three leading U.S. airlines — American, Delta and United — and the industry's leading U.S. trade group, Airlines for America, to discuss expanding the laptop policy to flights arriving from Europe.
Two airline officials who were briefed on the discussions said Homeland Security gave no timetable for an announcement, but they were resigned to its inevitability. They spoke only on condition of anonymity because they were not authorized to discuss the meeting publicly.
The U.S. airlines still hope to have a say in how the policy is put into effect at airports to minimize inconvenience to passengers. …
Alain Bauer, president of the CNAPS, a French regulator of private-sector security agents, including those checking baggage and passengers in France's airports, predicted "chaotic" scenes initially if the ban was instituted.
"Imagine the number of people who carry their laptops and tablets onto planes — not just adults, but also children," he told the AP.
He said it would slow passage through security checks as people try to negotiate a way of keeping their laptops. …
"You need a lot of time to inform them and a lot of time for it to enter people's heads until it becomes a habit," he said. "After a week of quite big difficulties, 95 percent of people will understand the practicalities."
….. [Whatever the disruption new restrictions cause, passengers may just have to adjust, U.S. Travel Association spokesman Jonathan Grella said Thursday.
Travelers are "more resilient than we often think — plus the consequences of a major attack on the transportation system hardly need to be repeated," Grella said.]
(Leicester reported from Paris. Alicia Caldwell in Washington; David Koenig in Dallas; and Lori Hinnant in Paris contributed.)
Reprinted here for educational purposes only from an Associated Press story. May not be reproduced on other websites without permission from ABCNews. Visit the website at abcnews .com.
Questions
1. What was the initial reason for the laptop ban on certain flights in March?
2. How many flights/ people could potentially be affected by a new ban?
3. What are the two biggest concerns about this new ban on flights ARRIVING FROM Europe?
4. People have questioned why DHS is not concerned that terrorists would still put bombs in laptops, asking – wouldn't they still do the same damage if the laptop bombs are placed in the checked luggage? How do experts address this question?
5. Obviously, a ban on laptops and tablets will be extremely inconvenient for travelers – businesspeople trying to work during a flight, parents trying to keep their kids occupied, etc. Re-read paragraphs 15-20. Then watch the videos under "Resources" below the questions.
Politico reports:
"Some luxury airlines affected by the initial ban found ways to lessen the inconvenience: UAE's Emirates Air said it would offer a 'laptop and tablet handling service' that would 'carefully' pack the passengers' devices and return them at the destination, while the UAE's Etihad Air provided loaner iPads to customers in first and business classes. But such perks are unlikely for the vast majority of U.S. passengers."
DHS is working to avoid a potential terrorist attack on an airliner to the best of their ability. There is a possibility that laptops and tablets could sometime be banned on flights in the U.S.
a) List some solutions U.S. airlines and airports could use to lessen the inconvenience to passengers.
b) What could technology companies do to address the loss of laptops/tablets during flights?
6. Have you heard the phrases "American ingenuity" or "American ingenuity and know-how"? Ingenuity is defined as: the ability to solve problems in new and clever ways.
Wikipedia describes "Yankee ingenuity":
Yankee ingenuity is: inventiveness, technical solutions to practical problems, "know-how," self-reliance and individual enterprise associated with the Yankees, who originated in New England and developed much of the industrial revolution in the United States after 1800. The [term] first appeared in the 19th century.
Yankee ingenuity characterizes an attitude of make-do with materials on hand. It is inventive improvisation, adaptation and overcoming of shortages of materials.
The term was common worldwide in the wake of World War II, as American forces employed engineering solutions to military problems.
Today it refers broadly to a typically American pragmatic approach to problem solving instead of traditional methods.
a) Do you believe Americans still have this kind of "ingenuity and know-how" to solve the problems that will be caused by a laptop ban on U.S. airlines? Explain your answer.
b) Ask a parent or a grandparent the same question.
Background
In addition to the restrictions on laptops placed by the U.S., it was also announced in March that Great Britain would ban electronic devices on flights from six Middle Eastern nations amid a terror threat. The BBC explained: "The restriction is based, we are told, on 'evaluated intelligence.' That means that US intelligence has either intercepted discussion of a possible extremist plot or has been passed word of one by a human informant."
Read about the initial March ban at: U.S. restricts carry-on electronics from 10 airports
Resources
Watch a May 12, 2017 ABC News report:
---
Watch a CNN interview with John Kelly, Secretary of Homeland Security:
---
Watch a May 10, 2017 CBS News report:
Daily "Answers" emails are provided for Daily News Articles, Tuesday's World Events and Friday's News Quiz.