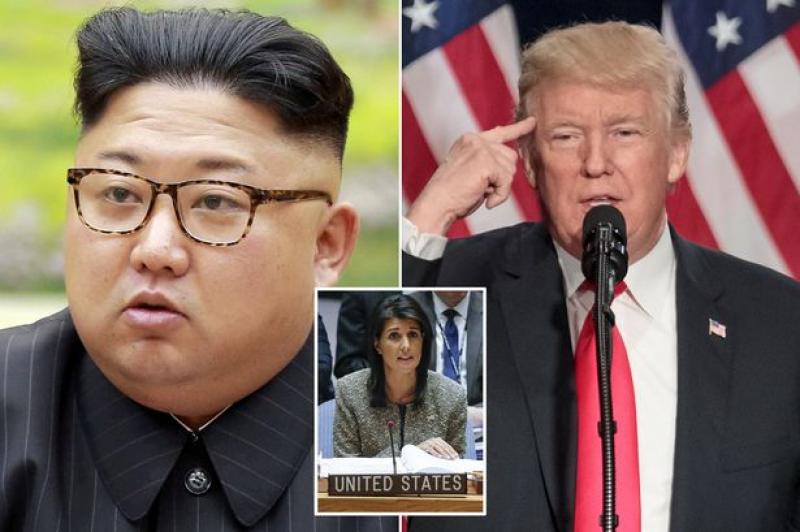 redo Jump to...
print Print...
(by Pamela Falk, CBS News, Last Updated Nov 30, 2017 5:41 AM EST) UNITED NATIONS — After the launch this week of an intercontinental ballistic missile by North Korea, U.S. Ambassador Nikki Haley and her counterparts from Japan and the Republic of Korea requested an emergency U.N. Security Council meeting.
At the Council meeting late Wednesday, the United States set out a path forward, asking China to cut off oil to North Korea and asking the U.N. to cut off North Korea's voting rights at the U.N., saying, "we need China to do more."
"Through sanctions we have cut off 90 percent of North Korean trade and 30 percent of its oil. But the crude oil remains. The major supplier of that oil is China." Haley said.
"We are once again at a time of reckoning," Haley said. "North Korea's behavior has become more intolerable." She added that "over 20 countries from every corner of the globe have restricted or ended their diplomatic relations."
"The dictator of North Korea made a choice yesterday that brings the world closer to war, not farther from it," Haley said. "We have never sought war with North Korea, and still today we do not seek it. If war does come, it will be because of continued acts of aggression like we witnessed yesterday. And if war comes, make no mistake, the North Korean regime will be utterly destroyed."
The missile test, which was (overseen) by North Korean dictator Kim Jong Un, was its first one since September.

Wednesday's launch of what the North called the Hwasong-15 intercontinental ballistic missile (ICBM) demonstrated a greater range than other missiles it's tested and showcased several capabilities the North must master if it were ever to actually try to unleash them at the United States.

…North Korea [claims] it now has a missile that can strike anywhere in the U.S. including Washington, D.C., and Kim Jong Un's regime successfully launched its third intercontinental ballistic missile, CBS News' Correspondent Ben Tracy reported.

[Following recent belligerent threats and] missile tests…, the U.S put North Korea back on a U.S state sponsors of  terrorism, allowing the U.S. to impose more sanctions. President Trump said Wednesday more major sanctions will be imposed on North Korea in response to its latest ballistic missile launch.

Continuing his efforts to work with China to peacefully force North Korea to end its nuclear program, the president tweeted on Wednesday, "Just spoke to President Xi Jinping of China concerning the provocative actions of North Korea. Additional major sanctions will be imposed on North Korea today. This situation will be handled!" Secretary of State Rex Tillerson said the U.S. could target financial institutions doing business with North Korea.

In September, the U.S. drafted a U.N. resolution calling for a complete oil embargo along with an asset freeze and travel ban on North Korea's leader Kim Jong Un — a measure that had the support of U.S. allies but was met with resistance from China. Diplomats now say the U.S., along with Western nations and Japan, will be looking to increase pressure with tougher sanctions as a last resort to diplomatic and economic measures.

At the Security Council meeting, several Council members talked about the enforcement of existing sanctions and also suggested adding new sanctions.

U.K. Ambassador Matthew Rycroft said, "The latest missile launch is not a one-off. It follows 19 previous launches this year, and North Korea's sixth nuclear test in September. The latest violation demonstrates, once more, North Korea's disregard for our collective security and the international obligations, that all of us, as law-abiding states, take upon ourselves."
"Japan will never tolerate a nuclear armed North Korea, Japan's Ambassador Koro Bessho said, adding that North Korea is a "clear global threat to all member states."
"You don't bully and play games with nuclear weapons," Ambassador Haley said.
North Korea's state-run television claimed that it had successfully tested a new type of intercontinental ballistic missile (ICBM) that could reach all of the U.S. mainland.
North Korea has been under U.N. sanctions since 2006 due to its ballistic missiles and nuclear programs.
France's Ambassador Francois Delattre called for tighter sanctions saying that the threat posed by North Korea, "has shifted from being regional to global, from being potential to immediate." He said that France's President Emmanuel Macron just called for an increase sanctions on North Korea after the missile test.
"Confronted with such a threat and challenge from North Korea, weakness or ambiguity are simply not an option," Delattre said, adding that France favors tightening the sanctions with strong additional measures.
Italy's Ambassador Sebastiano Cardi told CBS News, "Sanctions are working because we know of the constraints they are putting on the regime which is going short of foreign currency … We can do more also in terms of implementation."
…At the U.N. Security Council meeting, China's Deputy Ambassador to the United Nations, Wu Haitao, pushed back on the call for China to do more, calling for less confrontation with Pyongyang.
…President Trump himself had talked about dialogue before the recent launch, and the international watchdog agency's chief, Yukiya Amano told CBS News that, if that day came, the agency would be ready to inspect North Korea's nuclear sites.
Ambassador Haley concluded with both a warning and a word of reassurance to the leaders in Pyongyang, "we have never sought war with North Korea, and still today we do not seek it. If war does come, it will be because of continued acts of aggression like we witnessed yesterday."
Reprinted here for educational purposes only. May not be reproduced on other websites without permission from CBSNews. Visit the website at cbsnews .com.
Questions
1. Why did the U.S., Japan and South Korea call for an emergency meeting of the U.N. Security Council on Wednesday?
2. What steps did the U.S. ask China and the UN to take?
3. Why must China take more responsibility with sanctions on North Korea?
4. a) What statement did Ambassador Haley make about war with North Korea?
b) Watch the first video clip under "Resources" from Nikki Haley's speech at the Security Council. What is your reaction to this assurance?
5. What did the following members of the U.N. Security Council say about North Korea's missile tests and imposing sanctions against the rogue regime?
a) UK Ambassador Matthew Rycroft
b) Japan's Ambassador Koro Bessho
c) France's Ambassador Francois Delattre
d) Italy's Ambassador Sebastiano Cardi
6. China's Deputy Ambassador Wu Haito had a different view on dealing with North Korea (see para. 21).
Russia's Ambassador Vassily Nebenzia added to the Security Council's condemnation, saying, "Russia does not accept the claims of the DPRK for obtaining the status of a nuclear power… At the same time, it is obvious to us that there is no military solution to the problems of the Korean Peninsula… in the current situation, we urge all parties involved to end the escalation of tension." He then re-introduced the proposal made by Russia and China for a "double freezing" in which North Korea suspends testing and the U.S. and South Korea reduce the "scope and intensity" of joint military exercises, which, he said "would open the way for a discussion of the principles of peaceful coexistence between Washington and Pyongyang and the resumption of inter-Korean dialogue."
Through the two terms each of Presidents Bill Clinton, George W. Bush and Barack Obama, dialogue, discussions, and negotiations in the "Six Party Talks" utterly failed in preventing North Korea from developing nuclear weapons and the ballistic missiles necessary to deploy them.
The Trump administration is taking a much tougher approach – and most notably persuading even Russia and China to impose more sanctions against North Korea than they have ever done. President Trump refers to Kim Jong Un as "Little Rocket Man" – and his ultimate goal is to force North Korea to completely denuclearize. Trump's opponents, including some Republican politicians and commentators (who are embarrassed by his manner of speaking) blame the president for causing Kim Jong Un's belligerence.
Watch Ambassador Haley's speech at the emergency Security Council meeting (see the video under "Resources" below) and discuss with a parent:  Do you think the Trump administration's strategy will succeed? or do you think President Trump should try the same approach of negotiations with North Korea that the previous presidents did?  Please explain your answers.
Background
From a Sept. 12, 2017 CNN report: On Monday, September 11, the United Nations Security Council unanimously adopted a US-drafted resolution to impose new sanctions on North Korea  — a move that came just one week after the rogue nation carried out its sixth and largest nuclear test.
The resolution is designed to accomplish six major goals, according to a US official familiar with negotiations:
cap North Korea's oil imports
ban textile exports
end additional overseas laborer contracts
suppress smuggling efforts
stop joint ventures with other nations and
sanction designated North Korean government entities
---
Read a Sept. 25 article on North Korea's nuke program: ""In surprise move, China cooperates with U.S."
---
ON THE U.N. SECURITY COUNCIL: (from the website un .org)
The United Nations Security Council (UNSC) is charged with the maintenance of international peace and security.
Its powers, outlined in the United Nations Charter, include the establishment of peacekeeping operations, the establishment of international sanctions, and the authorization of military action. Its powers are exercised through United Nations Security Council Resolutions.
The presidency of the Council is held by each of the members in turn for one month, following the English alphabetical order of the Member States names.
There are 15 members of the Security Council, consisting of five veto-wielding permanent members (China, France, Russia, United Kingdom, United States) and ten elected members with two-year terms [these are not eligible for immediate re-election]
The ten elected members are elected by the General Assembly for two-year terms starting on January 1st, with five replaced each year. The members are chosen by regional groups and confirmed by the United Nations General Assembly. The African bloc chooses three members; the Latin America and the Caribbean, Asian, and Western European and Others blocs choose two members each; and the Eastern European bloc chooses one member. Also, one of these members is an "Arab country," alternately from the Asian or African bloc.
Security Council members must always be present at UN headquarters in New York so that the Security Council can meet at any time. This requirement of the United Nations Charter was adopted to address a weakness of the League of Nations since that organization was often unable to respond quickly to a crisis.
Each Council member has one vote.
Decisions on substantive matters (including imposing sanctions on a country) require nine votes, including the concurring votes of all five permanent members.
Under the UN Charter, all 191 Member States (countries) of the United Nations agree to accept and carry out the decisions of the Security Council.  While other organs of the United Nations make recommendations to Governments, the Council alone has the power to make decisions which Member States are obligated under the Charter to carry out.
NOTE: North Korea is a member of the UN
Resources
Watch a short clip from Ambassador Haley's speech at the Nov. 29 emergency meeting of the UN Security Council:
---
Watch Ambassador Haley's full speech:
Daily "Answers" emails are provided for Daily News Articles, Tuesday's World Events and Friday's News Quiz.