redo Jump to...
print Print...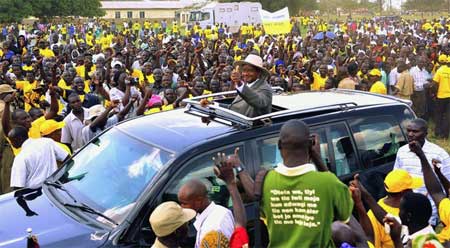 (by Ioannis Gatsiounis, WashingtonTimes.com) KAMPALA, Uganda – President Yoweri Museveni's re-election bid was stumbling in this dispirited, overpopulated nation – until he found his groove by churning out a rap song during a campaign speech.
It's now the most popular ring tone and a top draw on YouTube in this hip-hop-loving country, where the youth vote once seemed primed to support the opposition.
[See photo: Ugandan President Yoweri Museveni arrives for a campaign rally in Lira and delights a crowd eager to hear him perform "You Want Another Rap?"]
How many votes it translates to here – home to the world's second-youngest population, after Niger – remains to be seen. But at a minimum, the rebranding exercise is delivering the message that the entrenched leader is not as out of touch as he sometimes seems.
"It's a brilliant campaign move," said Simon Osborn, with the Deepening Democracy Program in Kampala, which has been conducting opinion polls to monitor voter trends. "You've been in power 25 years. Your problem is you're out of touch; you're surrounded by an insular clique. And the first thing you do in the campaign season is a rap. Suddenly, you're seen to be back in touch."
The song, titled "You Want Another Rap?" also is deflecting attention from pressing problems, including tribal tensions, …corruption, poor infrastructure and dormant local industries. Crowds at campaign stops reportedly have urged Mr. Museveni to demonstrate his rap skills rather than outline his policy positions.
There's nothing in the lyrics that will inspire reflection among voters. Taken from two Kinyankole nursery rhymes that the president, in fact, had no hand in writing, the lyrics recall a knife that's traded for millet that's given to a hen that gives him an egg, and so on.
Still, said Lubega Mustaffa, 25, a clothing seller in Kampala's chaotic and crumbling Taxi Park area, the rap has boosted his love for the president. "It shows that whether you're high or you're poor, you're in the same category."
Mwambutsya Ndebesa, a political historian at Makerere University in Kampala, has filed a complaint with the registrar's office against the president's attempt to copyright the rap. He bristles at what he considers the gullibility and blind allegiance of many Ugandan voters: "They are so easily swayed because their expectations are low."
The main demand most voters have of their leader in this country traumatized by decades of oppression and civil war is security. Since coming to power in 1986 – six years after the fall of Idi Amin and a bloody bush war under Milton Obote – Mr. Museveni has ushered in the longest stretch of post-independence stability, as well as some personal freedoms and a degree of economic transformation through neoliberal adjustments stressing deregulation and private-sector growth.
Mr. Museveni also allowed for a considerable amount of political freedom during his quarter-century of rule, particularly in the media. Well into the late 1990s, he was hailed by leaders of developed democracies as a new kind of African leader.
But with class disparity growing, infrastructure crumbling, and the education and health sectors in disarray, that transformation has plateaued and a growing number of Ugandans are losing faith in where the country is headed. Even in the country's dusty capital, water and electricity failures are common and potholes are among the worst of any urban center in Africa.
Surveys by the Deepening Democracy Program show that support for Mr. Museveni's National Resistance Movement (NRM) has dropped from 80 percent in 2000 to 51 percent this year, while support for the country's main opposition party, the Forum for Democratic Change (FDC), has grown from 0.4 percent to 38 percent over the same period.
FDC's presidential candidate, Kizza Besigye, has lost to Mr. Museveni in two elections that many observers say were unfairly tilted in the president's favor, if not outright rigged.
The president has promised free and fair elections this time but proved unable to stem massive fraud during his own party's elections in September. Secretary of State Hillary Rodham Clinton issued two reports to Congress this year highlighting persistent harassment of opposition members and the partiality of the election commission and media. Opposition rallies have been squelched across the country in the name of national security since the al-Shabab bombings in Kampala in July.
The FDC's Mr. Besigye is promising development in agriculture, education, health care and infrastructure by curbing patronage and trimming public administration. The state remains the country's largest official employer, including 320,000 civil servants and 71 Cabinet ministers.
Mr. Museveni is promising to deliver improvements in the same areas and insists he will be able to do it as the country becomes less dependent on donor money on the heels of an oil discovery of at least 2 million barrels estimated to be worth $2 billion a year.
The oil find has helped boost foreign direct investment, which grew 9.3 percent in the third quarter this year and should spur job creation, though analysts take the government's handling of the oil so far – including a tendering process and production-sharing agreementsshrouded in secrecy – as proof that Uganda will be the latest African victim of the resource curse.
The prospect of political violence looms and could deter investment. An FDC spokesman said the country can "expect fireworks" from party supporters if Mr. Museveni fails to hold credible elections. Meanwhile, Mr. Museveni, who also heads the armed forces, has been known to crack down hard on any perceived threat to extending his quarter-century of rule.
"Museveni's handlers say they are confident he'll win. But as the regime begins to see large numbers of opposition supporters, that will change," said Frederick Golooba-Mutebi, a political scientist and researcher at Uganda's Makerere Institute of Social Research.
Mr. Museveni is managing to draw large crowds of his own on the campaign circuit, even in the central kingdom of Buganda, home to the country's largest ethnic group. It turned against the president last year after he denied its king access to neighboring Kayunga district and shut down a radio station sympathetic to the kingdom.
Caravans of "supporters" in yellow NRM T-shirts have become regular sights around the capital, though ralliers here are often plucked from the ranks of the unemployed and paid a few dollars to show allegiance. So it's unclear whether their expression of support is genuine or will shift according to the source of their next meal.
Copyright 2010 The Washington Times, LLC. Reprinted from the Washington Times for educational purposes only. Visit the website at washingtontimes.com.
Questions
1. a) Where is Uganda – what is the capital?
b) List the countries that border Uganda.
c) Who is the president of Uganda – how long has he been president?
d) What is significant about Uganda's population?
2. What has the President done in his re-election campaign to show voters that he is not as out of touch as he sometimes seems?
3. a) Define infrastructure.
b) List the problems facing Uganda today.
4. Why is President Museveni's promise to allow for free and fair presidential elections questioned?
5. Support for the political party opposing Mr. Museveni's rule has grown tremendously in recent years. How might Mr. Museveni respond to a possible election loss?
6. Re-read para. 7-9. Consider the problems Uganda faces today, and the fact that Mr. Museveni has been in control for the past 25 years. Also consider the fact that during his rule, he has brought about relative stability. Consider his opponent's promises to improve conditions in Uganda (para. 15), and Mr. Museveni's own promises to improve conditions in the wake of the oil discovery, and how he has handled that development so far. (para. 16-17) Watch Mr. Museveni's rap video under "Resources" below. Crowds at campaign stops reportedly have urged Mr. Museveni to demonstrate his rap skills rather than outline his policy positions.
a) Do you think voters should re-elect Mr. Museveni and give him a chance to improve conditions in Uganda, in light of the oil money coming in? Explain your answer.
b) The majority of voters in Uganda are young. What would be your reaction if Mr. Museveni is voted into office by the youth vote because they like his rap and disregard his actual policies?
Background
ON UGANDA: (from the CIA World FactBook website)
The colonial boundaries created by Britain to establish Uganda grouped together a wide range of ethnic groups with different political systems and cultures.
These differences prevented the establishment of a working political community after independence [from Great Britain] was achieved in 1962.
The dictatorial regime of Idi Amin (1971-79) was responsible for the deaths of some 300,000 opponents; guerrilla war and human rights abuses under Milton Obote (1980-85) claimed at least another 100,000 lives.
The rule of Yoweri Museveni since 1986 has brought relative stability and economic growth to Uganda.
During the 1990s, the government promulgated non-party presidential and legislative elections.
In January 2009, Uganda assumed a nonpermanent seat on the UN Security Council for the 2009-10 term.
Resources
For background on Uganda, go to the U.S. State Department website at state.gov/r/pa/ei/bgn/2963.htm.
Watch President Museveni's rap video below:
Daily "Answers" emails are provided for Daily News Articles, Tuesday's World Events and Friday's News Quiz.