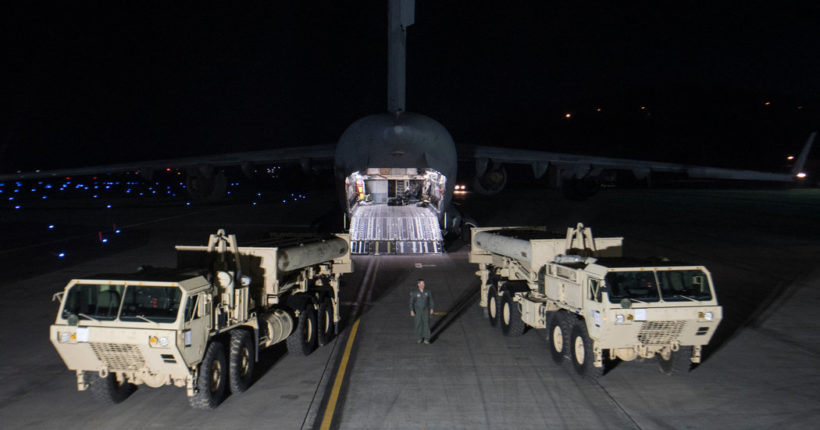 redo Jump to...
print Print...
(by Justin McCurry in Tokyo and news agencies, UK Guardian) — The threat posed by North Korea to the US and its allies has entered a "new phase," President Donald Trump said on Tuesday, a day after the regime test-launched four ballistic missiles towards Japan.
In a phone conversation on Tuesday, Mr. Trump told Japan's prime minister, Shinzo Abe, that the US stood "100%" with Tokyo after three of the intermediate-range missiles landed in the sea off Japan's north-west coast.
"President Trump told me that the United States was with Japan 100%, and that he wanted his comments to be communicated to the Japanese people," Abe told reporters at his residence. "He said he wanted us to trust him as well as the United States 100%.

["Japan and the United States confirmed" the launches violated UN Security Council resolutions and presented a "clear challenge to the region and international community, and that its threat has entered a new phase," Abe told reporters in Tokyo.]
The comments came as the US said the "first elements" of its missile defense system had arrived in South Korea on Tuesday. The Terminal High Altitude Area Defense (THAAD) anti-missile system is meant to intercept and destroy short- and medium-range ballistic missiles during the last part of their flights, the US Pacific Command said in a statement.
"Continued provocative actions by North Korea, to include yesterday's launch of multiple missiles, only confirm the prudence of our alliance decision last year to deploy THAAD to South Korea," US Pacific Commander Admiral Harry Harris said.
China has denounced THAAD's deployment, [claiming] it would compromise its security.
South Korea's Yonhap news agency, citing military sources, said the system could be operational as early as April, well ahead of schedule.
Mr. Trump and Mr. Abe spoke as the North Korean leader, Kim Jong-un, declared the launches a success and warned that they were part of a training exercise for an attack on US military bases in Japan, home to almost 50,000 American troops.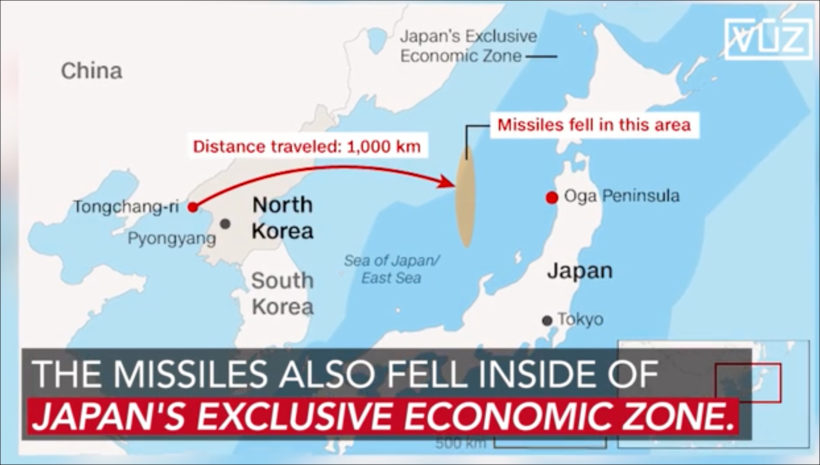 "The four ballistic rockets launched simultaneously are so accurate that they look like acrobatic flying corps in formation," the state-run Korean Central News Agency quoted Kim as saying. The regime also released images of the missile launches, with a smiling Kim in attendance.
The launches were seen as a protest against the start of the annual joint military exercises the U.S. conducts with South Korea that Pyongyang claims are a rehearsal for an invasion of North Korea.
A day after operation Foal Eagle began last Wednesday, North Korea's army, deploying the same vitriolic language it reserves for the annual drills, warned that it was ready to "immediately launch its merciless military counteractions" if South Korean or US forces fired "even a single shell" into waters near the divided Korean peninsula.
North Korea's ambassador to the UN, Ja Song-nam, said the joint exercises were driving the region towards nuclear disaster. "It may go over to an actual war," Ja said, adding: "Consequently, the situation on the Korean Peninsula is again inching to the brink of a nuclear war."
Prime Minister Abe said that President Trump, who was diplomatically wrong-footed by a North Korean missile launch last month, had reaffirmed Washington's "unwavering" commitment to Japan's security.
The leaders agreed that Monday's launches were in violation of UN resolutions banning Pyongyang from developing ballistic missile technology. Washington and Tokyo have requested a meeting of the UN security council on Wednesday.
Prime Minister Abe said he had told President Trump that Japan was willing to take on a "large role and responsibility to enhance the deterrence provided by the Japan-US alliance."
… The UN has imposed six rounds of sanctions since the North conducted its first nuclear test in 2006, but they have failed to dent the regime's quest to build what it claims is a "defensive" nuclear arsenal.
President Trump has not publicly commented on Monday's missile launch, but his ambassador to the UN, Nikki Haley, said on Twitter that the world "won't allow" North Korea to continue on its "destructive path."
Choi Kang, an analyst at the Seoul-based Asan Institute for Policy Studies, said the launch was a warning to Tokyo. "North Korea is demonstrating that its target is not just limited to the Korean peninsula any more but can extend to Japan at any time and even the US," he said.
Reprinted here for educational purposes only. May not be reproduced on other websites without permission from the UK Guardian.
Questions
1. The first paragraph of a news article should answer the questions who, what, where and when. List the who, what, where and when of this news item. (NOTE: The remainder of a news article provides details on the why and/or how.)
2. How did President Trump respond to North Korea's latest aggressive action? Be specific.
3. a) What is THAAD?
b) What is its purpose?
4. a) What did U.S. Pacific Commander Admiral Harry Harris say about North Korea's launch of four ballistic missiles towards Japan?
b) The U.S. had planned during the Obama administration to deploy THAAD to South Korea. Why did the Trump administration move up the date of deployment?
c) When is the THAAD system expected to be operational?
5. For what reason does China oppose the U.S. deployment of the THAAD to South Korea?
6. a) How did analyst Choi Kang explain North Korea's most recent ballistic missile test?
b) What warning did U.S. Defense Secretary James Mattis give North Korea in February during a meeting in South Korea? (see "Background" below for the answer.)
7. Read the "Background" below on North Korea. The Council on Foreign Relations reports:
China is North Korea's most important ally, biggest trading partner, and main source of food, arms, and energy. It has helped sustain Kim Jong-un's regime, and has historically opposed harsh international sanctions on North Korea in the hope of avoiding regime collapse and a refugee influx across their 870-mile border.
China regards stability on the Korean peninsula as its primary interest. Its support for North Korea ensures a friendly nation on its northeastern border and provides a buffer between China and the democratic South, which is home to around 29,000 U.S. troops and marines. "For the Chinese, stability and the avoidance of war are the top priorities," says Daniel Sneider of Stanford's Asia-Pacific Research Center.
President Trump has said that China should be able to persuade North Korea to give up its nuclear weapons program. Do you agree with this assertion? Explain your answer.
Background
The THAAD is a missile interceptor that can hunt and blast incoming missiles with a 100% success rate. Simply put, it's one of the most advanced missile-defense systems on Earth. Its possible future deployment to South Korea is already cause for concern in Beijing. (from an Oct. 2015 Business Insider article)
Read about THAAD at the defense contractor Lockheed Martin website and at the USDOD Missile Defense Agency
---
From a Feb. 3, 2017 news report:
U.S. Defense Secretary James Mattis warned North Korea on Friday, Feb. 3 of an "effective and overwhelming" response if Pyongyang chose to use nuclear weapons, as he reassured Seoul of steadfast U.S. support at the end of a two-day visit.

"Any attack on the United States, or our allies, will be defeated, and any use of nuclear weapons would be met with a response that would be effective and overwhelming," Defense Secretary Jim Mattis said at South Korea's defense ministry.

North Korea, which regularly threatens to destroy South Korea and its main ally, the United States, conducted more than 20 missile tests last year, as well as two nuclear tests, in defiance of U.N. resolutions and sanctions [and in a challenge to the Obama administration].

The North also appears to have also restarted operation of a reactor at its main Yongbyon nuclear facility that produces plutonium that can be used for its nuclear weapons program, according to U.S. think tank 38 North.

"North Korea continues to launch missiles, develop its nuclear weapons program and engage in threatening rhetoric and behavior," Mattis said.

North Korea's actions have prompted the United States and South Korea to respond by bolstering defenses, including the expected deployment of a U.S. missile defense system, known as Terminal High Altitude Area Defense (THAAD), in South Korea later this year. The two sides reconfirmed that commitment on Friday. (from a Feb. 7 "World Events" posted at StudentNewsDaily)
---
NUCLEAR NON-PROLIFERATION TREATY:
Under the United Nation's NPT (Non Proliferation Treaty), countries are not allowed to make nuclear weapons (except for the 5 that had nuclear weapons prior to the treaty – the U.S., Russia, China, France, the United Kingdom).  Safeguards are used to verify compliance with the Treaty through inspections conducted by the UN's IAEA (International Atomic Energy Agency).
NORTH KOREA'S NUCLEAR WEAPONS PROGRAM and THE SIX-PARTY TALKS: (portions of this information are from wikipedia.org.)
The six-party talks were a series of meetings with six participating states – the U.S., Japan, China, South Korea, North Korea and Russia.
These talks were a result of North Korea withdrawing from the U.N.'s Nuclear Non-Proliferation Treaty (NPT) in 2003. North Korea was led [until his death in 2011] by dictator Kim Jong-Il, who starved and imprisoned millions of his own people. His son Kim Jong-Un became the new dictator upon his father's death in 2011.
The aim of the talks was to find a peaceful resolution to the security concerns raised by the North Korean nuclear weapons program.
After five rounds of talks from 2003 to 2007, little progress was made.
In September 2005, as a result of illegal acts committed by the North Korean government, including the counterfeiting of U.S. money, the U.S. froze North Korea's overseas bank accounts.  The North Korean government then refused to participate in further six-party talks.
April 2006, North Korea said they would resume talks only with the U.S. (not six-party), if the U.S. released recently frozen North Korean financial assets held in a bank in Macau.  The U.S. did not comply with the request.
October 2006 North Korea conducted a test of a nuclear weapon. (read more of this information from a 2009 post)
Daily "Answers" emails are provided for Daily News Articles, Tuesday's World Events and Friday's News Quiz.