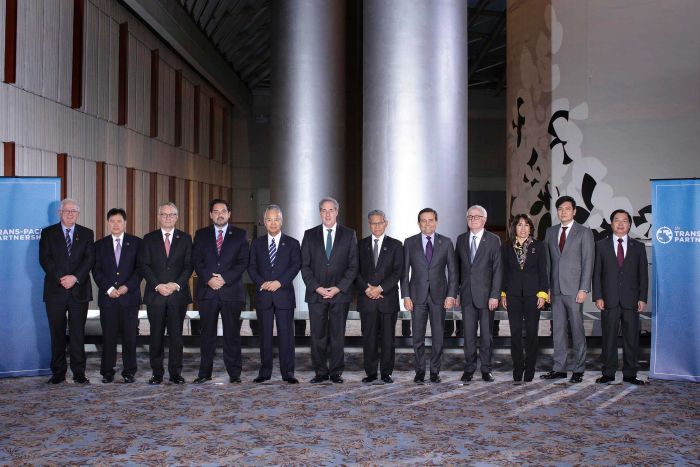 redo Jump to...
print Print...
(Voice of America News) — The United States, Japan and 10 other countries reached agreement on a huge trade deal Monday. The deal will lower trading barriers and set commercial rules for 40 percent of the world economy.
The Trans-Pacific Partnership agreement (TPP) was reached in the U.S. city of Atlanta, Georgia, after seven years of negotiations.
For the deal to take effect, it must be approved by national legislatures in all 12 countries. In addition to the U.S. and Japan, the countries include Australia, Brunei, Canada, Chile, Malaysia, Mexico, New Zealand, Peru, Singapore and Vietnam.
It is not clear whether the U.S. Congress will support the trade deal. But the completion of the agreements marks a major victory for President Barack Obama. He said the TPP deal "reflects America's values and gives our workers the fair shot at success they deserve."
Economic observers see the deal as an agreement that could balance the growth and influence of China.
Japanese Prime Minister Shinzo Abe praised the agreement. He called it, "a farsighted policy for all participating countries that share the values and try to build a free and fair economic zone."
President Obama campaigned for the trade deal over the opposition of most Democratic Party lawmakers. Opponents of the deal say it will cost thousands of U.S. workers their jobs. They say the deal will lead manufacturers to move their operations to other countries where workers are paid less.
Congressional Republicans, however, have generally supported completion of the trade pact.
In the United States, the 2016 presidential election could affect congressional approval of the deal. A congressional vote might be delayed until a new president takes office, in early 2017.
Negotiators in Atlanta met for five days of talks to complete the deal. The group reached final compromises on the issues of intellectual property protection for new biologic drugs, car manufacturing rules, and dairy product trading.
Reprinted here for educational purposes only. May not be reproduced on other websites without permission from Voice of America News. For the original article, visit voanews .com.
Questions
Note: Read the "Background" below the questions for more info on the TPP (from London's BBC News).
1. List the countries involved in the Trans-Pacific Partnership agreement.
2. Now that the 12 countries have agreed on the terms of the Trans-Pacific Partnership (TPP) what needs to happen for it to take effect?
3. a) What are tariffs?
b) How will the TPP affect tariffs?
4. How is Congress expected to vote on the TPP?
5. Why is the TPP controversial to Congressional members of both political parties?
CHALLENGE: The TPP deal has been controversial in both parties because the negotiations have largely been secret. It's exact provisions have not been made public. The president must post the full text of any proposed trade agreement online at least 60 days before signing it.  Follow news stories on this agreement and once the full text has been posted online, read it.
Background
TPP in a nutshell (from BBC News)
There are 12 countries involved: the US, Japan, Malaysia, Vietnam, Singapore, Brunei, Australia, New Zealand, Canada, Mexico, Chile and Peru.
The pact is aimed at deepening economic ties between these nations, slashing tariffs and fostering trade to boost growth.
Member countries are also hoping to foster a closer relationship on economic policies and regulation.
The agreement could create a new single market like that in Europe.
Which goods and services are affected?
Most goods and services seem to be involved, but not all tariffs are going to be removed and some will take longer than others.
For example, the signatories have said they will either eliminate or reduce tariffs and other restrictive policies from agricultural products and industrial goods.
On textiles and clothing, they will be removing all tariffs, but while the US Trade Representative says most tariffs will be removed immediately after the deal is ratified, "tariffs on some sensitive products will be eliminated over longer timeframes as agreed by the TPP Parties".
On trade in services, they seem to have agreed that free trade would be quite a good thing, and in some areas, they are going to liberalize trade. In others they are probably not going to make their trade practices any more restrictive in the future, and in a final group they have opted out completely and will do what they like.
Apparently which services and countries fall into which category will be contained in an annex to the agreement, but the full text has not yet been published, so it is hard to tell which is which.
When did it start?
It began with a trade agreement between just four nations – Brunei, Chile, New Zealand and Singapore – that came into effect 10 years ago.
That deal removed tariffs on most goods traded between the countries, promised to cut more and also to cooperate on wider issues such as employment practices, intellectual property and competition policies.
How big a deal is the TPP?
Pretty big indeed. The 12 countries have a collective population of about 800 million – almost double that of the European Union's single market. The 12-nation would-be bloc is already responsible for 40% of world trade.
The deal is a remarkable achievement given the very different approaches and standards within the member countries, including environmental protection, workers' rights and regulatory coherence – not to mention the special protections that some countries have for certain industries.
What do critics say?
They argue it is a not-so-secret gambit to keep China at bay. China is not involved in negotiations.
Others claim it will pave the way for companies to sue governments that change policy on, say, health and education to favor state-provided services.
The TPP will also intensify competition between countries' labor forces.
But the biggest criticism has been of what the campaigners allege to be secretive negotiations, in which governments are said to be seeking to bring in sweeping changes that voters have no knowledge of.
Defenders say the reason the negotiations were not made public was because there was no formal agreement on them.
Is this the same thing as TTIP?
Confusingly not.  The Transatlantic Trade and Investment Partnership, now generally known as TTIP, is a deal to cut tariffs and regulatory barriers to trade between the US and member states of the EU.
What happens next?
Details of how the deal will be implemented will be argued out in individual countries' legislatures in the coming weeks and months before being ratified.
In the US, the pact is likely to come before Congress in the midst of the presidential primaries, turning it into a major political football within both parties.
However, Congress has granted the President "fast-track" authority over the deal, which allows lawmakers to review the agreement, but not to amend it. (from an Oct. 6 BBCNews report)
---
Read more about the TPP at Wikipedia.
Daily "Answers" emails are provided for Daily News Articles, Tuesday's World Events and Friday's News Quiz.