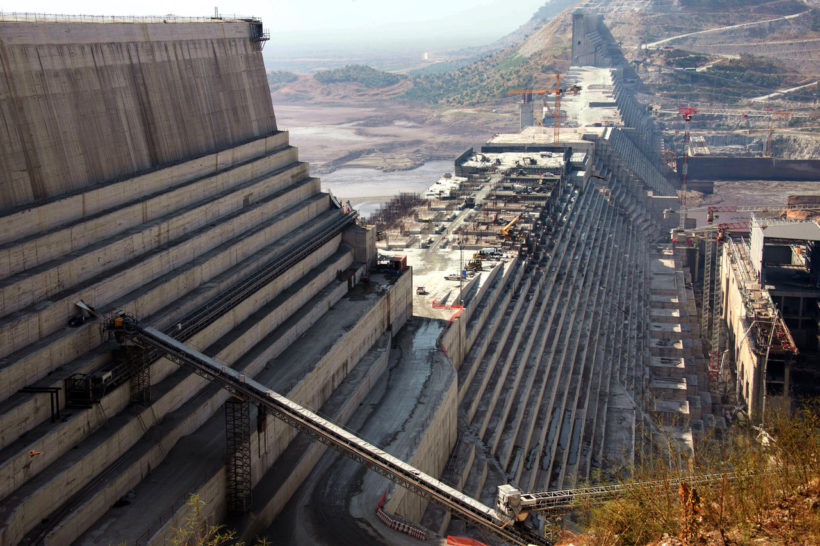 redo Jump to...
print Print...
The main point of contention is Ethiopia's plan to fill the Grand Ethiopian Renaissance Dam's 74-billion-cubic-meter reservoir within three years of the dam's planned completion in 2019—a pace that downstream Egypt argues will leave water levels in its floodplain dangerously low.
"Egypt cannot live without the Nile," Mohamed Abdel-Ati, Egypt's minister of irrigation and water resources, said last month. "Egypt understands Ethiopia's right to development but Ethiopia has to prove, practically, that the dam won't harm Egypt."
Ethiopia is counting on the dam to power a hydroelectric plant meant to support its fast-growing economy, and promoting the dam project as a return to imperial-era glory after an era of deep poverty. Ethiopia's economy grew 9% last year, one of the fastest paces in the world, according to the International Monetary Fund.
"Ethiopia has not been using this river for development of its own because we lacked the financing," Ethiopian Prime Minister Hailemariam Desalegn said last year. "Now we are capable of investing on our own."
Mr. Desalegn arrived in Cairo for talks Wednesday, though details of his agenda weren't immediately known. Yearslong negotiations over filling the dam broke down in November. Egypt has asked the World Bank to mediate the dispute; a spokeswoman said the bank is studying the invitation.
The quarrel is about more than water, said  Rashid Abdi, head of Horn of Africa research at the International Crisis Group, a think tank. "What you are seeing is a proxy conflict of who should be the regional hegemon, Egypt or Ethiopia," he said.
When it is completed, the dam will be the largest in Africa, and it has become a point of pride in Ethiopia. "It will change our future," said Iskander Baye, a 29-year-old accountant in Asosa, a town near the dam. "Ethiopia's time has come."
Almost all Ethiopians have contributed to funding it, often from meager salaries, although opposition groups claim that not all the contributions were voluntary. The government denies that.
The Nile has long divided and united those who share it. The river is the key source of water for Egypt, whose population of about 96 million is squeezed mostly along its banks.
Construction on the dam began in April 2011, when Egypt was in the throes of the Arab Spring—and some six centuries after an Ethiopian emperor threatened to disrupt Egypt's access. Some 8,500 laborers work in three shifts, 24 hours a day, 7 days a week.
The dam is being built 8 miles from the border with Sudan, which lies between Egypt and Ethiopia and also needs the Nile for irrigation. Sudan has made efforts to mediate between Egypt and Ethiopia, and says it is neutral in the standoff.
But the dispute has rekindled suspicion between Khartoum and Cairo, which have long had strained relations over a range of issues. Earlier this month, Sudan recalled its ambassador to Egypt indefinitely and lodged a complaint with the U.N. over an unrelated border issue.
"Ethiopia has got a right to use its available resources for the good of its people, without endangering the water security of both Sudan and Egypt," Sudan's Foreign Minister Ibrahim Ghandour said. "We don't know what the fuss is about."
Egypt has rights to the majority of the Nile's water under a colonial-era agreement. Ethiopia, which was cut out of that deal, protests that 86% of the Nile's main tributary, the Blue Nile, flows through its territory.
Ethiopia says the speed at which the reservoir is filled could be adjusted to take into account its probable impact but hasn't given details. It says it is consulting with Egypt and Sudan.
On Monday, Egypt's President Abdel Fattah Al Sisi said in reference to Ethiopia and Sudan, "Egypt will not go to war with its brothers." He added that Egypt was investing in its military. "You have military power to protect you, to protect this peace I'm talking about," he said—a message he said was directed both to Egyptians and to "our brothers in Sudan and in Ethiopia so that the issue becomes clear for them."
Questions
1. For ETHIOPIA, give the following information:
capital

location/the countries that share its borders

the religious breakdown of the population

the type of government

the chief of state (and head of government if different) If monarch or dictator, since what date has he/she ruled? – include name of heir apparent for monarch

the population
Find the answers at the CIA World FactBook website. For each country, answers can be found under the "Geography" "People" and "Government" headings.
NOTE: Before answering the questions below, read the info under "Background" and watch the videos under "Resources."
2. For ETHIOPIA:
a) list the who, what, where and when of the news item
b) What type of dam is Ethiopia building?
c) What is Egypt's biggest concern about the dam?
d) Why didn't the Egyptian government address the issue when construction was begun by Ethiopia?
e) Read the "Background" below the questions. What do you think of Prime Minister Desalegn's assurance to Egypt? Should this ease their concerns? Explain your answer.
Background
Egyptian President Abdel-Fattah al-Sisi was grim-faced during most of a news conference he jointly addressed with Prime Minister Hailemariam Desalegn after the two held talks in Cairo.
Al-Sisi said he appreciated Ethiopia's repeated assurances that the dam, which is about 60 percent complete, would not have a negative impact on Egypt, but he said studies must still be completed and that all sides should abide by their findings.
He said Ethiopia has rejected Egypt's proposal to bring in World Bank experts as neutral arbitrators on the dispute over the likely impact of the dam on Egypt's share of the Nile.
Ethiopia says the $5 billion dam is essential, noting that the vast majority of its population lacks electricity. The dam will generate over 6,400 megawatts, a massive boost to the country's current production of 4,000 Megawatts.
Ethiopian Prime Minister Hailemariam Desalegn said the dam was also needed to spare his country from drought and famine.
"The people of Ethiopia did not nor will ever subject Egyptians to danger," said Desalegn, who was making his first visit to Egypt as prime minister. "We will not hurt your country in any way and will work closely together to secure the life of the people of the Nile basin and take them out of the cycle of poverty." (from a Jan. 18 Associated Press article at ABC News)
Daily "Answers" emails are provided for Daily News Articles, Tuesday's World Events and Friday's News Quiz.