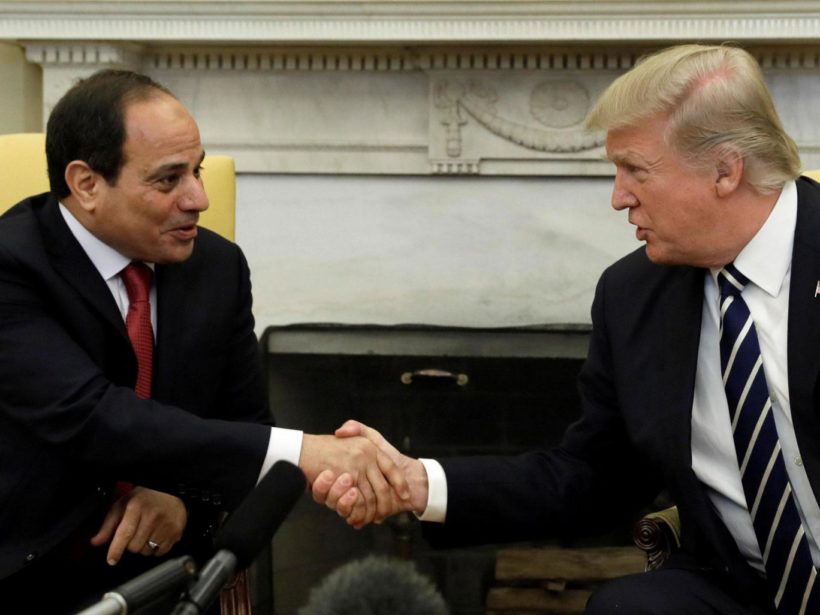 redo Jump to...
print Print...
(by Steve Holland, Reuters) – U.S. President Donald Trump moved to reset U.S. relations with Egyptian President Abdel Fattah al-Sisi on Monday after the prior Obama administration's strained ties, giving him firm backing and vowing to work together to fight Islamic militants.
"I just want to let everybody know in case there was any doubt that we are very much behind President Sisi. He's done a fantastic job in a very difficult situation. We are very much behind Egypt and the people of Egypt," Trump said in an Oval Office meeting with the Egyptian leader.
The trip was Sisi's first official U.S. visit since being elected president in 2014. Trump's predecessor, Barack Obama, never extended an invitation. [Instead, Obama's State Department officials met in Washington with Egyptian members of the Muslim Brotherhood.]

Obama froze aid to Egypt for two years after Sisi, then a general, overthrew President Mohamed Mursi in mid-2013 after mass protests against Mursi's rule. Mursi, a Muslim Brotherhood member, had been elected the previous year.

[Former Attorney General Michael Mukasey wrote in 2015:  "In June 2013, 30 million Egyptians – a third of the country – took to the streets to protest the Muslim Brotherhood rule of President Mohammed Morsi.

It was the largest peaceful demonstration in world history. Then-Gen. Sisi, as defense minister, led a coalition of military, religious, judicial and political leaders to force out Morsi, who'd been freely and fairly elected a year before, because the constitution had no provision for impeachment.

What brought the people into the streets and Sisi to the fore was the Muslim Brotherhood's gradual but relentless tightening of its hold on power and its Islamification of daily life, with the restriction of women, near-collapse of the economy and persecution of religious minorities, notably Copts (Coptic Christians) – ills that have marked Islamist rule elsewhere, notably in Turkey. Some even feared the Muslim Brotherhood planned to suspend the constitution and install an Iran-style theocracy.]

The one-on-one meeting between Trump and Sisi on Monday, followed by a separate gathering with top aides, showed how intent the new U.S. president is on rebooting the bilateral relationship and building on the strong connection the two presidents established when they first met in New York last September.
"I just want to say to, Mr. President, that you have a great friend and ally in the United States, and in me," Trump said.
Sisi said he appreciated that Trump has been "standing very strong … to counter this evil ideology."
While Trump noted the United States and Egypt "have a few things" they do not agree on, he made no public airing of U.S. concerns about human rights in Egypt.
…Human rights groups claim that Sisi's government has detained at least 40,000 political prisoners. [Many are members of the Muslim Brotherhood.]
Egypt has long been one of Washington's closest allies in the Middle East, receiving $1.3 billion in U.S. military aid annually. It is fighting an Islamist insurgency in Sinai in which hundreds of Egyptian soldiers and police have been killed.
A U.S. official said Sisi would find a White House ready to soften U.S. criticism of Egypt on human rights and to work on counter-terrorism but unwilling to provide additional aid to the most populous Arab nation. …
"He's going to be disappointed because he wants more assistance and he's not going to get it," the official [noted], saying it was not yet clear whether Egypt would escape a cut in its foreign aid as part of the Trump administration's plan to cut the overall State Department budget by 28.7 percent.
USA Today also reported: "The [meeting] with Sisi  began a busy foreign policy week for Trump. On Wednesday, Trump greets King Abdullah II of Jordan at the White House. On Friday he will hold a two-day summit with China President Xi Jinping at [his] Mar-a-Lago estate in Palm Beach, Fla."
(Additional reporting by Arshad Mohammed, Ayesha Rascoe, Roberta Rampton and Jeff Mason; Editing by James Dalgleish)
Reprinted here for educational purposes only. May not be reproduced on other websites without permission from Thomson Reuters. Visit the website at Reuters .com.
Questions
1. What is significant about Egyptian President al Sisi's official visit to meet with President Trump at the White House this week?
2. What type of relationship is President Trump establishing with President Sisi?
3. What did President Trump say to President Sisi during the press conference to confirm this relationship?
4. Sisi said he appreciated that Trump has been "standing very strong … to counter this evil ideology." To what "evil ideology" does he refer?
5. What type of diplomatic relationship has the U.S. historically had with Egypt prior to President Obama's tenure?
6. Why has the U.S. been giving Egypt over $1 billion in aid per year? (For what purpose is the money used?)
7. One U.S. official said President Trump would not be giving Egypt additional aid and said it is not clear yet whether some of its funding would be cut. Egypt's al Sisi has called on Muslim leaders to rid Islam of Islamic fundamentalist teaching. His government fights ISIS and other terrorist groups in Egypt's Sinai.
a) What do you think: Should the U.S. cut funding to Egypt, increase funding to Egypt, or continue giving the same amount?
b) Ask a parent the same question. Discuss your answers.
8. Watch the news conference with President Trump and Egyptian President al Sisi (see "Resources" below). What is your reaction to the re-establishing of ties between the U.S. president and Egypt?
Background
Read about the 2012 power grab by Mohammed Morsi, the Muslim Brotherhood's leader who became Egypt's president after long-time strongman Hosni Mubarak was ousted in the Arab Spring. This explains why millions of Egypt's took to the streets demanding his ouster: "Egyptian court suspends work to protest Morsi power grab"
Resources
Watch a video from Monday's news conference (see second video for captions):
---
Same video with closed captions by YouTube:
Daily "Answers" emails are provided for Daily News Articles, Tuesday's World Events and Friday's News Quiz.