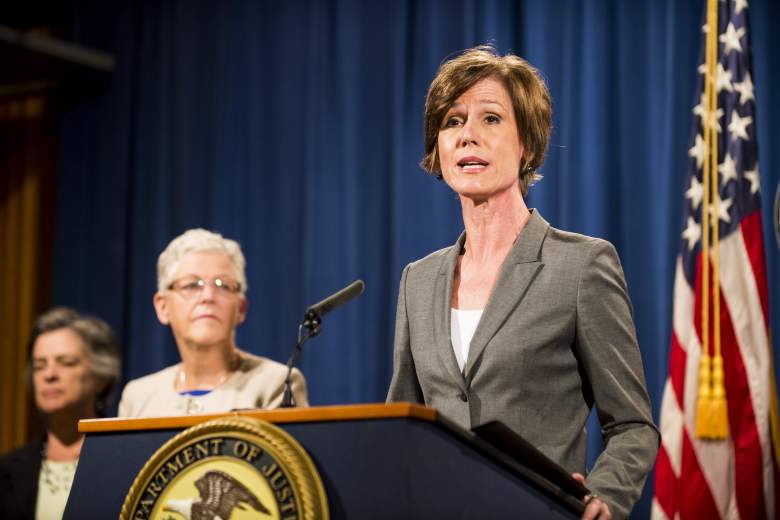 redo Jump to...
print Print...
(by Marc Torrence, New Brunswick Patch) – Sally Yates, an Obama appointee serving as acting U.S. attorney general, was fired Monday night after she instructed Department of Justice employees not to defend President Trump's executive order on immigration.
"The acting Attorney General, Sally Yates, has betrayed the Department of Justice by refusing to enforce a legal order designed to protect the citizens of the United States," White House press secretary Sean Spicer said in a statement.
She will be replaced by Dana Boente, the U.S. Attorney for the Eastern District of Virginia, until Alabama Sen. Jeff Sessions is confirmed, the White House said. Sessions is scheduled to face a confirmation vote before the Senate Judiciary Committee this morning (Tuesday, January 31).
Yates, the highest ranking Senate-confirmed Justice employee, was the only department employee authorized to sign foreign surveillance warrants, according to The New York Times.
"Ms. Yates is an Obama Administration appointee who is weak on borders and very weak on illegal immigration," the White House statement said.

"It is time to get serious about protecting our country. Calling for tougher vetting for individuals traveling from seven dangerous places is not extreme. It is reasonable and necessary to protect our country."
Yates' [refusal to ] had left the federal government with no defense in the lawsuits it faces relating to the order. A federal judge appointed by President Obama issued rulings on parts of the order — namely, that green card holders cannot be detained or sent back to their home countries — the order itself still stands and was being enforced Monday. (see "Background" below)
"My responsibility is to ensure that the position of the Department of Justice is not only legally defensible, but is informed by our best view of what the law is after consideration of all the facts," Yates wrote in her letter. "In addition, I am responsible for ensuring that the positions we take in court remain consistent with this institution's solemn obligation to always seek justice and stand for what is right.
"At present, I am not convinced that the defense of the Executive Order is consistent with these responsibilities nor am I convinced that the Executive Order is lawful.
"Consequently, for as long as I am the Acting Attorney General, the Department of Justice will not present arguments in defense of the Executive Order, unless and until I become convinced that it is appropriate to do so."
President Trump tweeted shortly after the letter was made public that Democrats are delaying his cabinet picks for "purely political reasons," leaving him with an "Obama A.G."
Reprinted here from New Brunswick Patch for educational purposes only. May not be reproduced on other websites without permission from patch .com.
Questions
NOTE TO STUDENTS:  Before answering the questions, read the background below.
1. Who is Sally Yates?
2. Why does President Trump have an Obama appointee as acting Attorney General?
3. For what reason did President Trump fire Yates? (How did the White House explain the decision?)
4. How did Ms. Yates explain her decision to defy President Trump's hold on immigration from several countries?
5. President Trump tweeted shortly after the letter was made public that Democrats are delaying his cabinet picks for "purely political reasons," leaving him with an "Obama [Attorney General]"
President Trump's pick for U.S. Attorney General is Alabama Senator Jeff Sessions. Sessions only needs 50 votes to clear the Senate floor, and Republicans have a 52-seat majority. Sen. Joe Manchin (D-W.Va.) has also said he will vote for Sessions.
The Senate Judiciary Committee was scheduled to vote on the Alabama Republican's nomination during a morning meeting last Tuesday, January 24. The committee's approval is a first step to being scheduled for a full Senate vote.
Senate Democrats delayed a vote on Sen. Sessions's confirmation, arguing they want more time to review the pick. A week later, it will now be voted on today in committee before it can go to the full Senate for a vote.
Check out the chart under "Resources" below. Consider the comparison. Do you agree with President Trump's assertion? Explain your answer.
Background
On Friday (January 27), President Trump signed an executive order indefinitely halting refugees from Syria and temporarily restricting travel for visa holders from seven Muslim-majority countries: Iran, Iraq, Libya, Somalia, Sudan, Syria and Yemen – countries that do not have stable governments, named by the Obama administration as "countries of particular concern."
"To be clear, this is not a Muslim ban, as the media is falsely reporting," Mr. Trump said in a statement sent out by the White House. "This is not about religion — this is about terror and keeping our country safe."
In his statement, Mr. Trump stressed that the ban is only temporary and noted that it doesn't apply to all Muslim-majority countries.
"There are over 40 different countries [46] worldwide that are majority Muslim that are not affected by this order," Mr. Trump said. "We will again be issuing visas to all countries once we are sure we have reviewed and implemented the most secure policies over the next 90 days."
He cited past precedent on the issue, saying the Obama administration implemented a pause on refugee arrivals back in 2011.
"My policy is similar to what President Obama did in 2011 when he banned visas for refugees from Iraq for six months," he said. "The seven countries named in the Executive Order are the same countries previously identified by the Obama administration as sources of terror."
Mr. Trump said he has "tremendous feeling" for Syrian refugees, but that national security must come first.
"America is a proud nation of immigrants and we will continue to show compassion to those fleeing oppression, but we will do so while protecting our own citizens and border," he said. "America has always been the land of the free and home of the brave."
(Read the full text of the President's Jan. 27 "Executive Order: Protecting the Nation from Foreign Terrorist Entry into the United States"
---
THE UNITED STATES ATTORNEY GENERAL:   
The Department of Justice is an executive department of the government of the United States.
The United States Attorney General is the head of the Department of Justice concerned with legal affairs and is the chief law enforcement officer of the U.S. government.
The Attorney General is considered to be the chief lawyer of the U.S. government.
The Attorney General guides the world's largest law office and the central agency for enforcement of federal laws.
The Attorney General serves as a member of the President's Cabinet, but is the only cabinet department head who is not given the title Secretary, besides the now defunct Postmaster General.
The Attorney General is nominated by the President and takes office after confirmation by the Senate. He or she serves at the pleasure of the President and can be removed by the President at any time…
The Attorney General performs or supervises the performance of other duties required by statute or Executive Order.
The office of Attorney General was established by Congress by the Judiciary Act of 1789.  (from wikipedia and the Department of Justice website justice.gov)
NOTE: Ms Yates stated that she is responsible "…to always seek justice and stand for what is right."  However, the responsibility of the U.S. Attorney General is not to determine what she feels justice is and what she feels is right, but to uphold the law.  Ms Yates defied a lawful order of the President of the United States because she opposed his policy.
Daily "Answers" emails are provided for Daily News Articles, Tuesday's World Events and Friday's News Quiz.