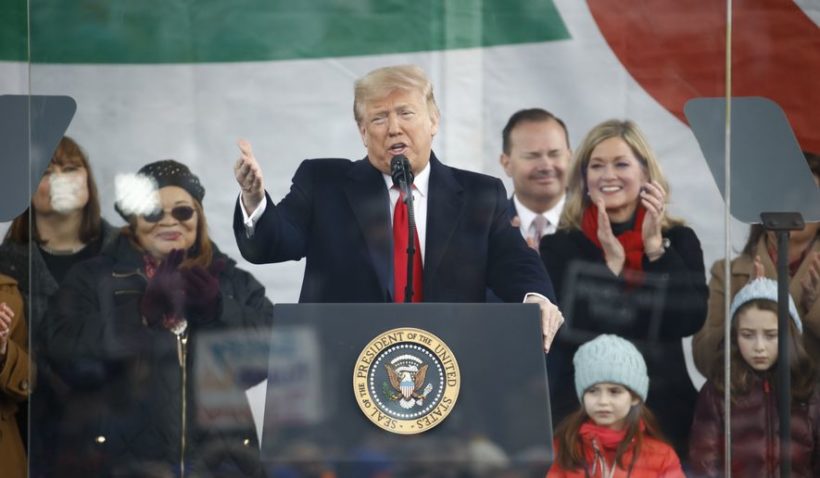 redo Jump to...
print Print...
(by Ritu Prasad BBC News)  Washington DC — Donald Trump has become the first US president to attend America's largest annual pro-life rally.
The president addressed tens of thousands of protesters at the March for Life rally near the US Capitol on Friday.
"We're here for a very simple reason: to defend the right of every child born and unborn to fulfill their God-given potential," Trump told the crowd in Washington.

"For 47 years, Americans of all backgrounds have traveled from across the country to stand for life, and today as president of the United States, I am truly proud to stand with you."

"It is my profound honor to be the first president in history to attend the March for Life.  Unborn children have never had a stronger defender in the White House. … Every life brings love into this world. Every child brings joy to a family. Every person is worth protecting," the president said during his remarks.
The annual march first began in 1974 – a year after the US Supreme Court legalized abortion in Roe v Wade.
Until now no president had ever attended the march, which takes place just steps from the White House, though previous Republican presidents, including George W Bush and Ronald Reagan, have addressed the group remotely.
Mike Pence became the first sitting vice-president to attend the rally in 2017.
President Trump's appearance at the 47th March for Life delighted marchers. Voters who support limiting abortion make up a key constituency for the president, who is seeking their support at the polls again in the 2020 election.  On Friday, marchers in Washington shouted "four more years" and "we love you."
In 2016, 81% of Evangelical voters – a group for whom abortion is the biggest political issue – backed Mr. Trump for president.
America's two main political parties are more polarized than ever on the issue of abortion. No Democratic president or vice-president has ever addressed the annual March for Life.
Democrats campaigning for November's White House election are pro-choice.  In 2016, the Democratic party for the first time included in its platform a call to repeal the Hyde Amendment, a decades-old law that prohibits using taxpayer money for abortions.
Last year, leading White House contender Joe Biden was sharply criticized by his Democratic rivals for initially backing the Hyde Amendment. Amid uproar from the party's liberal base, he reversed course in June and now supports using taxpayer money to pay for abortions.
President Trump, meanwhile, has bolstered support for pro-life views within the Republican party.
In 2018, he was the first sitting president to address the Campaign for Life gala, sponsored by the Susan B Anthony List pro-life political action group. Earlier this week, the group announced it would spend $52 million in support of the president and Republicans in 2020.
Mr. Trump has appointed constitutionalist judges* (those who interpret the Constitution and laws based on their original meaning, not on what they want them to mean), banned clinics receiving tax money from promoting abortions and barred federal money going to foreign organisations that educate about or perform abortions.
Pro-life activists across the nation have been pushing abortion bans through state legislatures – measures that in some cases would bar an abortion as early as six weeks into a pregnancy. [A Louisiana law being challenged would require doctors who perform abortions to have admitting privileges at a nearby hospital, should health complications arise.]
Last year, 17 states enacted some form of abortion restriction, according to the Guttmacher Institute, which promotes research on abortion access.
Pro-life groups hope the lawsuits will reach the US Supreme Court (which now has a majority of justices who are constitutionalists), and ultimately result in Roe v Wade being overturned.
Such a monumental decision would enable individual states, such as those in the South and Midwest, to enact the abortion bans they have already passed. [Most/all have been challenged and are now in the courts.]
In a few weeks, the justices are expected to take up the first major abortion related case since the arrival of Trump appointees Brett Kavanaugh and Neil Gorsuch.
Sarah Schultz, who flew in from South Dakota for the rally, said that "the presidency has helped [Trump, who in the past said he was pro-choice] figure out the issues for himself."
"He's making a clear line," she said of his appearance on Friday. "People are going to be drawn to one side or another now – they have to take a stand."
Ms. Schultz added: "I like that the issues are clearer, but in this country, we should be able to discuss our differences without getting angry."
From BBCNews .com. Reprinted here for educational purposes only. May not be reproduced on other websites without permission from the BBC.
"One of the big confusions in the…Senate fight over the confirmation of judicial nominees is that this is an issue about 'liberal' judges versus 'conservative' judges [which is really activist judges vs. constitutionalists].  The vastly more important issue is whether people who go into court should expect their cases to be decided on the basis of the law or on the basis of the particular judge's own philosophy…Liberals have rooted for judicial activism because this activism has favored liberal causes and liberal views on such issues as abortion, the death penalty, gay marriage, and racial quotas.  But activism can be used by any judge for any purpose.""Thomas Sowell, Hoover Institution
Questions
Note to students: Abortion is a controversial topic. When discussing, be polite to one another. Be kind to each other.
1. The first paragraph of a news article should answer the questions who, what, where and when. (In this article, 1st and 2nd paragraphs). List the who, what, where and when of this news item. (NOTE: The remainder of a news article provides details on the why and/or how.)
2. What did the president say about the reason for the March for Life rally, and the importance of every child?
3. When did the annual "March for Life" rally begin?
4. a) What is significant about President Trump's address to the marchers?
b) Name the presidents who addressed the crowd by video.
c) What do you think of the president's decision to attend and address the March for Life crowd?
5. How many states have passed some type of legislation limiting abortion in the past year?
6. a) How important is it to pro-life supporters to have the president speak at the annual March for Life?
b) Do you think if any of the top Democratic presidential candidates – Joe Biden, Bernie Sanders, Elizabeth Warren – or any top Democrats – Barack or Michelle Obama or Hillary Clinton – attended and spoke in support of life, the media reporting would have been different? If so, how? Explain your answer.
7. a) Read the points from the most recent Democratic and the Republican party platforms under "Background" below the questions. With which position do you agree? Would it cause you to change your support for candidates from that party? Why or why not?
b) Ask a parent the same question.
CHALLENGE: Read an "Example of media bias" post: "Are laws to allow abortion up to birth newsworthy?"  A large percentage of members of the media are pro-choice.
Background
The 2020 party platforms will be presented at the National party conventions this summer. The viewpoints below are from the parties' 2016 platforms:
DEMOCRATIC 2016 PLATFORM POINT ON ABORTION:
"Democrats are committed to protecting and advancing reproductive health, rights, and justice. We believe unequivocally that every woman should have access to quality reproductive health care services, including safe and legal abortion—regardless of where she lives, how much money she makes, or how she is insured. We believe that reproductive health is core to women's, men's, and young people's health and wellbeing…. We will continue to oppose—and seek to overturn—federal and state laws and policies that impede a woman's access to abortion, including by repealing the Hyde Amendment." (p.37)
REPUBLICAN 2016 PLATFORM POINT ON ABORTION:
"The Constitution's guarantee that no one can "be deprived of life, liberty or property" deliberately echoes the Declaration of Independence's proclamation that "all" are "endowed by their Creator" with the inalienable right to life. Accordingly, we assert the sanctity of human life and affirm that the unborn child has a fundamental right to life which cannot be infringed. We support a human life amendment to the Constitution and legislation to make clear that the Fourteenth Amendment's protections apply to children before birth." (p.13)
==========
REPUBLICAN 2016 PLATFORM POINT ON THE GOVERNMENT PAYING FOR ABORTIONS:
"We oppose the use of public funds to perform or promote abortion or to fund organizations, like Planned Parenthood, so long as they provide or refer for elective abortions or sell fetal body parts rather than provide healthcare." (p.13)
DEMOCRATIC 2016 PLATFORM POINT ON THE GOVERNMENT PAYING FOR ABORTIONS:
"We will continue to stand up to Republican efforts to defund Planned Parenthood health centers, which provide critical health services to millions of people." (p.37)
Read about the party platforms at StudentNewsDaily's 2020 Presidential Election page.
Daily "Answers" emails are provided for Daily News Articles, Tuesday's World Events and Friday's News Quiz.