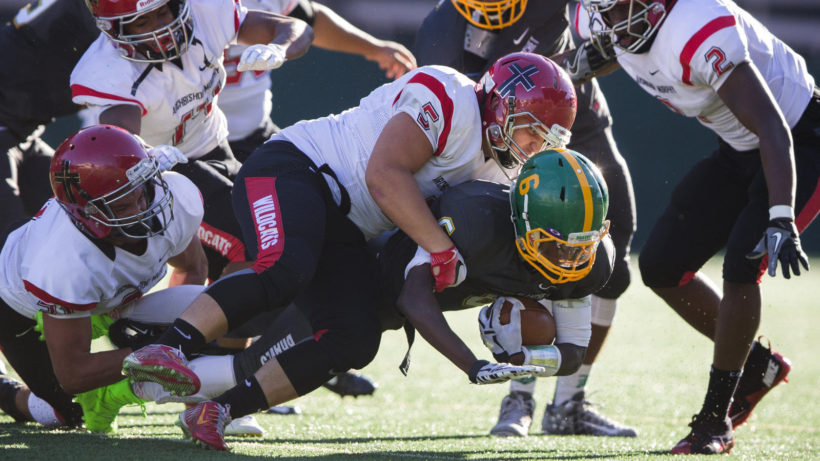 (by Heather Graf, NBC KING5) – GRANITE FALLS, Wash. – A third high school football team is now refusing to play Everett, Washington's Archbishop Murphy High amidst concerns about player safety.
Archbishop Murphy is a private Catholic school in Everett that's been so dominant this season that opponents South Whidbey, Sultan, and now Granite Falls High School have all opted to forfeit instead of taking the field against the Wildcats.
"The biggest concern is the recruiting aspect that private schools are able to do.  They can pull from a 50-mile radius from their campus and send buses to pick the kids up," said Granite Falls Head Coach Tim Dennis.  "Just the level of athletes they've been able to bring in on one team, it doesn't match up with a lot of the teams in our league."
It's an issue that's been widely discussed among athletic directors and coaches in the Cascade Conference that Archbishop Murphy is part of.  In the three games Archbishop Murphy has played this season, they've outscored their opponents 170-0. [In their first game of the season, they beat Issaquah High 73-0; in their second they beat Bishop Blanchet High 59-0 and their third game they beat Kings High 38-0.]
"It's not that we're afraid to play the game, it's an injury issue," said Granite Falls Coach Dennis.  "Because of the size disparity between the linemen.  They have 300-pound linemen.  And we have sophomores that are weight 210, 220 pounds and starting on varsity.  So that's the issue, is the size disparity."
Granite Falls High School held a community meeting Tuesday evening (October 4) in response to parent feedback and fears that their kids could get seriously hurt if they go through with Friday's game against Archbishop Murphy. Granite Falls mom Stacey McBride said:
"My son is 5'8″ and weighs 117 pounds and just got out of middle school and just turned 14.  They've got 18-year-old players that are 6'5″ and weigh 330 pounds.  I mean, that's like putting a Volkswagen bug against a mack truck." 
She and many other parents on the team feel that a football game just isn't worth it.
"I've said from the very beginning that there's no way I'm going to let my son play these guys," said McBride.  "He said Mom I'll get killed, why would I even put myself in that position?"
Those are the worries parents expressed to the school's principal, athletic director, and the school district superintendent.
In 2015, Granite Falls lost to Archbishop Murphy, 66-6.  In 2014, they lost 56-7.
Granite Falls Athletic Director Joey Johnson, at first, said the decision had already been made, and the school leaders had no plans to forfeit this year's game to Archbishop Murphy.
"We made the decision to honor the commitment that we had made as a member of the Cascade Conference that we would play the game instead of forfeiting the game," Johnson said.
In the end, it was the players themselves who had the final say.

They came forward in the middle of Tuesday's meeting and announced they'd decided as a team that they would not play Archbishop Murphy on Friday (October 7).

Parents in the crowd applauded their decision.  One of the players explained that they chose to forfeit not because they are afraid to play Archbishop Murphy, but because the Granite Falls team is already dealing with some injuries.  He said they'd rather have the chance to finish out their entire season than risk someone getting seriously hurt while playing the Archbishop team that has a bigger roster and much bigger players.

Shortly after the meeting, Johnson sent an email to players, coaches, and parents confirming the official forfeit.

[On October 7, a fourth school, Cedar Park Christian High School, forfeited their October 14 game against Archbishop Murphy. Before forfeiting, some parents emailed their concerns to the school. One wrote:
"We are in agreement that to play Archbishop Murphy would compromise the best interest and safety of the players and be demoralizing by the certain and devastating defeat."
Another wrote,
"Football is a dangerous sport, however, this is an extreme and unnecessary risk that you are putting our sons in."
Some were even upset that the school didn't forfeit immediately, saying,
"Please know that we will not be allowing our sons to suit up for the Archbishop game next Friday the 14th."]
Reprinted here for educational purposes only. May not be reproduced on other websites without permission from king5 .com (NBC Western Washington).
Questions
1. a) Define forfeit as used in the article.
b) For what reason do high school sports teams generally forfeit games?
2. How many teams have forfeited games against Archbishop Murphy High School in Washington state?
3. How does the Granite Falls High School football coach explain the biggest concern administrators had when considering whether to forfeit against Archbishop Murphy?
4. What concerns did Granite Falls players' parents express in a community meeting three days before the game?
5. a) What were the scores in Granite Falls' past two games against Archbishop Murphy?
b) Is there any information about whether players got injured the past two years?
6. a) Why did the school hold a community meeting with the principal, athletic director and school district superintendent last Tuesday?
b) How did Granite Falls Athletic Director Joey Johnson initially respond?
c) Why did the administration then agree to forfeit the game?
d) How did the players explain their decision?
7. Watch the two news reports under "Resources" below with comments from the Granite Falls players and from the Archbishop Murphy players.
With whom do you agree? Consider the following:
Do you think should there be a size limit (must be between a certain height/weight? Not too small, not too big? Should 14 year old, 117 pound players play on the varsity team? Should the 6'8" 256-pound junior who is a Division 1 college recruit be permitted to play on his high school team, or is it too dangerous to his opponents?
Should the schools honor their commitment to play – or are the parents right in not wanting their sons to get seriously injured against a team that is able to recruit such big players from a greater distance? What about the other Catholic school? They can recruit too but they played and lost 59-0, obviously they didn't have the same type of players?
Are they afraid or is it an injury issue?
Should you risk serious injury over a game?
Should you walk away from a commitment?
Granite Falls Coach Dennis said, "They have 300-pound linemen. And we have sophomores that are weight 210, 220 pounds and starting on varsity. So that's the issue, is the size disparity." What should be done about this?
Resources
Watch a local news report from Granite Falls HS perspective:
---
Watch a local news report from Archbishop Murphy HS perspective:
---
Watch a CBS Evening News report:
Daily "Answers" emails are provided for Daily News Articles, Tuesday's World Events and Friday's News Quiz.