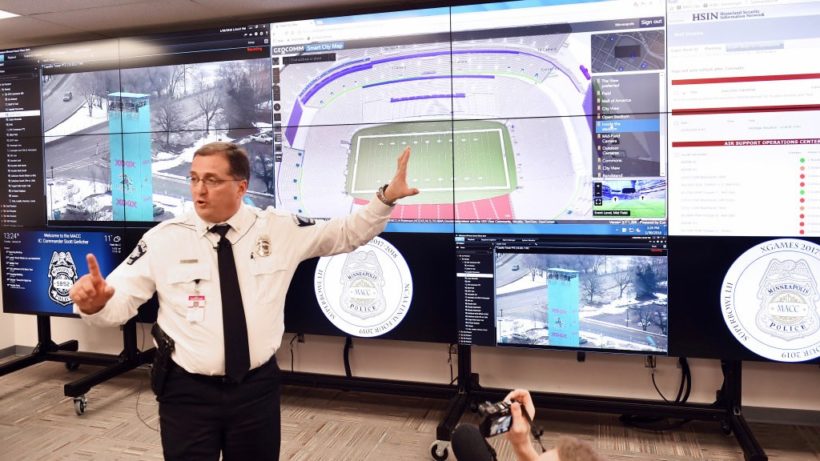 redo Jump to...
print Print...
(by Frank Pingue, Reuters at whtc.com) – MINNEAPOLIS – The security operations in place for Sunday's Super Bowl between the New England Patriots and Philadelphia Eagles are "ready for anything" after two years of planning that was adjusted following last year's deadly mass shooting in Las Vegas.
The National Football League's championship game is one of the biggest sporting events in the world and those planning to be anywhere near the game venue of U.S. Bank Stadium in Minneapolis can expect plenty of security.
Bomb-sniffing dogs, police patrols, helicopters and a massive chain-link and concrete fence surrounding the stadium are among the many measures in place.
"We are absolutely ready for anything that may come our way," Minneapolis Police Commander Scott Gerlicher, whose department is overseeing security, told a news conference on Wednesday. "We hope it's just cold weather and that's it."
The Super Bowl is being held four months after a mass shooting at a Las Vegas music festival, [which left 58 people dead and 500 wounded]. Those in charge of securing the Super Bowl did not specify how the Las Vegas incident altered their approach to securing Sunday's game but did acknowledge that changes were made.
"We do take into account every incident that happens and we do make changes to our plans," said NFL Chief Security Officer Cathy Lanier.

"Those specific changes we are not going to talk about here but rest assured that those adjustments were made."
For the past two years authorities have conducted over 200 security assessments of the critical infrastructure and surrounding areas in addition to training for everything from active shooters and bombings.

Speaking to reporters in Minneapolis on Wednesday, U.S. Homeland Security Secretary Kirstjen Nielsen said, "Obviously due to its size and its scope it is and can be an attractive target. We don't have any credible or specific threat intel but we will continue to actively monitor channels with our international partners."

[Nielsen said for the past 18 months, the Department of Homeland Security has conducted over 2,000 different security assessments and have provided counsel and recommendations on protective measures.
"We have about 1,700 Federal officials brought to bear to support our state and local partners," she said. "About 700 of those are from the DHS and we've done everything to help prepare on the front end, and we'll be here during the event. In the unlikely event that something occurs, we'll be here to support the state and locals who are here on the ground."
She said they've also hosted 52 training sessions in the area on topics ranging from an active shooter, cyber bombing, or any sort of hazard or event that could occur.]
This year's Super Bowl will be the first where there will be remote satellite checkpoints, offering ticketholders the option to go through indoor screening at the Mall Of America before taking a free train to get inside the security perimeter.
Authorities are also asking those attending the game to play an active role in the security process, urging anyone who sees anything suspicious to report it.
Reprinted here for educational purposes only from a Jan. 31 Reuters report at WHTC .com. May not be reproduced on other websites without permission from Reuters and WHTC.
Questions
1. What type of security measures have law enforcement officials in Minneapolis established to secure the Super Bowl stadium?
2. a) For how long have officials been conducting security assessments of the critical infrastructure and areas surrounding the Super Bowl stadium?
b) What types of situations have authorities been training for during that time?
3. What has the Department of Homeland Security done in the past 18 months to prepare for the Super Bowl?
4. What did DHS's 52 training sessions in Minneapolis cover?
5. This year's Super Bowl will be the first where there will be remote satellite checkpoints, offering ticketholders the option to go through indoor screening at the Mall Of America before taking a free train to get inside the security perimeter. If you had tickets for the Super Bowl, would you use this type of screening checkpoint? Why or why not?
6. Read the "Background" below and watch the news report under "Resources." What is your reaction to the security measures being put in place by local, state and federal government to guard the Super Bowl?
Background
Thousands of security cameras will monitor Super Bowl activity:
The Super Bowl public safety team is prepared. There are 2,000 fixed [surveillance] cameras throughout downtown Minneapolis and neighboring areas [the team will be monitoring].
About 2,000 of the 3,000 officers working the Super Bowl have an app that allows them to broadcast any video they take of suspicious activity to the command center where 80 individuals will be stationed to monitor the event.
Key law enforcement figures from all over the state are working from the Multi-Agency Command Center near U.S. Bank Stadium to monitor Super Bowl crowds and shift resources as necessary.
It's a critical portion of Super Bowl safety efforts several years in the making. …
There are 3 giant screens in the command center. One depicts the view of security cameras throughout downtown Minneapolis, including private company security cameras. Another shows a log of incidents and things to be aware of.
The third screen shows a map of the city. Drones were sent around town all week taking pictures of areas to make the map as up to date as possible.
Green and purple dots on the map depict different types of security cameras. Clicking on those dots zooms in on the video's view.
Blue and white badges on the screen show real-time movement of officers around town.
If an officer spots suspicious activity or a potential problem, the officer can pull out his or her phone to record video of the activity. That video is then broadcast through the app on the screen to all 80 representatives in the room, enabling them to see what the officers see in real time.
"When there are problems, we have people here who can make decisions and mitigate any type of issues before they become big issues," Minneapolis police Cmdr. Bruce Folkens said.
Operators in the room also can take the roof off the stadium on the center screen to view the interior and enter rooms within the map. The detailed map allows them to direct officers to specific rooms, and they can view security camera footage within the stadium to monitor activity there as well.
If stadium coverage is secure, the map can span back out, or focus in on other attractions, such as Super Bowl Live at Nicollet Mall.
It's the first use of the command center in Minnesota, but similar command centers have been set up in cities which previously hosted the Super Bowl. (adapted from a Pioneer Press article at twincities.com)
Resources
Watch a local news report:
Daily "Answers" emails are provided for Daily News Articles, Tuesday's World Events and Friday's News Quiz.