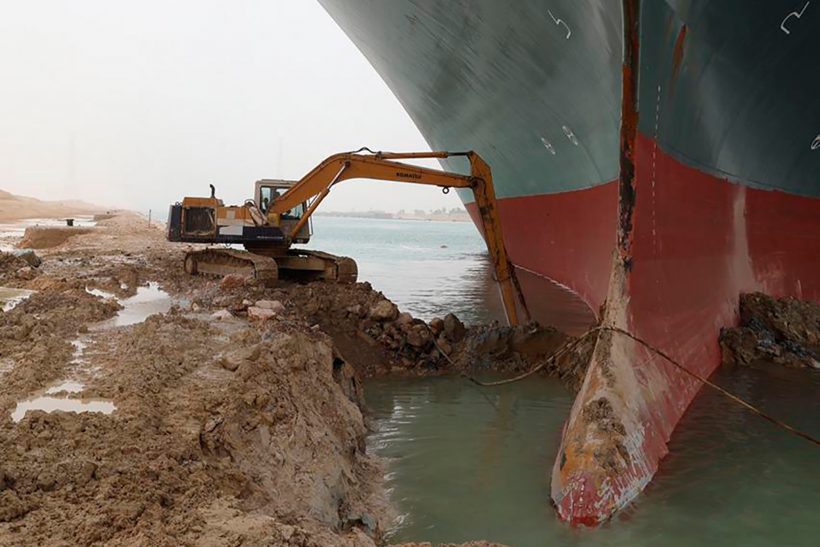 redo Jump to...
print Print...
The Ever Given, a Panama-flagged ship that carries cargo between Asia and Europe, ran aground Tuesday in the narrow, man-made canal dividing continental Africa from the Sinai Peninsula. In the time since, efforts to free the ship using dredgers, digging and the aid of high tides have yet to push the container vessel aside.
---
US Navy ready to help free cargo ship blocking Suez Canal
(MARCH 27, 1:24 pm by Kerry J. Byrne, New York Post) — The US Navy is prepared to do whatever it can to help float this boat.
The Navy could be called in to free the grounded container ship that has blocked the Suez Canal and interrupted global trade since Tuesday, while transportation companies are warning that disruptions in global commerce could be felt for months ahead.
Reuters reported Saturday, "A US official, speaking on the condition of anonymity, said the Navy was prepared to send a team of dredging experts to the canal, but was awaiting approval from local [Egyptian] authorities."
The cargo ship Ever Given, registered in Panama and under German management, weighs about 224,000 tons and is 1,300 feet long, about the height of the Empire State Building. It is considered one of the world's largest cargo vessels.
There were some signs of progress Saturday in the effort to free the ship, which was forced aground by strong winds
"The ship's stern began to move toward Suez and that was a positive sign until 11 p.m. at night, but the tide fell significantly and we stopped," Suez Canal Authority Chairman Osama Rabie said, according to Reuters.
Eygptian President Abdel Fattah el-Sisi's advisor, Mohab Mamish, a former chairman of the Suez Canal Authority, told the on Thursday that he expect[ed] traffic in the canal to resume by Sunday [March 28th].
---
Suez Canal remains blocked amid efforts to free stuck vessel
(March 27, 3:59 am by Associated Press at NYPost) – ….. A maritime traffic jam grew to around 280 vessels Saturday outside the Suez Canal, according to canal service provider Leth Agencies.
Some vessels began changing course and dozens of ships were still en route to the waterway, according to the data firm Refinitiv.
A prolonged closure of the crucial waterway would cause delays in the global shipment chain. About 10% of world trade flows through the canal, which is particularly crucial for transporting oil. The closure could affect oil and gas shipments to Europe from the Middle East.
Apparently anticipating long delays, the owners of the stuck vessel diverted a sister ship, the Ever Greet, on a course around Africa instead, according to satellite data.
Others also are being diverted. The liquid natural gas carrier Pan Americas changed course in the mid-Atlantic, now aiming south to go around the southern tip of Africa, according to satellite data from MarineTraffic .com.
---
Suez Canal: 24-hour dredging and tugging as Egypt's president mulls removing Ever Given containers
(MARCH 28, 17:10, UK time, UK Sky News) – Suez Canal salvage teams are alternating between dredging and tugging as they continue to try to dislodge a massive container ship blocking the busy waterway.
Dredgers have so far shifted 27,000 cubic metres of sand, to a depth of 18m (59ft) with work set to continue around the clock.
Egypt's President Abdel Fattah al Sisi has ordered preparations for the possible removal of some of the ship's cargo to help refloat it.
The 400m (1,312ft) long Ever Given became jammed diagonally across a southern section of the canal in high winds more than five days ago, halting shipping traffic in one of the world's busiest waterways.
As of Saturday, 321 boats were waiting to get through the canal, including dozens of container ships, bulk carriers and liquefied natural gas (LNG) or liquefied petroleum gas (LPG) vessels.
"There are positive indicators from yesterday and the day before yesterday," Suez Canal Authority (SCA) chairman Osama Rabie told Egyptian state TV.

"The rudder was not moving and it is now moving, the propeller is working now, there was no water underneath the bow, and now there is water under it, and yesterday there was a four-metre deviation in the bow and the stern."
However, reports suggest a mass of rock has been found at the bow of the ship, complicating salvage efforts.
Rescue workers from the SCA and a team from Dutch firm Smit Salvage have been investigating whether some of the Ever Given's 18,300 containers will need to be removed by crane in order to refloat it.
Experts have warned that such a process could be complex and lengthy.
About 15% of world shipping traffic transits the Suez Canal.
Rates for oil product tankers nearly doubled after the ship became stranded, and the blockage has disrupted global supply chains, threatening costly delays for companies already dealing with COVID-19 restrictions.
---
2 more tugboats speed to Egypt's Suez Canal; hundreds of ships still backed up
(MARCH 28, 8:18 p.m. ET by Associated Press at MarketWatch) SUEZ, Egypt — Two additional tugboats deployed Sunday to Egypt's Suez Canal to aid efforts to free a skyscraper-sized container ship wedged for days across the crucial waterway, even as major shippers increasingly divert their boats out of fear the vessel may take even longer to free.
The Ever Given, a Panama-flagged, Japanese-owned ship that carries cargo between Asia and Europe, got stuck Tuesday in a single-lane stretch of the canal. In the time since, authorities have been unable to unstick the vessel and traffic through the canal — valued at over $9 billion a day — has been halted, further disrupting a global shipping network already strained by the coronavirus pandemic.
The Dutch-flagged Alp Guard, a specialist tugboat, arrived at the location Sunday, according to the stuck ship's technical management company, Bernard Schulte Shipmanagement. The Italian-flagged tugboat Carlo Magno was also close, having reached the Red Sea near the city of Suez early Sunday, satellite data from MarineTraffic.com showed.
The tugboats, along with at least 10 others already there, will be used to nudge the 400-meter-long Ever Given as dredgers continue to vacuum up sand from underneath the vessel and mud caked to its port side, Bernhard Schulte said.
Excavators dug Sunday on the eastern wall of the Suez Canal, hoping to free the bulbous bow of the Ever Given that plowed into the embankment, satellite photos showed. Bernard Schulte said the team was also waiting for the arrival of additional equipment to dredge the canal's seafloor. The THSD Causeway, a dredger registered in Cyprus, was expected to arrive by Tuesday.
Authorities canceled Sunday's planned freeing attempts "until sufficient tug power is in place," said canal services firm Leth Agencies. They plan to conduct an effort to free the vessel Monday to coincide with high tides, it said.
Officials have been desperately trying to avoid unloading the vessel, which likely would add even more days to the canal's closure. Taking containers off the ship would require a crane and other equipment that have yet to arrive.
On Saturday, the head of the Suez Canal Authority told journalists that strong winds were "not the only cause" for the Ever Given running aground, appearing to push back against conflicting assessments offered by others. Lt. Gen. Osama Rabei said an investigation was ongoing but did not rule out human or technical error.
Bernhard Schulte Shipmanagement maintains that their "initial investigations rule out any mechanical or engine failure as a cause of the grounding." However, at least one initial report suggested a "blackout" struck the hulking vessel carrying some 20,000 containers at the time of the incident.
Rabei said he remained hopeful that dredging could free the ship without having to resort to removing its cargo, but added that "we are in a difficult situation, it's a bad incident."
Asked about when they expected to free the vessel and reopen the canal, he said: "I can't say because I do not know."
Speaking on Sunday to the pro-government Egyptian television channel Extra News, Rabei said Egyptian President Abdel Fattah el-Sissi had ordered the canal authority to prepare for all options, including taking containers off of the vessel. He said officials had been in talks with the U.S. about that possibility, without elaborating.
Shoei Kisen Kaisha Ltd., the company that owns the vessel, said it was considering removing containers if other refloating efforts failed.
The Ever Given is wedged about 3.7 miles north of the canal's Red Sea entrance near the city of Suez. …..
Questions
NOTE: Before answering the questions, check out the "Background" and watch the video under "Resources."
1. Today's post contains news reports from several sources. List 5 facts that you think are most important to know about this story.
2. What do you think about the conflicting messages given by President Abdel Fattah el-Sisi's advisor, Mohab Mamish, a former chairman of the Suez Canal Authority and current Suez Canal Authority (SCA) chairman Osama Rabie?
3. What do you think shipping companies and Egyptian officials can/should do to address potential problems with two possible solutions being done/considered?
a) rerouting the hundreds of ships backing up at the Suez Canal around the Cape of Good Hope: time, cost, piracy threats (especially from Somalia and Yemen)
b) removing some of the ship's cargo containers to help refloat it: need the proper equipment and expertise, removing containers endanger the ship's balance
4. a) The U.S. Navy is prepared to send a team of dredging experts to the canal.
a) How effective do you think our team would be in solving the problem?
b) How likely do you think it is to expect the Egyptian government to ask President Biden to do so?
Explain your answers.
Background
Opened in 1869, the Suez Canal provides a crucial link for oil, natural gas and cargo. It also remains one of Egypt's top foreign currency earners. In 2015, the government of President Abdel-Fattah el-Sissi completed a major expansion of the canal, allowing it to accommodate the world's largest vessels. However, the Ever Given ran aground south of that new portion of the canal. (from MarketWatch)
See a previous world article "Megaship stuck sideways in Suez Canal, disrupting global trade" (March 25)
Resources
Watch a DW report from Saturday, March 27:
---
Watch a Sunday, March 28 update from New Zealand's TVNZ:
Daily "Answers" emails are provided for Daily News Articles, Tuesday's World Events and Friday's News Quiz.