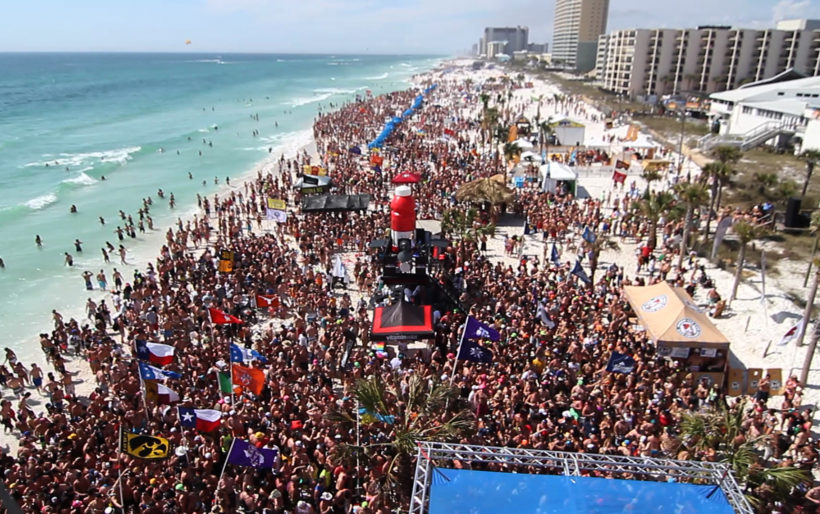 redo Jump to...
print Print...
(by Tamara Lush and Melissa Nelson-Gabriel, Associated Press) – PANAMA CITY BEACH, Fla. (AP) — Tourism officials who survived Florida's other Spring Break fevers are ready to help Panama City Beach out of the horror show that led to a woman being sexually assaulted on the sand as hundreds of revelers looked on.
"Shame on Panama City Beach for letting itself devolve into what it has become," said Nicki E. Grossman, now president of the Greater Fort Lauderdale Convention & Visitors Bureau.
She said she's sending a letter to her Panama City Beach counterparts describing just how her city did it.
"Beer, vomit and urine, that's not what we wanted," Grossman said.
Her recommendation: Clamp down and seek a higher-spending clientele. Enforce tighter beach drinking rules, eliminate traffic patterns that encourage cruising, and invest in tourism infrastructure. These moves helped turn Fort Lauderdale's image around and multiplied its spring-break economy tenfold, she said.
Authorities in Bay County, which includes Panama City Beach, are already taking some of these steps. The Tourist Development Council voted Tuesday to spend $120,000 more on security, to help deputies enforce a new ban on alcohol consumption on the city and county's beaches between March 1 and April 18.
The ban took effect April 1, in the midst of a Spring Break that now attracts 300,000 partiers and generates millions in revenue each year.
Businesses that profit from an anything-goes atmosphere are going to fight this crackdown, Bay County Commissioner Mike Thomas predicted.
Some clubs make $40,000 to $50,000 a night just in cover charges to people under 21, and some hotels do half their annual business during Spring Break alone, he said.
"They not going give that up without a fight," Thomas said. "It is hard to have family squabbles like this but our house got messed up and we got to clean it up."
Bay County Sheriff Frank McKeithen, who described a…video of the…assault on the young woman as the "most disgusting, sickening thing" he had ever seen, praised local officials for giving him the tools to "take back our beaches" after a sharp rise in crime.
So far this season, 49 guns have been seized, up from nine in all of 2014. Deputies also investigated a shooting that wounded seven people at a beach house, and [tracked down others involved in questionable incidents seen in videos on social media].
"Spring Break has made enough news. The less said about it the better," the tourism council's chairman, Mike Bennett, said after Tuesday's vote. "We're moving on."
Grossman has been in Bennett's shoes. She led a charge in the mid-1980s to end Fort Lauderdale's run as the state's Spring Break capital. It didn't make her popular at the time.
American [high school and college students] have made Florida synonymous with Spring Break for generations, and the attraction has been mutual. Beach towns have tolerated and in some instances, even welcomed the hard-partying students as a last chance to bring in serious cash before the sleepy summer season. …
The [problems associated with Spring Break have] shifted around the Sunshine State since then as town after beach town cracked down.  Daytona Beach took [over] from Fort Lauderdale…. Even sleepy St. Pete Beach got in on the action, after a 2012 movie came out, showing a fictional version of the less-than-savory side of the state's annual ritual.
…Adults still wring their hands over the excess and tragedies, from alcohol poisonings to…assaults to balcony falls.
Now it's Panama City Beach's turn to say "enough."  …..
From the Associated Press. Published at YahooNews .com. Reprinted here for educational purposes only. May not be reproduced on other websites without permission from The Associated Press.
Questions
1. a) Who is Nicki Grossman?
b) Why did she send a letter to her Panama City Beach counterparts?
2. What four recommendations did Ms. Grossman make to Panama City officials?
3. What effect does Ms. Grossman say the changes made in Fort Lauderdale have on the city?
4. a) What steps did Bay County officials recently take to address the problems with Spring Breakers?
b) Who is expected to oppose the crackdown? Why?
5. Do you think Panama City Beach should follow Ms. Grossman's recommendations? Explain your answer.
6. What responsibility do the following have to put an end to the types of activities that go on during Spring Break in Florida? Explain your answers.
local officials
sheriff and law enforcement
local residents who elect the officials who make the laws
parents
the students themselves
Daily "Answers" emails are provided for Daily News Articles, Tuesday's World Events and Friday's News Quiz.