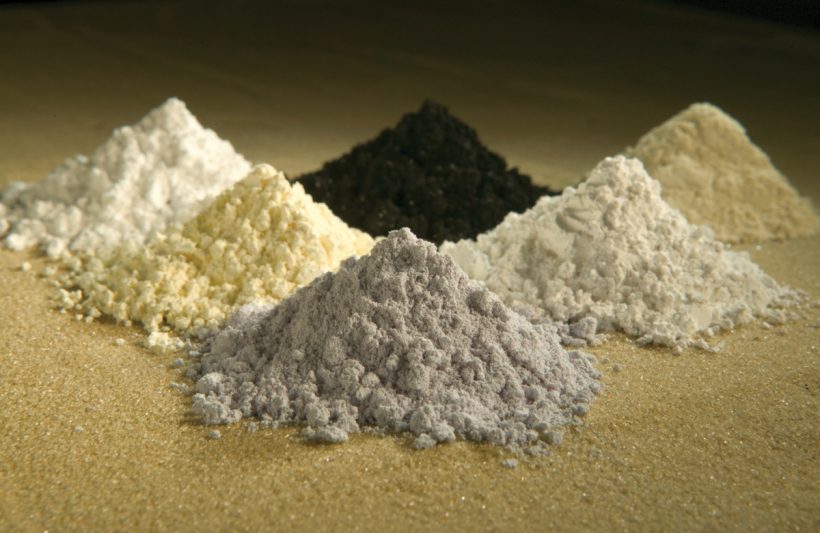 redo Jump to...
print Print...
NOTE: This article was first published on February 1, 2021.
(by GQ Pan, The Epoch Times) – The U.S. Department of Defense has awarded $30 million in funding to Australia's Lynas Corp to build a rare earth processing plant in Texas, as the nation continues to seek to break its reliance on Chinese imports of the critical minerals.
The facility will be able to process light rare earth elements (LREE), which are not only widely used in consumer goods such as cellphones and electric car motors, but also critical to the production of next-generation fighter jets and precision-guided missiles.
It's not the first time Lynas, one of the few major non-Chinese rare earth miners, received federal funding for a U.S.-based project. Last year, the company teamed up with Texas's Blue Line Corp to land a deal with the Pentagon to build a separation (processing) plant for heavy rare earth elements (HREE), which are used in the manufacturing of specialized military weapon systems.
Both plants will be built in Hondo, Texas, about 45 miles west of San Antonio. Lynas said it will be able produce a quarter of the world's demand for rare earths once the facilities become operational.
Once the global leader in rare earths production from 1960s to 1980s, the United States is now almost entirely dependent on Chinese imports of rare earth materials. The Chinese communist government, seeing rare earth elements as a strategic resource that can be leveraged to its advantage in negotiations, spent decades transferring the American rare earth industry to China by using a combination of low labor costs and the absence of environmental standards.
That reliance on China for rare earth minerals has raised serious concerns, especially as Beijing seeks to take advantage of the United States's and the world's preoccupation with the CCP (Chinese Communist Party) virus pandemic. In October 2020, China said it would cut off rare earth supplies to American defense manufacturers that have been arming Taiwan's defense force, including Lockheed Martin, which leads an industry team to develop and produce F-35 fighter jets.
"While demand for Rare Earth materials continues to grow, COVID-19 has exposed the risks within global supply chains of the single sourcing of critical materials," Amanda Lacaze, Lynas's CEO, said in a statement, adding that her company is the only non-Chinese commercial producer of separated rare earth products to the global marketplace.
[Lynas Corporation's rare earth elements deposit in western Australia is among the world's highest grade rare earth mines, and in Malaysia, the company runs the globe's largest rare earth processing plant].
"The Texas plant will ensure the US has a secure domestic source of high quality separated Rare Earth materials. This secure supply will provide the essential foundation for the renewal of downstream specialty metal making and permanent magnet manufacturing in North America," Lacaze said.
NOTE: Rare earth elements are an assortment of 17 soft heavy metals found in the earth's crust that are key in everything from cellphones to weapons systems, and China is estimated to control up to 80% of global production. The Pentagon noted light rare earth elements "are critical to numerous defense and commercial applications, including petroleum refining, glass additives, and magnets used in electric vehicle drivetrain motors and precision-guided munitions."
The Pentagon said its award to Lynas "aligns with the U.S. government's strategy to ensure secure and reliable supplies of critical minerals" under an executive order by former President Donald Trump in 2017 and that it "follows a series of rare earth element actions the Department of Defense has taken in recent years to ensure supply and strengthen defense supply chains."
Recent U.S. efforts [under Trump's Executive Order 13953] include federal acquisition rules to "transition defense supply chains to non-Chinese sources" of rare earth element magnets and using small business funds "to accelerate the development of new rare earth element processing technologies."
Published at epochtimes .com on February 1. Reprinted here for educational purposes only. May not be reproduced on other websites without permission from The Epoch Times. Last 3 paragraphs from The Washington Examiner, Feb. 3, Jerry Dunleavy)
Questions
Before answering the questions, read the "Background" and watch an interview with the CEO of Lynas Corporation under "Resources" below.
1. The first paragraph of a news article should answer the questions who, what, where and when. List the who, what, where and when of this news item. (NOTE: The remainder of a news article provides details on the why and/or how.)
2. a) For how long was the U.S. the global leader in rare earths production?
b) How did China's communist government take over as major producer?
c) For what reason are the rare earths that are actually mined in the US shipped to China for processing?
3. What is the U.S. goal for funding Australia's Lynas Corporation project?
4. a) How many rare earth elements are there?
b) List at least 5 products that require rare earths to manufacture.
5. When the Lynas facilities are both up and running in Texas, how much of the world's rare earth elements will they produce?
6. What is the great concern over the Chinese communists being in control of something needed in the manufacture of so many necessary products?
7. In 2011, the Obama administration was aware of and concerned about the problem. Considering the problem of China controlling rare earth elements, do you think Trump made the right move to expand and fast-track permitting of potential mining – including rare earths – on federal lands? (note: environmental activists are opposed to all mining.)  Explain your answer.
Background
The key ingredients in renewable energy technologies (wind, solar) are rare earth minerals. It takes a large amount of fossil fuel to extract them. Drastically scaling up the number of wind turbines and solar panels will drive up the price of everything else that uses rare earths, such as all of our electronic devices. And then there is the really big problem; China owns 90 percent of all rare earth mines. (from "What's wrong with a carbon tax?")
---
Rare earths are 17 indispensable metals used in…the manufacturing of domestic and strategic military airplanes, computers and smart phones, electricity generation and transmission systems, advanced weapon guidance systems, and "Green New Deal" priorities like solar panels, wind turbines, and batteries for utility-scale energy storage and for electric vehicles (EVs).
Beijing controls about 80 percent of the global supply of rare earth minerals and compounds to leverage in a trade war against the West.
Whereas China only actually possesses about an estimated one-third of global rare earth reserves, in 2017 it supplied 78% of the 17,000 tons of those materials imported to the U.S.
[Just as critical], many of the rare earths
mined
in the US are
processed
in the People's Republic of China because it's cheaper to have them do it than to pay for American regulatory environmental and workplace safety costs.
Although America has an abundance of rare earths, environmental opposition to mining them has resulted in a regulatory minefield of local, state, and federal rules that has turned permitting into a costly decades-long process.
Lawmakers have all but banned rare earth mineral exploration and development on materials-rich federal lands, and the few once-active mines have been shuttered largely due to compliance costs.
Mountain Pass in California is the sole U.S. remaining operating rare earth mine… [It must] send its mined ore to China for processing.
In September 2020, President Trump signed an Executive Order (EO) 13953 to expedite that necessity. Declaring a national emergency in the mining industry, the order charged the Interior Department with increasing domestic production of rare-earth materials, to reduce America's dependence on China for these building blocks for 21st Century technologies.
The order states: "In the 1980s, the United States produced more of these elements than any other country in the world, but China used aggressive economic practices to strategically flood the global market for rare earth elements and displace its competitors."
EO 13953 built on Trump's December 2017 EO 13817 that required the Interior Secretary to identify critical materials and reduce "the nation's vulnerability to disruptions in the supply of critical minerals," especially those from China and Russia.
Many of the EO 13953 recommendations were later incorporated into the Energy Act of 2021, part of the Consolidated Appropriations Act that also funded Covid pandemic relief.
The new law requires the Energy Department to conduct a research and development program for environmentally responsible and biologically safe advanced separation technologies for extraction and recovery of rare earth elements and other critical materials from coal and coal byproducts.
During Trump's final days in office, the Bureau of Land Management at his direction announced new decisions that took effect January 15 to expand and fast-track permitting of potential mining – including rare earths – on federal lands. The Bureau of Land Management also approved a new lithium mine in Nevada, along with a land swap to ease final approval of an Arizona Twin Metals copper mine.
(from a Feb. 22 commentary by Larry Bell at newsmax .com)
---
From a 2011 NY Times article:
China produces 92 percent of the world's light rare earths like cerium and lanthanum, which are used in applications like glass manufacturing and oil refining, and 99 percent of the world's heavy rare earths like dysprosium, which are used in trace amounts but are vital for products like smartphones and compact fluorescent bulbs.
China has repeatedly cut its quotas for exports of rare earth minerals from government-approved mines and refineries in the last two years, while raising taxes on the exports.
It separately imposed a two-month, unannounced ban on exports of rare earths to Japan during a territorial dispute in 2010 and carefully checked other countries' orders for rare earths to discourage trans-shipment to Japan.
In 2011, the Obama administration included China's export restrictions on rare earths in a broad investigation of whether China was violating World Trade Organization rules to help its clean energy exports; the United Steelworkers union has accused China of limiting exports of rare earths to force manufacturers to move their factories to China, an accusation supported by comments in 2009 by Chinese provincial officials saying exactly that. (from nytimes.com)
Resources
Watch a Feb. 2, 2021 interview with the CEO of Lynas Corporation:
Daily "Answers" emails are provided for Daily News Articles, Tuesday's World Events and Friday's News Quiz.