redo Jump to...
print Print...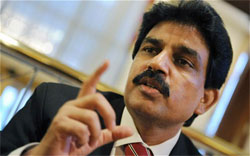 (by Ashish Kumar Sen, WashingtonTimes.com) – The assassination of a second high-profile critic of Pakistan's blasphemy law Wednesday snuffed out any hope that the government will amend the decree that prescribes the death penalty for those insulting Islam.
Shahbaz Bhatti (see photo), Minister for Minorities Affairs and the only Christian in the [Pakistani government's] Cabinet, was gunned down in the back seat of his car while leaving his mother's home in a residential neighborhood in Islamabad on Wednesday.
The Pakistani Taliban claimed responsibility for the attack.
On Jan. 4, Salmaan Taseer, the governor of Pakistan's most-populous state of Punjab and another critic of the law, was gunned down by a bodyguard in Islamabad.
Mr. Bhatti, a Roman Catholic who faced numerous threats to his life for his stand against Pakistan's blasphemy law, was not accompanied by his own bodyguards, whom he rarely took on visits to his mother's home.
A witness who saw his bullet-riddled car described it to The Washington Times as an "ordinary black Toyota Corolla, without bulletproofing."
Mr. Bhatti's assassins left leaflets at the scene of the crime, proclaiming they killed him because he committed blasphemy.
"With high-level champions of reform being gunned down for their stance, there will be no chance of reform," said Nina Shea, commissioner on the U.S. Commission on International Religious Freedom (USCIRF) in Washington.
Ms. Shea warned that extremists are gaining the upper hand.
"They are winning the battle for the soul of Pakistan," she said.
President Obama and Secretary of State Hillary Rodham Clinton condemned Mr. Bhatti's assassination.
"He most courageously challenged the blasphemy laws of Pakistan under which individuals have been prosecuted for speaking their minds or practicing their own faith," Mr. Obama said.
"[He was] clear-eyed about the risks of speaking out, and, despite innumerable death threats, he insisted he had a duty to his fellow Pakistanis to defend equal rights and tolerance from [Islamists] who preach division, hate and violence."
Mrs. Clinton, who recently met Mr. Bhatti, described him as "a patriot and a man of courage and conviction."
Pakistani President Asif Ali Zardari and Prime Minister Yusuf Raza Gilani also condemned the assassination.
Under the blasphemy law, non-Muslims, including Ahmadiyas and Christians, are routinely convicted on scant evidence. The law, which came into effect during the dictatorship of Gen. Zia ul Haq in the 1980s, carries penalties that range from life in prison to a death sentence.
While the government has not carried out any death sentences, extremists often take it upon themselves to kill those accused in blasphemy cases.
Sherry Rehman, a member of the ruling Pakistan Peoples Party (PPP), had introduced a bill in parliament to amend the law. However, she was reportedly forced to give up her effort following political pressure.
Pakistan's fragile government has been reluctant to push for reform of the blasphemy law for political reasons. …..
Leonard Leo, chairman of the USCIRF, said the law fuels extremism and Mr. Zardari must find the political courage to enact meaningful reforms.
"We believed [Mr. Bhatti] was Pakistan's brightest light of hope for the advancement of freedom of religion and human rights more broadly," Mr. Leo said. "Who will now take up his work? Do the highest levels of Pakistan's government have the resolve, courage and leadership to do so? To date, they haven't demonstrated those qualities."
Lisa Curtis, a senior research fellow at the Heritage Foundation, said the government began retreating from reform after Mr. Taseer was killed.
"The PPP-led government assessed it had no choice other than to back away from reform of the blasphemy laws following the assassination of Salmaan Taseer," Ms. Curtis said. "It would be more appropriate to blame the policies of Pakistan's powerful military and intelligence services, which allow religious extremists to flourish and go unpunished," she said.
The blasphemy law came into the spotlight in November when a court in Pakistan sentenced Aasiya Bibi, a Christian mother of five, to death after her [Muslim] neighbors [falsely] accused her of insulting the Prophet Muhammad.
Like Mr. Taseer, Mr. Bhatti had worked for Ms. Bibi's release.
In an interview with the Christian Post last month, Mr. Bhatti talked about the threats to his life.
"I received a call from the Taliban commander, and he said, 'If you will bring any changes in the blasphemy law and speak on this issue, then you will be killed,'" Mr. Bhatti told the newspaper.
"I don't believe that bodyguards can save me after the assassination [of Salmaan Taseer]. I believe in the protection from heaven," he added.
The assassinations of Mr. Taseer and Mr. Bhatti have raised the specter of extremists dominating the political discourse and future of Pakistan, a nuclear-armed nation in South Asia.
…………………………………
Copyright 2011 The Washington Times, LLC. Reprinted from the Washington Times for educational purposes only. Visit the website at washingtontimes.com.
Questions
1. a) Define blasphemy.
b) Describe Pakistan's blasphemy laws. (see "Background" below the questions and para. 16)
2. Why weren't Mr. Bhatti's bodyguards with him when he was murdered?
3. Why was Mr. Bhatti murdered? Be specific.
4. How is the Pakistani government in general responding to the murders of government officials who oppose Pakistan's blasphemy laws?
5. USCIRF is an independent, bipartisan U.S. federal government commission. USCIRF Commissioners are appointed by the President and the leadership of both political parties in the Senate and the House of Representatives. USCIRF's principal responsibilities are to review the facts and circumstances of violations of religious freedom internationally and to make policy recommendations to the President, the Secretary of State and Congress. (from uscirf.gov)
Re-read comments by Nina Shea and Leonard Leo of USCIRF from para. 8-10 and 20-21. What assessment do they make of the situation regarding Pakistan's blasphemy laws?
6. Who does Lisa Curtis of the Heritage Foundation blame for the Pakistani government's response to the murders?
7. Based on his own words/actions, what type of person do you think Mr. Bhatti was? Read the "Background" below the questions, and watch the video under "Resources." Also consider the following:
–Mr. Bhatti said during a recent trip to Canada: "I have been told by pro-Taliban religious extremists that if I will continue to speak against the blasphemy law, I will be beheaded." But he said his faith gave him strength. "As a Christian, I believe Jesus is my strength. He has given me a power and wisdom and motivation to serve suffering humanity. I follow the principles of my conscience, and I am ready to die and sacrifice my life for the principles I believe," he said.
–Nina Shea, commissioner at USCIRF wrote about Mr. Bhatti's murder:
"I had the privilege of knowing and working with Shahbaz Bhatti. In September 2009, the U.S. Commission on International Religious Freedom invited him to Washington so that chairman Leonard Leo could present to him the commission's first religious freedom medallion. At that time, Bhatti vowed again to reform the blasphemy law. [He said]: "They are using this law to victimize minorities as well as Muslims of Pakistan. This law is creating disharmony and intolerance in our society."
Death threats were a constant in Bhatti's life for many years. He once told me that he had never married because he did not think it would be fair to a wife and children to subject them to this concern. His work was his life: At the end of each day, he left his government Cabinet office and headed over to his office at the All Pakistan Minorities Alliance, where he continued to help Pakistan's persecuted minorities until late into the night.
"I personally stand for religious freedom, even if I will pay the price of my life," he had said when he received the USCIRF award. "I live for this principle and I want to die for this principle."
(nationalreview.com/blogs/print/261104)
Background
PAKISTAN'S BLASPHEMY LAWS:
The blasphemy laws make it a capital offence for anyone to make "derogatory remarks, etc., in respect of the Holy Prophet." The laws have their origin in the Indian Penal Code under British colonial rule, and were introduced to prevent communal conflicts and protect places of worships for all religions.
But under General Zia ul Haq's military dictatorship in the 1980s, the laws were amended to focus on derogatory comments against the Prophet Mohammed and the death penalty was introduced for those found guilty.
Since then more than 600 have been accused of blasphemy and many have been jailed, though no-one has yet been executed.
According to Syed Shamsuddin, coordinator of the Human Rights Commission of Pakistan, the law leaves the country's tiny Christian, Sikh, Hindu, Parsis and Ahmadi minorities vulnerable to false claims during neighborhood or business disputes.
"Innocent people are being charged [with blasphemy] by those in conflict with them over property or land disputes. It's easy for someone who wants to kill an enemy. He just has to put a charge of blasphemy to so-called religious persons," he said.
The assassination of Shahbaz Bhatti, Pakistan's only Christian minister, is the latest in a series of developments that cast a dark shadow over the Islamic state's contoversial blasphemy law.

Resources
Watch a video of Shahbaz Bhatti explaining why he continued fighting Pakistan's blasphemy laws despite the threats against his life for doing so:
Daily "Answers" emails are provided for Daily News Articles, Tuesday's World Events and Friday's News Quiz.