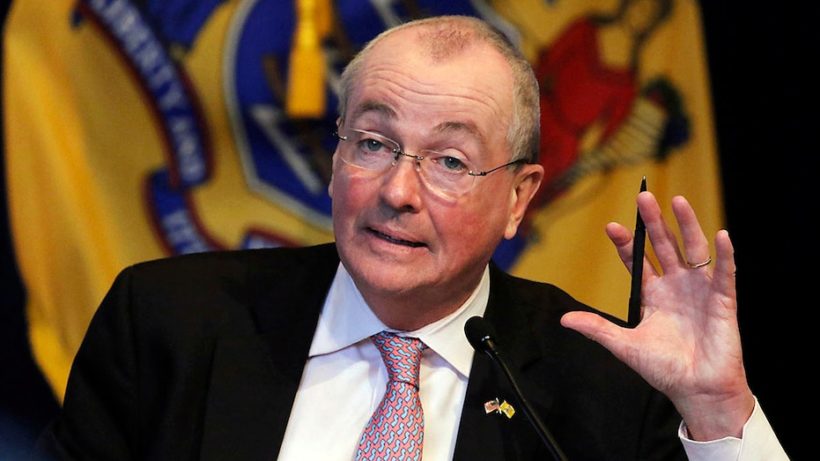 redo Jump to...
print Print...
(Compiled from Associated Press and KYW News Radio) — Governor Phil Murphy and lawmakers in New Jersey last week removed any penalties for underage drinking. Barnegat Township Police Chief Keith Germain said the legislature has been clear about punishing cops for interactions with minors who are drinking or smoking marijuana, and prohibits police from telling parents.
"Police chiefs, in general, have been supportive of the idea of decriminalizing cannabis for adults and dealing with these equity issues," he said.

"The big problem we have here is that you have legislation which effectively decriminalized alcohol and marijuana [use] for kids. I mean, that's what this is. There's no other way to look at it."
Legislation to set up a recreational marijuana marketplace, decriminalize cannabis and loosen penalties for underage possession of the drug and alcohol was signed into law Monday by Gov. Phil Murphy, more than three months after voters overwhelmingly approved a ballot question to legalize adult use of the drug.
The Democrat-led Assembly and Senate passed the last-minute measure Monday, Feb. 22 to ease penalties on underage possession of both alcohol and marijuana as a way to secure the democratic governor's signature on legislation they had sent him in December.
Murphy faced a deadline to act on the measures. He had earlier said he backed the legislation, but delayed signing it for more than two months amid [his] concerns that young people of color could still face arrests [for use of marijuana – or alcohol]….
The governor [would not explain] why he delayed [signing the law], but did say he wants to be sure that young people, particularly people of color, don't get "tangled up in our criminal justice system."
The bill that passed Monday amounted to a linchpin to getting the governor's support, according to lawmakers.
The legislation makes underage possession of alcohol and marijuana subject to a written warning [but prohibits police from notifying parents].  [Subsequent violations would result in] parental notification and a referral to community services.  Currently, underage drinking is punishable by a fine of up to $1,000 and up to six months in jail.
Part of the new legislation makes it so towns will no longer have the authority to enact ordinances with civil penalties or fines concerning underage possession or consumption violations on private property, among other measures.
Chief Germain, a board member with the State Association of Chiefs of Police, said the new law only allows police to issue a written warning to a child caught drinking or smoking marijuana and police are prohibited from telling the parents.
"If you read this law, the only interpretation I can have is they believe the greatest threat to kids is we need to protect them from the police. So I'm still trying to wrap my brain around that one."
Voters overwhelmingly approved adult use of recreational marijuana on Election Day, but Germain said they didn't vote to decriminalize pot and alcohol for minors or keep secrets from parents.
"It's going to allow for more use and abuse," he predicted. "I think it would defy logic to think otherwise."
Germain said he has no idea what lawmakers were thinking when they approved this bill.
"I wouldn't want to call this an unintended consequence because I don't see how you could pass this legislation unless it was intentional."
Democratic bill sponsor Sen. Nicholas Scutari, who is also a municipal prosecutor, disputed that the current penalties work and said the new law will keep young people — particularly Black youngsters — out of the criminal justice system.
The [sale of recreational marijuana] marketplace legalization bill applies the state's 6.625% sales tax, with 70% of the proceeds going to areas disproportionately affected by marijuana-related arrests. Black residents were likelier — up to three times as much — to face marijuana charges than white residents.
Towns can levy a tax of up to 2% under the measure.
Also under the bill, the Cannabis Regulatory Commission will be able to levy an excise tax, the amount of which will depend on the cost per ounce of cannabis.
There will be four levels of tax under the bill, so if cannabis is $350 or more, the tax per ounce will be $10. That rises to $60 per ounce if the retail price of the product is less than $250.
The number of licenses for cultivators will be set at 37 for two years. The state Senate was pushing for no limits, but the Assembly wanted the caps.
The [additional] decriminalization measure is necessary because the state's laws make possession a crime, despite the voter-approved amendment, according to lawmakers. The measure passed with with broad bipartisan support.
Compiled from articles by Mike Dougherty, KYW News Radio and Associated Press at NJ101.5. Reprinted here for educational purposes only. May not be reproduced on other websites without permission.
Questions
1. The first paragraph of a news article should answer the questions who, what, where and when. List the who, what, where and when of this news item. (NOTE: The remainder of a news article provides details on the why and/or how.)
2. Why do you think parents in NJ might be upset with the Governor and legislature?
3. For what reason did the Democrat-led Assembly and Senate pass the last-minute measure on February 22?
4. NJ voters passed an amendment in November to legalize recreational marijuana. Why didn't Democratic Gov. Phil Murphy sign it into law?
5. What did Barnegat Township Police Chief Keith Germain point out about what voters did NOT vote for?
6. NJ will receive millions of dollars in tax revenue from marijuana sales. Do you support the legalization of activities such as online gambling and marijuana use–NJ has done both–as a way for states to raise money? In the long run, do you think will this help or harm the state's residents? Explain your answer.
7. The governor says he wants to be sure that young people, particularly people of color, don't get "tangled up in our criminal justice system." This implies that the law legalizing recreation marijuana that he supported will increase marijuana use among young people. What do you think?
8. Do you support NJ lawmakers' last minute adjustment to the law which prohibits police from notifying parents of teen marijuana OR alcohol use? Explain your answer.
9. Read the notice from the PBA to NJ police officers under "Background" below. The police association writes that the last-minute measure that has been added to the law:
"is an assault on our ability to do our job and to enforce the law. This language is an attack on law enforcement officers by making us the target of punishment rather than the individuals breaking the law. This language will have dangerous consequences for the public and the police."
a) What should the public who voted to legalize recreational marijuana do to support the police now – and to protect teens?
b) What should the public do about lawmakers prohibiting the police from doing their jobs?
Background
*** Special Alert to PBA members & All Law Enforcement Officers*** (put out by the NJ Police Association PBA)
Posted: Monday / 2.22.2021 / 10:50 AM
Marijuana Legalization Bill Poses Serious Threats to Your Job:
The State Legislature this morning passed legislation to formally legalize the use of marijuana in accordance with the Constitutional Amendment that passed in November. Unfortunately, the legislation was amended with language that contains severe penalties on law enforcement officers who attempt to use the odor or possession of marijuana AND alcoholic beverages as a reason to stop and search minors to enforce the law. We are urging every member of law enforcement to avoid approaching people with marijuana until a proper legal analysis and direction can be developed once this law is signed by the Governor.
The legislation is treacherous to you because it creates a penalty of 3rd Degree Deprivation of Civil Rights if an officer uses the odor or possession of marijuana or alcoholic beverages as the reason for initiating an investigatory stop of a person. The new law states a law enforcement officer can not use the odor of marijuana or alcohol as reasonable articulable suspicion to initiate an investigatory stop. The new law states a minor CAN NOT consent to be searched and that a law enforcement officer no longer has probable cause to search a minor for illegally using marijuana or alcohol. And if an officer violates a minor's rights by using pot or alcohol as the reason for a search then the officer will be charged with deprivation of civil rights.
This bill dangerously ties your hands. It establishes penalties of only warnings for illegal use by minors of marijuana or alcohol BUT it essentially prevents an officer from even approaching a person suspected of being a minor. Absent the commission of another crime or clear legal guidance officers are being forced to ask themselves if writing a warning is worth risking being accused and charged with a 3rd degree crime? The mere smell of marijuana and its use in your presence will no longer be grounds to search an individual.
While marijuana is now legal for those 21 and older this language is an assault on our ability to do our job and to enforce the law. This language is an attack on law enforcement officers by making us the target of punishment rather than the individuals breaking the law. This language will have dangerous consequences for the public and the police. (read the original at njspba.com)
Resources
---
Watch a February 23, 2021 report from NJ 101.5:
Daily "Answers" emails are provided for Daily News Articles, Tuesday's World Events and Friday's News Quiz.