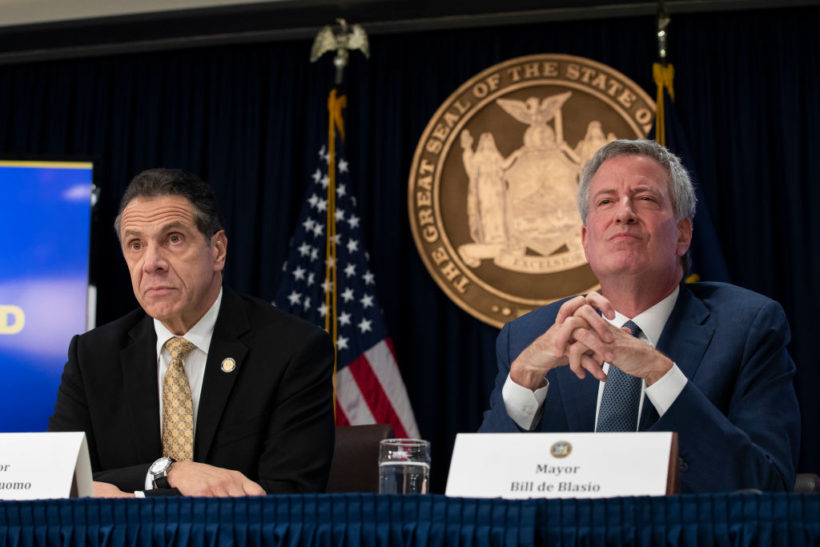 redo Jump to...
print Print...
(by Carl Campanile, NY Post) – In a slap at both Gov. Andrew Cuomo and Mayor Bill de Blasio, the organization that represents New York's public health agencies is opposing their effort to legalize the recreational use of marijuana.
The New York State Association of County Health Officials is warning that weed may not be as safe as people think.
"The experience of other states, where traffic deaths and emergency room visits have increased significantly, shows that legalizing recreational marijuana could likely adversely impact the health of a great many New Yorkers," wrote Sarah Ravenhall, the organization's director, on Syracuse .com.
Ravenhall said she's worried about the health impacts on newborns, infants and youths.
"THC, the chief intoxicant in marijuana, remains in the breast milk of mothers for up to six days after marijuana use. How will we protect infants and children from unintentional exposure to the drug?" she asked.
Ravenhall also said pot is a gateway drug — a term [NY Governor] Cuomo himself once used when he opposed legalization before coming around to support it.

[New York City Mayor] De Blasio also recently evolved from skeptic to supporter of legalizing pot.
"Research has substantiated that marijuana use significantly increases the likelihood of addiction to other drugs," Ravenhall said.

"County health officials serve as the first line of defense in our communities, and they have seen up close the devastation associated with the abuse of legalized prescription opioid medications. While the addictive risk of opioids is different than marijuana, we are very concerned that the legalization of marijuana will similarly result in unintended, harmful consequences for countless New Yorkers."
She also suggested it's hypocritical to crack down on tobacco smoking but then say it's OK to inhale potent grass.
"New York has proven itself as one of the most aggressive anti-smoking states in the nation, establishing the Clean Indoor Air Act and spending tens of millions of dollars in tobacco settlement revenue to curtail smoking. How is legalizing the smoking of marijuana (the most widely used means of ingestion) consistent with both the spirit and technical implementation that act?" Ravenhall asked.
The group's position clashes with the New York state Health Department, which issued a report last July — at Cuomo's direction — that concluded: "the positive effects of regulated marijuana market in NYS outweigh the potential negative impacts."
Cuomo has said he would introduce a proposed law to legalize recreational pot in the current legislative session.
Ravenhall told The Post on Wednesday, "We are public health officials. We are not political."
The association represents all of New York state's local health departments.
From NYPost .com. Reprinted here for educational purposes only. May not be reproduced on other websites without permission from the New York Post.
Questions
1. What is the New York State Association of County Health Officials?
2. Why does the NY Association of County Health Officials oppose New York Governor Andrew Cuomo and NYC Mayor Bill de Blasio's push to legalize recreational marijuana in NY?
3. What concern did the Association's director Sarah Ravenhall express for babies and children if recreational marijuana is legalized?
4. a) What has research shown about the negative effects of marijuana use? Why are county health officials concerned about this?
b) What is hypocritical about the government's push for legalization, according to Ms. Ravenhall?
5. a) How do governor appointed New York State Health Department officials differ from the County Health Officials in their assessment of the dangers posed by the legalization of recreational marijuana?
b) Who do you think is right? Explain your answer.
6. Before pushing for the legalization of recreational marijuana, Governor Cuomo opposed it, saying it is a "gateway drug." Why do you think he changed his mind?
CHALLENGE QUESTIONS:
a) Ask at least 2 adults over 40 if they know anyone their age who has used marijuana for a long time and if that person displays any negative side effects. Do they think that person would be better off now if not for long-term marijuana use? (Note: People who smoke marijuana regularly will adamantly argue against the idea that it has any negative effects on anyone.)
b) State governments make large sums of money by legalizing and then taxing marijuana sales. The drug is still illegal under federal law. States ban the sale of cigarettes to people under 18 (and in some cities under 21) as well as banning the sale of alcohol to those under 21.
Do you think state leaders have a responsibility to address the dangers (unintended consequences) posed by legalizing recreational marijuana? Explain your answer.
Daily "Answers" emails are provided for Daily News Articles, Tuesday's World Events and Friday's News Quiz.