redo Jump to...
print Print...
(by Eric Talmadge and Mari Yamaguchi, Associated Press at YahooNews.com) FUKUSHIMA, Japan – A nearly completed new power line could restore cooling systems in Japan's tsunami-crippled nuclear power plant, its operator said Thursday, raising some hope of easing the crisis that has threatened a meltdown and already spawned dangerous radiation surges.
The conditions at the plant appeared to worsen, with white smoke pouring from the complex and a surge in radiation levels forcing workers to retreat for hours Wednesday from their struggle to cool the overheating reactors. …..
Tokyo Electric Power Co. spokesman Naoki Tsunoda said the new power line to the Fukushima Dai-ichi plant is almost finished and that officials plan to try it "as soon as possible," but he could not say exactly when.
The new line would revive electric-powered pumps, allowing the company to maintain a steady water supply to troubled reactors and spent fuel storage ponds, keeping them cool. The company is also trying to repair its existing disabled power line.
Wednesday's pullback by workers who have been pumping seawater into the reactors cost valuable time in the fight to prevent a nuclear meltdown, a nightmare scenario following Friday's horrific earthquake and tsunami. The disasters pulverized Japan's northeastern coast and are feared to have killed more than 10,000 people.
The tsunami destroyed the complex's backup power system and left operators unable to properly cool nuclear fuel. The 180 emergency workers have been working in shifts to manually pump seawater into the reactors.
………………..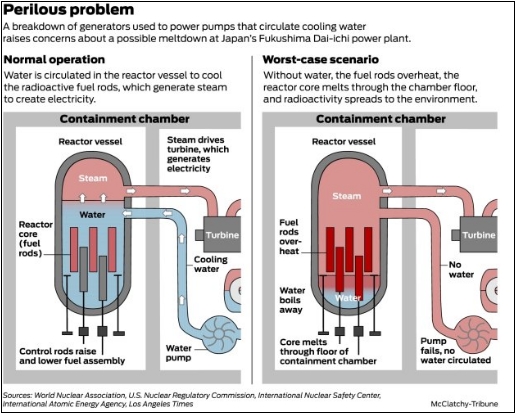 The nuclear crisis has partly overshadowed the human tragedy caused by Friday's 9.0-magnitude earthquake, one of the strongest recorded in history.
Millions of Japanese have been with little food and water in heavy snow and rain since Friday. In some towns, long lines of cars waited outside the few open gas stations, with others lined up at rice-vending machines. …..
"The anxiety and anger being felt by people in Fukushima have reached a boiling point," the governor of Fukushima prefecture, Yuhei Sato, fumed in an interview with [Japanese TV] NHK. He criticized preparations for an evacuation if conditions worsen, and said centers do not have enough hot meals and basic necessities.
More than 4,300 people are officially listed as dead, but officials believe the toll will climb to well over 10,000. Police say more than 452,000 people are staying in temporary shelters such as school gymnasiums.
Wednesday's radiation spike was believed to have come from the complex's Unit 3. But officials also admitted that they were far from sure what was going on at the four most troubled reactors, including Unit 3, in part because high radiation levels made it difficult to get very close.
While white smoke was seen rising Wednesday above Unit 3, officials could not ascertain the source. They said it could be spewing from the reactor's spent fuel pool – cooling tanks for used nuclear rods – or may have been from damage to the reactor's containment vessel, the protective shell of thick concrete.
Masahisa Otsuki, an official with Tokyo Electric Power Co., which owns the complex, said officials are most concerned about the spent fuel pools, which are not encased in protective shells.
"We haven't been able to get any of the latest data at any spent fuel pools. We don't have the latest water levels, temperatures, none of the latest information for any of the four reactors," he said.
Late Wednesday, government officials said they'd asked special police units to bring in water cannons – normally used to quell rioters – to spray water onto the spent fuel storage pool for the complex's Unit 4.
The cannons are thought to be strong enough to allow emergency workers to remain a safe distance from the complex while still able to get water into the pool, said Minoru Ogoda of the Japanese nuclear safety agency.
In the city of Fukushima, meanwhile, about 40 miles inland from the nuclear complex, hundreds of harried government workers, police officers and others struggled to stay on top of the situation in a makeshift command center.
An entire floor of one of the prefecture's office buildings had been taken over by people tracking evacuations, power needs, death tolls and food supplies.
Elevated levels of radiation were detected well outside the 20-mile emergency area around the plants. In Ibaraki prefecture, just south of Fukushima, officials said radiation levels were about 300 times normal levels by late morning. It would take three years of constant exposure to these higher levels to raise a person's risk of cancer.
A little radiation was also detected in Tokyo, triggering panic buying of food and water.
Given the reported radiation levels, John Price, an Australian-based nuclear safety expert, said he saw few health risks for the general public so far. But he said he was surprised by how little information the Japanese were sharing.
"We don't know even the fundamentals of what's happening, what's wrong, what isn't working. We're all guessing," he said. "I would have thought they would put on a panel of experts every two hours."
Chief Cabinet Secretary Yukio Edano said the government expects to ask the U.S. military for help, though he did not elaborate. He said the government is still considering whether to accept offers of help from other countries.
There are six reactors at the plant. Units 1, 2 and 3, which were operating last week, shut down automatically when the quake hit. Since then, all three have been rocked by explosions. Compounding the problems, on Tuesday a fire broke out in Unit 4's fuel storage pond, an area where used nuclear fuel is kept cool, causing radioactivity to be released into the atmosphere.
Units 4, 5 and 6 were shut at the time of the quake, but even offline reactors have nuclear fuel – either inside the reactors or in storage ponds – that need to be kept cool.
Meanwhile, the Nuclear and Industrial Safety Agency estimated that 70 percent of the rods have been damaged at the No. 1 reactor.
Japan's national news agency, Kyodo, said that 33 percent of the fuel rods at the No. 2 reactor were damaged and that the cores of both reactors were believed to have partially melted.
Associated Press writers Elaine Kurtenbach and Shino Yuasa in Tokyo, David Stringer in Ofunato and Jocelyn Gecker in Bangkok contributed to this report.
Copyright ©2011 Associated Press. All rights reserved. Reprinted here for educational purposes only. The information contained in this AP news report may not be published, broadcast, rewritten, or redistributed without the prior written authority of the Associated Press. Visit news.yahoo.com/s/ap/as_japan_earthquake for the original post.
Questions
1. a) When will a new power line to the Fukushima Dai-ichi nuclear power plant be completed?
b) How could the new power line help to prevent a nuclear meltdown?
2. a) Why is there a danger of a nuclear meltdown at Dai-ichi?
b) What has the Tokyo Electric Power Co. (TEPCO) been doing to contain the reactors?
3. Why are officials unsure of the extent of the damage?
4. Why has the Japanese government asked special police units to bring in water cannons?
5. How is the government dealing with the aftermath of the earthquake/tsunami in the city of Fukushima?
6. From para. 19: "Elevated levels of radiation were detected well outside the 20-mile emergency area around the plants. In Ibaraki prefecture, just south of Fukushima, officials said radiation levels were about 300 times normal levels by late morning. It would take three years of constant exposure to these higher levels to raise a person's risk of cancer." Considering the news reports you have seen/read on the spread of radiation from the nuclear plant, are you surprised by this information? Explain your answer.
CHALLENGE QUESTION: Read the information on "How Nuclear Reactors Work" linked to under "Resources" below. After reading this information, how has your view changed on the government and power company's attempts to contain the situation? Be specific.
Background
WHAT HAPPENS IN A NUCLEAR MELTDOWN?
(from http://www.dailymail.co.uk/news/article-1365781/Japan-earthquake-tsunami-All-3-Fukushima-nuclear-plant-reactors-meltdown.html)
The Japanese reactors work by harnessing the energy of thousands of nuclear fuel rods, that are normally kept submerged in water to keep them cool.
If the cooling system fails, the heat generated by the nuclear reaction increases uncontrollably.
If that continues for long enough, the nuclear fuel can melt, forming molten pools on the floor of the reactor at thousands of degrees celcius.
This is a meltdown.
These pools of molten fuel can melt through the reactor safety barriers – there is an inner and outer shield.
The worst case scenario is that the protective shield around the reactors is melted away, resulting in a serious leak of radioactive material.
JAPAN EARTHQUAKE: Q & A ON THE CURRENT SITUATION AND WHAT IT MEANS (by Richard Alleyne, Science Correspondent for London's Daily Telegraph, 3/16/11)
What is the current situation?
It continues to lurch from crisis to crisis. Just as engineers appeared to be getting to grips with the three active reactors, concern has switched to their three offline neighbours.
I thought they were shut down?
They are, but their spent fuel rods are immersed in cooling pools and it appears a fire and/or cracks caused by the earthquake have led to water levels getting dangerously low.
Why does that matter?
The spent fuel rods – which were taken from the reactors three to six months ago – remain hot and radioactive. If the rods are exposed by falling water levels they could release dangerous radiation into the air. The main problem is that they are not protected by a containment vessel. If they melt down then radioactivity can enter the atmosphere directly.
What are they doing about it?
They are trying to refill the cooling ponds by dropping water from helicopters and firing it from water cannons. They are also considering dousing reactor four with fire retardant to stop any more fires. However spikes in radioactivity are making it difficult for engineers to get near.
Are the three active reactors now under control?
No, although they cool down every day and the threat of a major meltdown therefore recedes. All three remain a major worry for now. The authorities have confirmed that reactor one suffered at least a partial meltdown and reactor two has suffered a potential meltdown. Reactor three remains the greatest concern. A plume of white smoke or steam has been seen pouring from it and authorities fear this means that the containment vessel is cracked. This is very serious and will be an immediate danger to the workers around the plant and to the surrounding area in the longer term.
How high are the radiation levels?
The authorities say that the levels remain safe and low yet an attempt to drop water from a military helicopter had to be abandoned because of fears of radiation contamination. Workers were also temporarily evacuated from the plant amid a spike in radiation levels. Authorities later said this was due to an error in monitoring.
How are the Japanese coping?
More than 160,000 people have been successfully evacuated from the 12-mile exclusion zone but levels of panic and anger are growing. People feel confused and betrayed at the authorities who continued to underplay the dangers associated with nuclear power even as the disaster escalated.
Is it safe to stay in Tokyo?
It depends on who you listen too. The Japanese Red Cross says yes and the World Health Organisation said there was no evidence of a significant spread of radiation outside the exclusion zone. However the French and Australian governments have advised their citizens to leave the city. The Foreign Office currently believes people in Tokyo are "not in any immediate danger".
And further afield?
Panic is beginning to build in the Pacific regions around Japan. Despite repeated reassurances, sales of radiation detectors, masks and iodine tablets are soaring in Russia and America.
Daily "Answers" emails are provided for Daily News Articles, Tuesday's World Events and Friday's News Quiz.