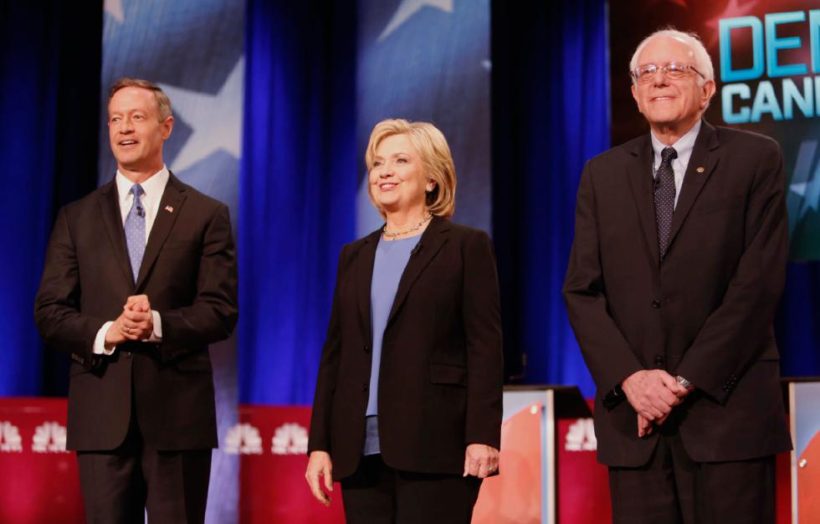 redo Jump to...
print Print...
(YahooNews) – The Democratic presidential candidates [had] one more chance to take their message to voters before voting begins, as the Democratic National Committee hastily scheduled a Townhall on Monday night in Des Moines – exactly one week before the Iowa caucuses.

Former Secretary of State Hillary Clinton, former Maryland Gov. Martin O'Malley and Vermont Sen. Bernie Sanders [answered] questions from voters in a CNN prime-time telecast.  CNN's Chris Cuomo moderated the event.

The move is a sudden and unexpected departure from the DNC's original plan of limiting the number of debates, with three of them scheduled on low-rated weekend nights.

The party came under heavy attack from Sanders and O'Malley for what they believe was a deliberate move by the DNC to stack the deck in favor of Clinton. The New York Times reported Sunday that some Clinton advisers now regret not pushing for more debates.

Republicans are holding three times as many debates as the Democrats, and their debates have been highly rated, in part because of…Donald Trump [and the large number of diverse candidates].

The CNN Townhall [was added] as Clinton and Sanders are in a virtual dead heat in Iowa, and Sanders leads Clinton in New Hampshire by double digits. Clinton, however is ahead in South Carolina and in national polls. (from The Wrap at YahooNews) 

3 Reasons to Watch Tonight's Iowa Democratic Town Hall (from thestreet .com)

[Last night was] the Democratic candidates' last chance to sway Iowa voters before they head to the polls next week. Here are three things to pay attention to from [last night's] town hall:

1. The Format

The Democrats have already met in four of the six planned presidential primary debates this election season, and in many ways, Monday's event appeared to be a sort of debate add-in. In style, it was different from showdowns past.

Each candidate was given 30 minutes on stage at Drake University to face questions from audience members as well as moderator Chris Cuomo of CNN. Sanders appeared first, followed by O'Malley and finally Clinton. They didn't actually have a chance to engage with one another, so look for how they talked about one another.

Both Sanders and Clinton, who were initially reluctant to attack, have been sharpening their knives on the campaign trail. The former secretary of state has ramped up her jabs at the Vermont senator, saying she is not interested in ideas that will "never make it in the real world" in reaction to his proposal for a single-payer health care system and knocking his foreign policy credentials. Sanders, on the other hand, has said Clinton is running a "desperate" campaign and focused much of his offensive on her ties to Wall Street.

Monday's format … forced the candidates to strike a balance between outlining their own ideas and contrasting themselves with the others.

2. The Electability Issue

Once considered a long-shot, Senator Sanders has proven himself a formidable opponent for Clinton. Still, many continue to question whether the self-described democratic socialist is an electable candidate and wouldn't just guarantee a victory for the GOP.

Donald Trump has said he wants to run against Sanders, who he has characterized as a "little puppy." Ohio Governor John Kasich essentially wrote Sanders off at the January 14 Republican debate. "We're going to win every state if Bernie Sanders is the nominee," he said. "That's not even an issue. And I know Bernie. And I can promise you he won't be President of the United States."

"Republicans would much rather run against Bernie Sanders and have a chance to define him from the get-go as extreme and out of touch," said Republican strategist Kevin Madden Sunday on CNN's "State of the Union."

On Monday, he had to make the case that he can, in fact, win.

Sanders has laid out his electability argument on the campaign trail, invoking his poll numbers as proof that his candidacy is legitimate. Over the weekend, his camp tweeted an infographic showing hypothetical matchups against GOP contenders that show him faring better than Clinton.

3.The O'Malley 'Factor'

Given his continually low poll numbers, it is pretty safe to assume that the chances of Governor O'Malley landing the Democratic nomination are slim-to-none. That doesn't mean he can't influence the election.

What happens to O'Malley supporters if and when he drops out of the race is most certainly on the minds of both Clinton and Sanders. According to a RealClearPolitics average of polls, the former governor boasts 2.2% support nationally and 5.8% in Iowa. While that may not be a lot, in a tight race, it can make a difference.

"The most coveted person in Iowa politics is an undecided person or the O'Malley nonviable folks," said Kevin Geiken, a Democratic strategist in Iowa, in an interview with The New York Times.

In the debate cycle, O'Malley has taken swings at both Clinton and Sanders, focusing on the former's ties to Wall Street and the latter's record on guns. In interview with Time published Saturday, he critiqued both of his opponents:
I think Senator Sanders would have a very hard time of working with Congress if he ever were to be elected president. I see the same sort of obstructionism, self-defeating politics for another four years. And I think as you saw in the Benghazi hearings, I think Secretary Clinton, were she president, would give license to that same behavior. I believe what's needed is someone who hasn't been part of that divided Washington.
On Monday, [did] he give us a clue as to which of the two he might be willing to support?
Questions
1. How does the reporter describe the addition of last night's Democratic Townhall?
2. What accusation did Senator Sanders and Governor O'Malley make against the DNC's decision to limit the number of Democratic debates and run half on weekend nights when not as many people would probably watch them?
3. For what reason is it assumed that Hillary Clinton's campaign agreed to add the Townhall?
4. For what three reasons should voters watch the Democratic Townhall (what three issues should you pay attention to when watching)?
5. Watch the entire Democratic Townhall at youtube (we know many schools block youtube) or clips of the CNN Democratic Townhall at CNN.
and answer the following questions for each of the three candidates:
a) What was the tone of the candidate's remarks?
b) List 2 issues you believe are important to consider in this election. What did each candidate say they would do to address each issue? (What solutions does each candidate propose?)
c) Did the candidate talk more about his own accomplishments and/or plans, or about why the opponents were wrong?
d) Did the candidate make a good case for why he/she was the one to vote for?
Background
If Hillary loses the next debate, will she get another do-over?
For surefire proof of panic in the Hillary Clinton camp, look no further than tonight's hastily organized Democratic town-hall debate on CNN.
The Jan. 18 debate was supposed to be the last time Clinton, Bernie Sanders and Martin O'Malley dueled before next week's Iowa caucuses. But Hillary lost that one, big-time — so the poobahs gave her a do-over.
For months, Democratic chief Debbie Wasserman Schultz insisted the debate schedule gave "maximum" exposure to the party's candidates. In fact, the first four Democratic showdowns were buried — on weekends, against NFL playoffs, etc.
Wasserman Schultz had done her best to give other candidates no chance to gain traction against Clinton. But that's now backfired spectacularly: Bernie's on a roll — a threat to win New Hampshire and Iowa and even closing the gap nationally.
How to stem the Sanders surge? Enter the party establishment, with a new debate suddenly scheduled before Iowans vote.
It's a risky move for both women: Wasserman Schultz just blatantly changed the campaign terrain to try to help Clinton.
And Hillary's risking questions from the audience about her ever-deepening email mess — and her lifelong enabling of Bill, as well as on her happy relations with Goldman Sachs.
There are so many ways she could lose this debate, too. If she does, will Debbie try to give her another do-over? (by the NY Post Editorial board)
Daily "Answers" emails are provided for Daily News Articles, Tuesday's World Events and Friday's News Quiz.