redo Jump to...
print Print...
(by Christopher Rhoads and Shereen El Gazzar, The Wall Street Journal, WSJ.com) GIZA, Egypt – Political unrest, now moving into its third week with no signs of abating, has delivered a body blow to Egypt's critical tourism sector, which accounted for more than 5% of the economy last year.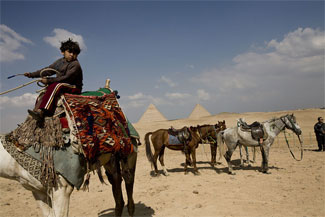 Mild temperatures make this Egypt's peak tourist season, and Mohamed Ali usually makes about $50 a day this time of year, selling soda to thirsty tourists here to see the pyramids of Giza soaring behind him, or letting them take pictures from atop his camel surrounded by the desert sands.
On this day, his small boy had that seat. "There's no business," said 35-year-old Mr. Ali, who supports two wives and five young children. "Zero."
Tourism brought in close to $12 billion in Egypt last year. Economists expect the tumult to cut that figure by more than 40% this year. More than a million tourists have fled the country since the protests began.
"It was a matter of an evacuation," said Moataz Sedky, an executive at Travco, a large Egyptian travel agency. Flights that have arrived from Europe and Asia came to pick up their citizens, rather than bring visitors, he added.
The hotels of major chains in Cairo are mostly vacant, except for dozens of journalists who have remained, primarily in hotels affording a view of the protests in Tahrir Square. The Four Seasons Hotel, which is 98% empty, has closed its casino and some restaurants and shops.
"We work in a service industry, and it's the image of the country after all," said Mr. Sedky.
Tourism ranks behind oil and gas, agriculture, and wholesale and retail trade as a percentage of Egypt's economy, according to Nada Farid, an economist at Beltone Financial, a Cairo bank. But the sector, marked by Egypt's world-renowned antiquities, is by far the most visible industry, with a spillover effect that supports countless Egyptians directly and indirectly.
Nowhere is the impact felt more than in Giza, a city on the outskirts of Cairo's urban sprawl, whose livelihood relies on its proximity to three pyramids, including the 450-foot-tall Great Pyramid, built in 2560 B.C., and the Sphinx.
For nearly 100 years, Gamal Mohamed's family has owned horses and rented them for tours of the historic site. People can still view the pyramids from the dunes in the desert, atop a horse or camel, but the security fence around the sites has been closed for two weeks.
In his 57 years, Mr. Mohamed doesn't recall the pyramids ever being closed to the public for such a long period.
"My family has enough to eat," said Mr. Mohamed, who said he typically makes a profit of $100 a day to support his five children, after paying the five employees working in his stables. "But what are you going to do with the animals?"
To afford food for the horses, Mr. Mohamed said, he had to borrow money, beginning 12 days ago. Prices have risen amid scarce supplies due to the disruptions in the economy. A container of grain to feed four or five horses for a day costs about $30, he said; before the unrest, it cost $20. He gets half as much hay as he used to for the price he pays for a bundle, about $6.
A narrow corridor leads to his stable, holding 22 horses in cramped, dark quarters, jostling for scant grain and hay. They're thin, their rib cages clearly visible.
In a stall at the end, a white horse lies in the muck. It died a couple of days ago. A boy explains what happened by placing his hands over his stomach, indicating that the horse starved to death. "It's hard to live right now," Mr. Mohamed said. "But it's good that this will bring about change."
Across a dusty square, Temr ElFayed, 42, runs a shop that sells film, water, and candy and other food. Nearly all his business depends on tourists. He has been working six or seven hours a day, compared with the 12-hour days he usually works, he said.
Mr. ElFayed's only business now is with other villagers, which means lower prices, he said. He is spending more time at home, where he has a baby girl born just a few days before the unrest, and two other young children.
"I can live like this for more days," he said. "I don't care. What's important is that my children will have freedom."
Across the way, a shop selling perfume and portraits for tourists is empty. Ashraf Ali, 34, who runs the shop with his family, said five tourists came by on the first day of the protests, but there have been none for more than a week.
It is time for the protesters to go home, and let the country get back to work, he said.
"They got what they wanted, so why can't they leave us?" he said. "If you want change, OK, change your own life, but Mubarak should stay."
Write to Christopher Rhoads at christopher.rhoads@wsj.com.
Copyright 2011 Dow Jones & Company, Inc. All Rights Reserved. Reprinted here for educational purposes only. Visit the website at wsj.com.
Questions
1. a) What percent of Egypt's overall economy comes from tourism?
b) How much did tourism bring in to the country in dollars last year?
2. By what percent do economists expect tourism to be reduced this year due to the protests?
3. Some of the different businesses/people in the tourism industry that have been affected by the protests are mentioned in this article. List all of those affected.
4. What other sectors of the economy bring in larger percentages to the economy than tourism, according to economist Nada Farid?
5. Tourism industry businessmen Gamal Mohamed, Temr ElFayed and Ashraf Ali have all been hurt by the protests. With which man's view of their personal hardships compared to the goal of the protesters do you most agree? Why?
6. If tourists continue to stay away for an extended period of time, do you think any of the men might change their view of the protesters? (Even if Egyptian President Mubarak stepped down tomorrow, do you think tourists would plan trips to Egypt in the near future? Would you plan a vacation to Egypt in the near future if you could?)
Daily "Answers" emails are provided for Daily News Articles, Tuesday's World Events and Friday's News Quiz.