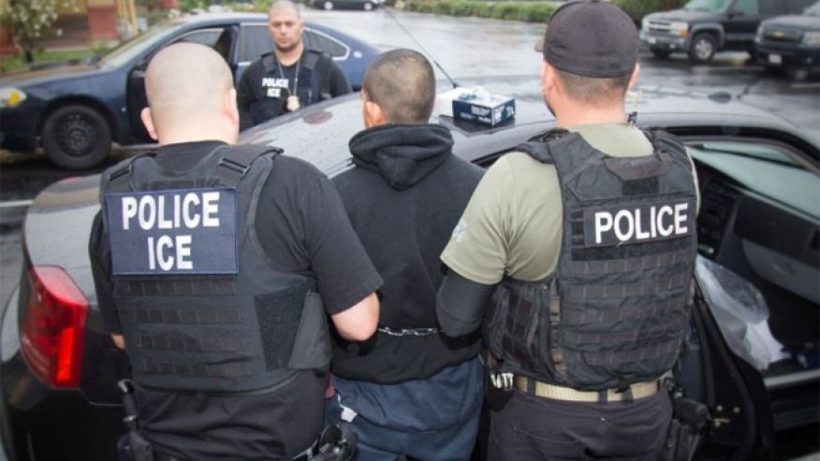 redo Jump to...
print Print...
The arrests, which officials have described as routine and not part of a crackdown promised by President Trump, have sparked fear and anger in immigrant communities.
David Marin, the director of Enforcement and Removal Operations for Immigration and Customs Enforcement (ICE) in Los Angeles, said the actions taken this week were planned before Trump took office and were comparable to a similar weeklong operation taken last summer under President Obama that resulted in 112 arrests.
Marin said roughly 75% of the people arrested this week had prior felony convictions for crimes that included "sex offenses, assault, robbery and weapons violations." Most of the 161 people arrested this week had been targeted for removal based on past criminal convictions, but Marin admitted a few people were swept up because they were found to be undocumented while other arrests were being carried out.
"Those were individuals that are in the country illegally, so they had no documentation or any right to be here in the country," he said.

"The rash of these recent [news] reports about ICE checkpoints and random sweeps and the like, it's all false, and that's definitely dangerous and irresponsible," Marin said. "Reports like that create panic, and they put communities and law enforcement personnel in unnecessary danger."
ICE spokeswoman Virginia Kice said it was not immediately clear how many of those arrested in California this week had been deported.
Marin also sharply criticized activist groups that characterized the operation as an indiscriminate series of raids, [saying] such allegations put law enforcement officers and residents at risk.
The Los Angeles-area operation was carried out in conjunction with similar actions in New York City, Atlanta and Chicago, according to Kice, who said it was not uncharacteristic for ICE operations to coincide in major cities. Kice could not immediately provide arrest statistics for the operations in other cities.
The arrests sparked a protest in downtown Los Angeles on Thursday evening.
The situation highlighted fear among many immigrants about Trump's vow to deport those in the United States illegally. Los Angeles and Orange counties are home to 1 million immigrants [who are not in the country legally], according to an analysis released Thursday by the Pew Research Center. …..
Last year, federal agents took 112 people into custody during a four-day operation [implemented by President Obama] targeting immigrants with criminal histories in Southern California, including one previously convicted of the attempted murder of a police officer, ICE said at the time.
In 2015, ICE announced the arrests of more than 240 people with criminal records over the course of another four-day operation in the Southland.
Jennie Pasquarella, director of immigrant rights for the ACLU in California, said the actions taken by ICE in California this week are not necessarily indicative of the enforcement of immigration law that Trump promised on the campaign trail, though she did express concerns about reports that some immigrants without criminal histories were caught up in the weeklong operation.
"Even under Obama we had sweeps or big operations where they would go into a particular neighborhood or say that this week we're going to do a big operation and arrest people with certain profiles in certain parts of the city," Pasquarella said. "The piece of it that is new is some of the reports that we were getting yesterday indicating that there were people [arrested] who did not have any criminal convictions at all."
Reprinted here for educational purposes only. May not be reproduced on other websites without permission from the Chicago Tribune.
Questions
1. The first paragraph of a news article should answer the questions who, what, where and when. List the who, what, where and when of this news item. (NOTE: The remainder of a news article provides details on the why and/or how.)
2. a) How did ICE officials describe the crackdown and arrests across Southern California last week?
b) How many people were arrested in similar ICE operations in Southern California in the last two years?
3. a) Define felony and conviction.
b) What percent of those arrested had prior felony convictions?
c) What types of crimes had they committed?
4. What did ICE's David Marin say about news reports on ICE checkpoints and random sweeps? Be specific.
5. a) Define indiscriminate.
b) Why did Mr. Marin criticize activist groups that characterized the operation as an indiscriminate series of raids?
6. Do you agree with Mr. Marin's assertions? Explain your answer.
7. While the majority of those arrest in the ICE operation were convicted felons, some had no felony record, but might have just been in the country illegally, working hard and even raising a family. Progressives (liberals) do not think immigration law should be enforced because they don't agree with it. Conservatives agree with the law and say it should be enforced, although vary on how to address the problem of law abiding, hard working people who are here illegally.
If you don't like a law, what should you do:
a) ignore it and do what you think is right
b) stage peaceful protests until officials stop enforcing the law
c) change the law by running for or electing to office those who will do so
d) stage protests blocking the streets, shut down anyone who disagrees with you, do what you have to do to keep the attention on the issue, even if if leads to property destruction and arrest
Explain your answer.
Daily "Answers" emails are provided for Daily News Articles, Tuesday's World Events and Friday's News Quiz.