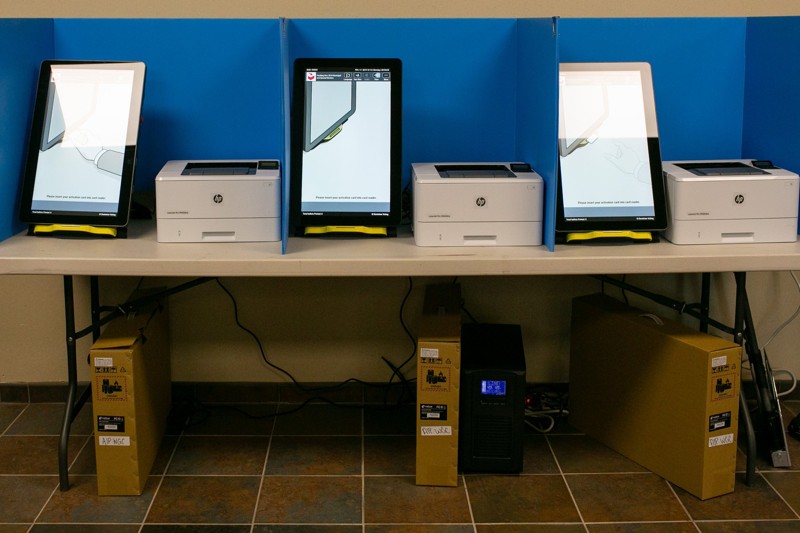 redo Jump to...
print Print...
(Compiled from reports at The Atlanta Journal-Constitution, Marietta Daily Journal and ThinkProgress) — The first Georgia voters to test the state's new voting machines cast their ballots last Monday, with some voters praising the addition of a paper ballot and others saying the voting equipment was more cumbersome than what they're accustomed to using.
Election officials rolled out the new voting system in six counties for local elections as in-person early voting began October 14. The $107 million system, which combines touchscreens and computer-printed paper ballots, will be used by all voters statewide on March 24 for the presidential primary.
Georgia is replacing its 17-year-old digital voting system, which didn't include a paper ballot.
As they did with the old system, voters will make their choices on touchscreens. But with the new system, each touchscreen is attached to a printer that produces a paper ballot. Voters can then review their selections before inserting their ballots into a scanning machines.
In August, a federal judge ordered the state of Georgia to stop using paperless touchscreen voting machines ahead of the 2020 election, citing security concerns.
In a 153-page ruling, U.S. District Judge Amy Totenberg said that hand-marked paper ballots must be used if a new system wasn't in place by next year's presidential primaries.
Election integrity advocates argued in a 2017 lawsuit that paperless touchscreen voting machines in use since 2002 were vulnerable to hacking and could not be audited.
However, in a decision on the 2017 lawsuit issued last year, Judge Totenberg determined that switching to a paper ballot system for the 2018 and 2019 elections would have proved to be too complicated logistically.
Voters who cast ballots in the first few days of the early voting period generally had a "positive experience" using new machines the state government was testing in Bartow County in this year's municipal elections, elections officials said.
The Georgia Secretary of State's office is testing the new Dominion Voting Systems machines in Bartow and five other counties this year before using them statewide in Georgia's Presidential Preference Primary in March 2020.
The machines feature a ballot-marking device into which voters insert a "smartcard." They then make their choices on a touch screen tablet, review them on the screen, print a paper ballot and place it into an optical scanner for counting.
The paper ballots are used for verifying and auditing results, according to the Georgia Secretary of State's office.
Assistant election supervisor Cheryl Billard of Bartow County Elections and Voter Registration said Bartow elections office staff members generally had not needed to assist voters with the new machines "once they understand the basic premise."
"The only thing that's really different is that they now get a printed ballot that they then scan," Billard said. "But, as far as the touch screen, it's so similar that they seem to be very happy with it."
Election Supervisor Joseph Kirk said voters he saw using the new machines appear "to understand the new system intuitively."
"The only thing "we have to remind them of is to remove the voter card from the ballot marking device," Kirk said.
Compiled from articles by Mark Niesse, AJC .com (The Atlanta Journal-Constitution) on Oct. 14, Tom Spigolon, MDJOnline .com (Marietta Daily Journal) on Oct. 17 and Rebekah Entralgo, ThinkProgress .com on Aug. 15, 2019.
Questions
1. a) In how many counties is the Georgia Secretary of State's office testing new voting machines?
b) By what date must all polling locations in Georgia use the new machines?
2. How are the new machines different from the ones that have been used for the past 17 years? Be specific.
3. For what reason did a federal judge rule the old machines must be replaced? (Why were election integrity advocates opposed to the current machines?)
4. How did two election officials describe voters' reactions to the new machines?
5. a) How important do you think it is for every election to have paper ballots for recounts as well as verifying and auditing results? Explain your answer.
b) Ask a parent the same question.
Resources
Watch an Oct. 10, 2019 report from Georgia's local 13WMAZ:
---
Watch an Oct. 10, 2019 video from Georgia Public Broadcasting (GPB):
Daily "Answers" emails are provided for Daily News Articles, Tuesday's World Events and Friday's News Quiz.