redo Jump to...
print Print...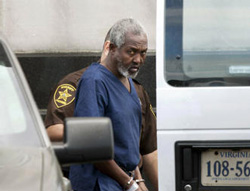 (by Keith Johnson, The Wall Street Journal, WSJ.com) – In a first for U.S. anti-piracy efforts, Federal Bureau of Investigation agents ventured into Somalia to arrest the man who allegedly oversaw ransom negotiations for four Americans held hostage and later killed by pirates.
Mohammad Shibin (see photo), 50 years old, was captured in a joint operation, led by the FBI and coordinated with Somali authorities.
U.S. agents had never before apprehended an alleged pirate on land, though it has prosecuted a number of Somali pirates caught attacking U.S. ships in the Arabian Sea. To date, counter-piracy efforts had been waged almost exclusively in millions of square miles of ocean off the Horn of Africa.
Andrew Shapiro, the State Department's point man on piracy, said last month the U.S. was preparing a "more energetic and comprehensive" approach to piracy, with a special focus on "pirate leaders and financiers" onshore.
Mr. Shibin was captured in early April and brought to the U.S. last week. He had been indicted in early March and charged with three counts, including piracy and conspiracy to commit kidnapping, charges which could carry a life sentence if he is found guilty. Mr. Shibin appeared Wednesday for the first time in U.S. district court in Norfolk, Va., where the indictment was unsealed.
"The arrest of Mohammad Shibin is a significant breakthrough in the United States' battle against Somali pirates," said Neil MacBride, U.S. attorney for the Eastern District of Virginia."We hope this indictment will strike at the heart of the piracy business and send a strong message to all pirates, whether they board the ships or remain on shore in Somalia."
On Feb. 18, four U.S. sailors crossing the Arabian Sea on their 58-foot yacht, the Quest, were hijacked by more than a dozen Somali pirates. According to the indictment, while the American sailors were kept below deck by their captors, Mr. Shabin, on shore in Somalia, researched them over the Internet "to determine the amount of ransom to demand."
The next day, just before a U.S. Navy SEAL assault team boarded the Quest, the American sailors-Scott and Jean Adam, Phyllis Macay and Bob Riggle-were shot and killed by the pirates. The deadly episode was a turning point in piracy in the region; killings had been very rare, since crews and ships can bring millions of dollars in ransoms.
Mr. Shibin told FBI agents after his arrest that he had also been lead ransom negotiator after last May's taking of the chemical tanker M/V Marida Marguerite, according to court documents. That tanker was released seven months later, earning Mr. Shabin $30,000 for his negotiating role, according to court documents.
The FBI operation inside Somalia was possible because of a pair of U.N. Security Council resolutions in 2008 that authorized nations to take "all necessary and appropriate measures" to combat piracy in Somalia.
Mr. Shibin's capture came shortly after Mr. Shapiro, assistant secretary in the Bureau of Political-Military Affairs at the State Department, sketched out the Obama administration's revised plan to counter piracy in the region by taking steps to make the high-reward, low-risk business more risky for pirates.
"Most importantly we must focus on pirate leaders and financiers to deny them the means to benefit from ransom proceeds," he said in a speech in late March.
Write to Keith Johnson at keith.johnson@wsj.com.
Copyright 2011 Dow Jones & Company, Inc. All Rights Reserved. Reprinted here for educational purposes only. Visit the website at wsj.com.
Questions
1. Mohammad Shibin is referred to as the "alleged" pirate. Define alleged.
b) How confident do you think the FBI is that Shibin will be convicted?
2. What charges were brought against Mohammad Shibin?
3. a) What new approach is the U.S. State Department taking to combat piracy?
b) Do you think the State Department's new approach will have the desired effect of sending a strong message to the pirates (to deter them from attempting future attacks)? Explain your answer.
4. Why was the FBI able to send agents into Somalia to apprehend the pirate?
5. When pirates were caught during the 17th and 18th centuries, they were punished quickly. Many were executed by hanging. Wall Street Journal readers made the following comments in response to the article:
One reader suggests executing captured pirates, saying:
"Tracking down and arresting someone, slapping on the cuffs, reading him his rights, spending tens of thousands of dollars for a trial and incarceration [is a waste] – compared to the cost of [executing him]."
Another suggests that the countries of the world work together to stop piracy, saying:
"Piracy and lawlessness in Somalia has gotten out of hand. The only way it will be stopped is if all the nations who are being affected work together to provide a united front. Right now everyone is using their own approach to fight the pirates by doing everything from arresting them, like the US, to escorting all ships that travel the coastline. If we could all organize, the navies of the world could easily stop the pirates."
A third says that going into Somalia to get the pirate was:
"a good step, but not sure if Somali pirates fear American prison. The life in a U.S. prison is probably much better than at large in Somalia."
Consider information about attacks by Somali pirates over the past few years from Background and Resources below.
a) What do you think of the U.S. government's approach to dealing with the pirates – are they taking the right approach?
b) Should pirates be given the privileges of American citizens to be tried in U.S. courts? Explain your answer.
Background
In December 2008, pirates tried to attack a U.S. cruise ship, the MS Nautica, with over 1,000 people on board. The Nautica was able to outrun the pirates, but other ships have not been so lucky. (Read about the problem of piracy here.)
Somali pirates attacked about 100 ships in 2008 and captured about half, including a Saudi supertanker loaded with $100 million worth of oil.
The pirates, estimated to number about 1,500, are thought to have received more than $30 million in ransom payments, according to an estimate by the Associated Press.
From wikipedia:
Piracy off the Somali coast has been a threat to international shipping since the second phase of the Somali Civil War in the early 21st century. Since 2005, many international organizations, including the International Maritime Organization and the World Food Program, have expressed concern over the rise in acts of piracy. Piracy has contributed to an increase in shipping costs and impeded the delivery of food aid shipments. Ninety percent of the World Food Programme's shipments arrive by sea, and ships have required a military escort.
In August 2008, Combined Task Force 150, a multinational coalition task force, took on the role of fighting Somali piracy by establishing a Maritime Security Patrol Area (MSPA) within the Gulf of Aden. The increasing threat posed by piracy also caused significant concerns in India since most of its shipping trade routes pass through the Gulf of Aden. The Indian Navy responded to these concerns by deploying a warship in the region in October 2008. The regional Puntland government in northeastern Somalia has also committed itself to eradicating piracy, and begun construction on a naval base to facilitate the task.
By the first half of 2010, these increased policing efforts by Somali government authorities on land along with international naval vessels at sea reportedly contributed to a drop in pirate attacks in the Gulf of Aden from 86 a year prior to 33, forcing pirates to shift attention to other areas such as the Somali Basin and the wider Indian Ocean.
As of December 11, 2010, Somali pirates are holding at least 35 ships with more than 650 hostages.
Daily "Answers" emails are provided for Daily News Articles, Tuesday's World Events and Friday's News Quiz.