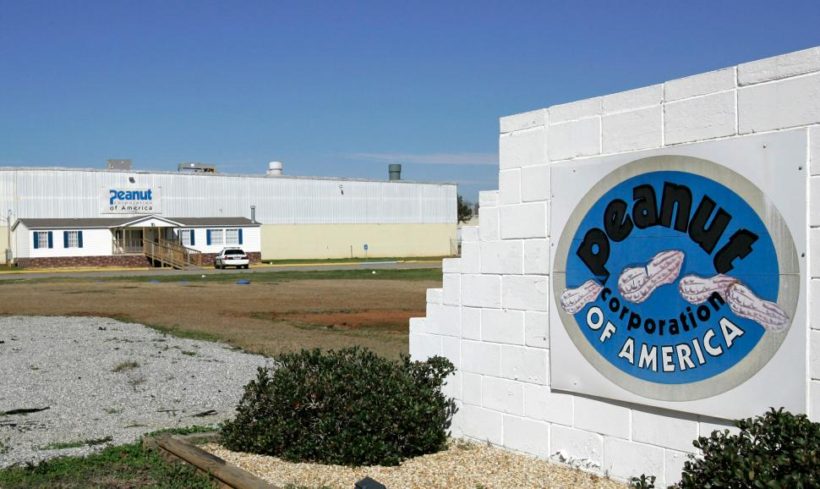 redo Jump to...
print Print...
(by Jesse Newman, The Wall Street Journal) – A former Georgia peanut executive was sentenced to 28 years in prison on Monday for presiding over a cover-up that led to a deadly salmonella outbreak, marking what legal experts believe to be the most severe punishment yet in a U.S. food-safety case. [Contamination at the company's plant in Blakely, Georgia, led to one of the largest food recalls in U.S. history and forced the company into liquidation.]

A U.S. district judge in Albany, Ga., sentenced Stewart Parnell, the 61-year-old former owner of Peanut Corp. of America, after a jury found him guilty last year on dozens of felony counts, including conspiracy to conceal that many of the company's products were contaminated with salmonella. Between 2008 and 2009, nine people died and more than 700 others fell ill after eating peanut butter or other products made at the company's plant in rural Georgia, according to the Centers for Disease Control and Prevention.

The prison sentence—believed to be by far the harshest ever levied in a food-safety case—highlights the government's stricter enforcement of food-safety laws following several major outbreaks of foodborne illnesses over the past decade. The lengthy term in part reflects the overwhelming evidence presented by federal prosecutors that Mr. Parnell knowingly led a scheme to ship tainted products, as well as the large number of people affected by the outbreak and the financial losses incurred, according to lawyers involved in food-safety cases.

Until now, legal experts said, the toughest punishment handed down in at least a half century for crimes connected to such an outbreak was by a federal judge in Iowa, who last April sentenced the owner of a large egg producer and his son to three months in prison for their involvement in a 2010 salmonella outbreak that sickened thousands of people and led to a nationwide recall. A Colorado judge sentenced two brothers to five years' probation after the pair pleaded guilty to misdemeanor charges following a 2011 listeria outbreak linked to their farm's cantaloupes that resulted in 33 deaths.

In the Peanut Corp. case, prosecutors introduced internal emails they said showed Mr. Parnell and his company had for years hidden the fact that many of the firm's products were contaminated with salmonella.

In some cases, company officials falsified lab results, stating peanut products were safe to eat when tests showed otherwise, or when products had never been tested at all, according to court papers.

One email highlighted Mr. Parnell's anxiety after he learned that an order of peanut products would be held up because test results weren't yet available. "S—, just ship it," he wrote, according to the court documents. "I cannot afford to loose [sic] another customer."

Acting Associate Attorney General Stuart Delery said Monday's sentence is an example of the Justice Department's "forceful actions" against any individual or company who "compromises the safety of America's food supply for financial gain."

Mr. Parnell's attorneys on Monday filed a motion seeking his release on bond pending an appeal.

The government's case against Mr. Parnell is a victory for the Justice Department, which in recent years has ramped up criminal prosecutions of food executives or companies responsible for outbreaks of foodborne illnesses that have collectively sickened thousands.

The Peanut Corp. salmonella outbreak helped spur Congress in 2010 to pass the Food Safety Modernization Act, the most extensive revision of federal food-safety laws in 70 years.

Mr. Parnell's brother, Michael Parnell, a food broker who worked on Peanut Corp.'s behalf, was sentenced Monday to 20 years in prison for his role in the case. Mary Wilkerson, who was the quality-assurance manager at the company's plant in Blakely, Ga., was sentenced to five years.

"This is an unprecedented sentence for a foodborne illness outbreak," said Sarah Brew, a Minneapolis attorney who represents food processors and retailers in food-borne illness cases. Ms. Brew said the hefty punishment was driven in large part by the economic toll exacted by salmonella outbreak, which triggered a massive recall since Peanut Corp.'s products were found in numerous items from peanut butter crackers to dog biscuits. It goes to show "how vulnerable the food chain is to one [tainted] ingredient," she said.

[CNN reported:  For Jeff Almer, Parnell's sentencing brought relief. He had been seeking justice for his mother, Shirley Mae Almer, who died in late 2008 after eating salmonella-tainted peanut butter. Still, the day was filled with mixed emotions.

"I am satisfied there were convictions and now jail terms," he said. "But less so in that all this could have been avoided."

Carl Tobias, a University of Richmond law professor, said Parnell's sentence will make corporate executives think twice before engaging in wrongful activities.

"I don't have the impression that Parnell set out to kill people," Tobias said. "He just ran his business in a way that caused a lot of injury and some deaths. The sentence was appropriate and maybe it should have been stiffer."]

Copyright 2015 Dow Jones & Company, Inc. All Rights Reserved. Reprinted here for educational purposes only. May not be reproduced on other websites without permission from The Wall Street Journal. Visit the website at wsj .com.
Questions
1. Who is Stewart Parnell?
2. What initially occurred that led Mr. Parnell to be prosecuted? Be specific.
3. a) What did a jury find Mr. Parnell guilty of last year?
b) What evidence did prosecutors present in the case?
4. What sentence did Mr. Parnell receive yesterday from a federal judge?
5. a) Why is this sentence so significant? Be specific.
b) Why is the sentence believed to be so much different than the previous few cases that have been prosecuted?
6. What positive effect do you think this strict sentence will have on how the food industry maintains health standards?
7. Do you think the punishment fits the crime in this case? Explain your answer.
Background
The Peanut Corporation of America salmonella outbreak:
Food and Drug Administration (FDA) inspectors reported, following a two-week inspection of the Blakely, Georgia, plant in January 2009, that the company had information that its peanut-butter products were tainted with salmonella but shipped them anyway after "re-testing" them. This occurred at least 12 times in 2007 and 2008.
FDA inspectors also found mold growing on the plant's ceiling and walls, foot-long gaps in its roof, dead insects near peanuts, and holes in the plant big enough for rodents to enter.
Inspectors found that the company also did not clean its equipment after finding contamination, and did not properly segregate raw and finished products.
In 2007 the company shipped chopped peanuts on two occasions even after salmonella was confirmed by private lab tests.
The company had previously refused to divulge production test records until federal officials invoked the food safety provisions of a federal anti-terrorism law (the 2002 Public Health Security and Bioterrorism Preparedness Response Act). As a result of this refusal and the incident in general, the Georgia State Senate passed a bill requiring peanut product manufacturers to report any contamination within 24 hours, failing which felony charges would result.
On February 6, 2009, the FDA reported that the company shipped tainted products under three conditions: (1) without retesting, (2) before the re-test results came back from an outside company, and (3) after a second test showed no bacterial contamination. In all three cases, the initial positive result means that the product should have been destroyed. Food safety experts say salmonella can live in pockets of peanut butter, so that one batch could test both negative and positive. In that case, it should have been destroyed, they said.
Additionally, an FDA report dated September 15, 2008, stated that an export shipment to Canada originating from the Blakely plant was found to be contaminated; the FDA blocked it from being reimported into the US because the peanuts contained a "filthy, putrid or decomposed substance", as well as metal fragments. (read more at Wikipedia)
Resources
Watch a ABC News report:
---
Watch a WSBTV report:
Daily "Answers" emails are provided for Daily News Articles, Tuesday's World Events and Friday's News Quiz.