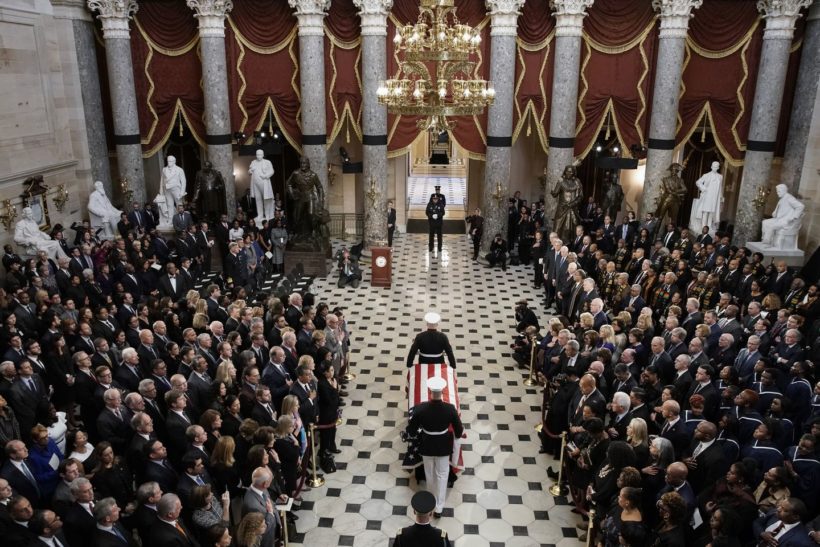 redo Jump to...
print Print...
(Compiled from CNN, USA Today, UK Daily Mail and CBS) — Rep. Elijah Cummings laid in state on Thursday within the U.S. Capitol where he served for 23 years as a congressman, becoming the first African-American to be so honored.
Current and former members of Congress assembled before Cummings' flag-draped coffin was brought into the National Statuary Hall – a large, domed room that once served as the House chamber – followed by his widow, Maya Rockeymoore Cummings, the chairwoman of the Maryland Democratic Party. Other family members dressed in gray and black entered next, some staring straight ahead and others clutching each other's arms.
Cummings, a Democrat whose district included large sections of Baltimore, died last week at age 68 from complications related to longstanding health issues.
A day after his death, Nancy Pelosi, [Democrat, Speaker of the U.S. House of Representatives] announced that Cummings would lie in state in Statuary Hall. The memorial service with Cummings' family and members of Congress was held on Thursday morning at 11 a.m. EDT before a public viewing from 1-7 p.m.
"In the House, Elijah was our North Star," Pelosi said after Cummings' death. "He was a leader of towering character and integrity, whose stirring voice and steadfast values pushed the Congress and country to rise always to a higher purpose."
Cummings' wife, Maya Rockeymoore Cummings, who is the chair of the Maryland Democratic Party, has said that her husband worked until the end of his life because of his belief that "our democracy was the highest and best expression of our collective humanity and that our nation's diversity was our promise, not our problem."
Cummings, the son of former sharecroppers, was born and raised in Baltimore, the city that is home to his district.
He practiced law and served for 14 years in the Maryland House of Delegates, where he became the first African American in Maryland history to be named speaker pro tem, according to his congressional website.
He had represented Maryland's 7th Congressional District since 1996 and served as the chairman of the House Oversight and Reform Committee…
As he led the investigative efforts, Cummings clashed publicly with the President. But despite being an outspoken and passionate defender of Democratic causes in Congress, Cummings fostered strong relationships with Republicans across Capitol Hill.
Republican Congressman Mark Meadows spoke about his "unexpected" friendship with Cummings.
"This place and this country would be better served with a few more unexpected friendships. I know I've been blessed by one," Meadows.
House GOP leader Kevin McCarthy of California spoke in honor of the late congressman last week on the House floor, saying, "Chairman Cummings had an enormous presence."
"Every time we spoke of selecting an individual who can rise to the occasion to be in debate with him, we would look for somebody who was strong, and every time someone was selected, they'd come back to be a very best friend of Elijah Cummings," McCarthy said.
Cummings, who grew up during the civil rights movement, became a leading voice among African American lawmakers on Capitol Hill.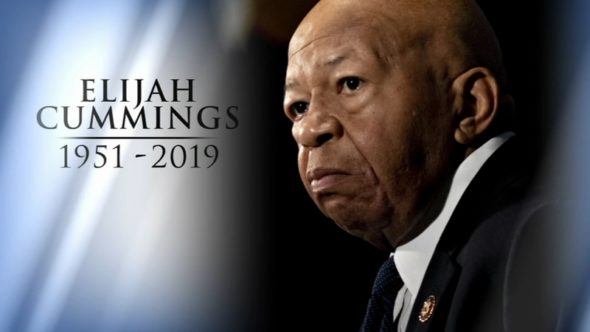 A funeral service will be held for Cummings on Friday at New Psalmist Baptist Church in Baltimore. According to a release from the late congressman's office, speakers at the service will include former President Barack Obama, along with former President Bill Clinton and former secretary of state Hillary Clinton, as well as Speaker Pelosi.
Obama's spokeswoman Katie Hill said in a statement late Wednesday that the former U.S. president was requested to speak by Cummings' widow Maya Rockeymoore-Cummings.
"He will deliver remarks about the remarkable life and legacy of one of this country's finest public servants," Hill said in the statement.
Also slated to speak is former National Association for the Advancement of Colored People President Kweisi Mfume, whose Maryland seat Cummings took over when Mfume became the leader of the civil rights group. The seat, Maryland's 7th congressional district, was held by Cummings for more than two decades.
Along with the officials mentioned, Cumming's widow, brother and daughters will also speak.
President Trump is not expected to attend. Despite their clashes, President Trump tweeted fondly about Cummings following the lawmaker's death this month.
"My warmest condolences to the family and many friends of Congressman Elijah Cummings. I got to see first hand the strength, passion and wisdom of this highly respected political leader. His work and voice on so many fronts will be very hard, if not impossible, to replace!" Trump wrote.
Compiled from articles on October 24 by Clare Foran, CNN, William Cummings, USA Today, Geoff Earle, UK Daily Mail and by CBS News.
Questions
1. The first paragraph of a news article should answer the questions who, what, where and when. List the who, what, where and when of this news item. (NOTE: The remainder of a news article provides details on the why and/or how.)
2. a) What does it mean to "lie in state"?
b) What is the significance of Rep. Cummings lying in state?
3. How old was Rep. Cummings when he died last week?
b) How many years did Elijah Cummings serve in the U.S. Congress?
4. What historic achievement did Elijah Cummings accomplish while serving in the Maryland House?
5. Which politicians will be speaking at Congressman Cummings' funeral on Friday?
OPTIONAL: Do some research to find out what Rep. Cummings' accomplishments were in Congress. (What do you think was the most important legislation he sponsored?)
Background
Lying in state is the tradition in which the body of a dead official is placed in a state building, either outside or inside a coffin, to allow the public to pay their respects. It traditionally takes place in the principal government building of a country, state, or city. (wikipedia)
---
Lying in state vs. Lying in honor vs. Lying in repose
While Rep. Cummings will lie in state at the Capitol Thursday, he will first lie in repose Wednesday at Morgan State University in Baltimore. (He was also on the Board of Regents there.)
Lying in repose simply means a public viewing. At the Morgan State ceremony, a number of dignitaries spoke including former U.S. Sen. Barbara Mikulski and Baltimore Mayor Bernard C. "Jack" Young.
Lying in state is reserved for government officials and refers to the time their coffins or bodies are at the Capitol or a government building.
Lying in honor is used for private citizens whose coffins are displayed inside a government building. Only four private citizens have lain in honor at the U.S. Capitol Rotunda. …
Lying in National Statuary Hall vs. the Rotunda
The term "lying in state" — at least on the federal level — typically refers to those lying in the U.S. Capitol Rotunda. However, Cummings' body will lie in Statuary Hall, a large room just south of the Rotunda that served as the House of Representatives chambers in the first half of the 19th century. Now, the hall is used for special ceremonies…
The dead who have been honored
The last person lain in state in the Rotunda was President George H.W. Bush in December 2018 after he died in November.
Bush was the second person lain in state last year as the late Rep. John McCain's body was also brought to the Rotunda in August 2018.
The very first to lain in state was Henry Clay, a long-time congressman from Kentucky who died in 1852.
While presidents, senators and representatives have all lain in state at the Rotunda, there are also several notable names who have chosen to have more private ceremonies.  President Franklin D. Roosevelt, the World War II-era president who is the only one to have served three consecutive terms, chose to be buried at his Springwood Estate in Hyde Park, New York.
As for private citizens, four have received the lying in honor designation in the country's history: civil rights leader Rosa Parks, Rev. Billy Graham and two Capitol Police Officers Jacob Chestnut and John Gibson, who were shot and killed in the Capitol 1998. (from an article at the Baltimore Sun)
Daily "Answers" emails are provided for Daily News Articles, Tuesday's World Events and Friday's News Quiz.