Elijah Cummings, first black lawmaker to lie in state at the Capitol
Daily News Article — Posted on October 25, 2019
(Compiled from CNN, USA Today, UK Daily Mail and CBS) — Rep. Elijah Cummings laid in state on Thursday within the U.S. Capitol where he served for 23 years as a congressman, becoming the first African-American to be so honored.
Current and former members of Congress assembled before Cummings' flag-draped coffin was brought into the National Statuary Hall – a large, domed room that once served as the House chamber – followed by his widow, Maya Rockeymoore Cummings, the chairwoman of the Maryland Democratic Party. Other family members dressed in gray and black entered next, some staring straight ahead and others clutching each other's arms.
Cummings, a Democrat whose district included large sections of Baltimore, died last week at age 68 from complications related to longstanding health issues.
A day after his death, Nancy Pelosi, [Democrat, Speaker of the U.S. House of Representatives] announced that Cummings would lie in state in Statuary Hall. The memorial service with Cummings' family and members of Congress was held on Thursday morning at 11 a.m. EDT before a public viewing from 1-7 p.m.
"In the House, Elijah was our North Star," Pelosi said after Cummings' death. "He was a leader of towering character and integrity, whose stirring voice and steadfast values pushed the Congress and country to rise always to a higher purpose."
Cummings' wife, Maya Rockeymoore Cummings, who is the chair of the Maryland Democratic Party, has said that her husband worked until the end of his life because of his belief that "our democracy was the highest and best expression of our collective humanity and that our nation's diversity was our promise, not our problem."
Cummings, the son of former sharecroppers, was born and raised in Baltimore, the city that is home to his district.
He practiced law and served for 14 years in the Maryland House of Delegates, where he became the first African American in Maryland history to be named speaker pro tem, according to his congressional website.
He had represented Maryland's 7th Congressional District since 1996 and served as the chairman of the House Oversight and Reform Committee…
As he led the investigative efforts, Cummings clashed publicly with the President. But despite being an outspoken and passionate defender of Democratic causes in Congress, Cummings fostered strong relationships with Republicans across Capitol Hill.
Republican Congressman Mark Meadows spoke about his "unexpected" friendship with Cummings.
"This place and this country would be better served with a few more unexpected friendships. I know I've been blessed by one," Meadows.
House GOP leader Kevin McCarthy of California spoke in honor of the late congressman last week on the House floor, saying, "Chairman Cummings had an enormous presence."
"Every time we spoke of selecting an individual who can rise to the occasion to be in debate with him, we would look for somebody who was strong, and every time someone was selected, they'd come back to be a very best friend of Elijah Cummings," McCarthy said.
Cummings, who grew up during the civil rights movement, became a leading voice among African American lawmakers on Capitol Hill.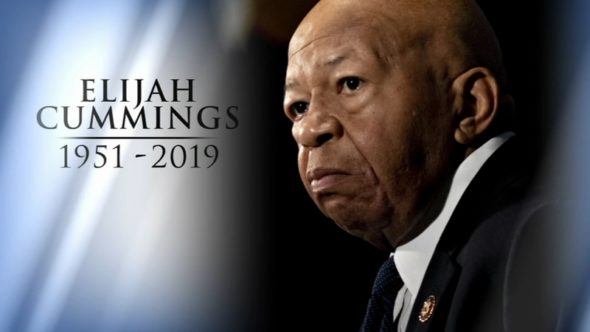 A funeral service will be held for Cummings on Friday at New Psalmist Baptist Church in Baltimore. According to a release from the late congressman's office, speakers at the service will include former President Barack Obama, along with former President Bill Clinton and former secretary of state Hillary Clinton, as well as Speaker Pelosi.
Obama's spokeswoman Katie Hill said in a statement late Wednesday that the former U.S. president was requested to speak by Cummings' widow Maya Rockeymoore-Cummings.
"He will deliver remarks about the remarkable life and legacy of one of this country's finest public servants," Hill said in the statement.
Also slated to speak is former National Association for the Advancement of Colored People President Kweisi Mfume, whose Maryland seat Cummings took over when Mfume became the leader of the civil rights group. The seat, Maryland's 7th congressional district, was held by Cummings for more than two decades.
Along with the officials mentioned, Cumming's widow, brother and daughters will also speak.
President Trump is not expected to attend. Despite their clashes, President Trump tweeted fondly about Cummings following the lawmaker's death this month.
"My warmest condolences to the family and many friends of Congressman Elijah Cummings. I got to see first hand the strength, passion and wisdom of this highly respected political leader. His work and voice on so many fronts will be very hard, if not impossible, to replace!" Trump wrote.
Compiled from articles on October 24 by Clare Foran, CNN, William Cummings, USA Today, Geoff Earle, UK Daily Mail and by CBS News.