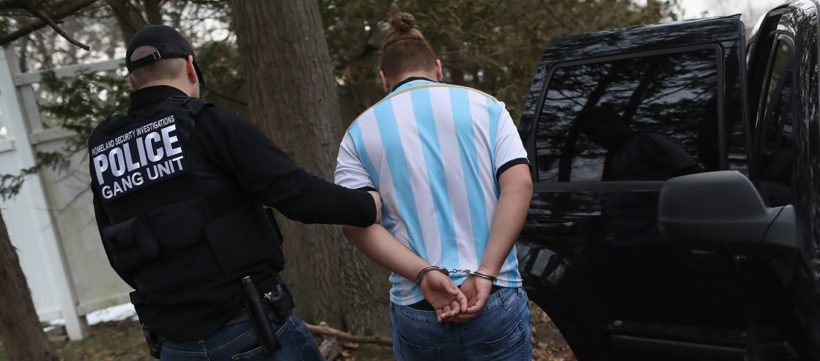 redo Jump to...
print Print...
(by Will Racke, The Daily Caller) – More than 100 suspected members of MS-13 and other gangs were released in 2017 by sanctuary jurisdictions even though federal authorities had formally requested that they be held, according to data from the Department of Homeland Security.
Between October 2016 and June 2017, local law enforcement agencies released 142 gang members that immigration authorities were seeking to deport instead of transferring them to federal custody. The prisoners were subjects of active immigration detainers, which are formal requests made by Immigration and Customs Enforcement (ICE) to local authorities to hold criminal aliens until federal agents can pick them up.
The releases occurred in 37 separate jurisdictions, according to a Center for Immigration Studies report on the data, which was compiled by DHS in response to [questions asked in June] by the Senate Judiciary Committee [at a] hearing on the rise of MS-13. With the exception of Maricopa County, Arizona, all are considered sanctuary jurisdictions because they [either] refuse to honor ICE detainers that aren't backed by a criminal warrant or, in some cases, [refuse to] notify immigration authorities of a criminal alien's release date.
About two-thirds of the releases occurred in California, which has a statewide sanctuary law that limits cooperation between local officials and immigration authorities. Santa Clara County led the way with 22, followed by Los Angeles County with 16 and Orange County with 10.
Outside California, other jurisdictions that frequently let alien gang members go were Travis County, Texas, which released 10, and Montgomery and Prince George's counties in Maryland, which each released 6.
Notably, 15 of the alien gang members documented in the ICE data were members of MS-13, the ultra-violent transnational gang composed largely of immigrants from Central American countries. As the CIS report notes, five of the MS-13 members were released by Montgomery County and four by Prince George's County. Both counties are in suburban Washington, D.C., which has seen a disturbing rise in MS-13 activity, including multiple brutal murders.
Under Attorney General Jeff Sessions, the Department of Justice has tried to pressure sanctuary jurisdiction into changing their policies by threatening to withhold certain criminal justice grants. It has also taken unprecedented legal action, suing California in March over a trio of state laws it says undermine federal authority to enforce immigration law.
Reprinted here for educational purposes only. May not be reproduced on other websites without permission from The Daily Caller.
Questions
1. Between Oct. 2016 and June 2017, how many suspected gang members were let go by law enforcement agencies due to their city/state "sanctuary" policies?
2. Why did DHS compile a list of released gang members?
3. What is an immigration detainer?
4. a) What makes a jurisdiction a sanctuary jurisdiction?
b) What are sanctuary laws?
5. Consider the reasons these cities have for becoming sanctuary cites (to protect hard-working families, etc.). Why do you think they insist on releasing suspected gang members back into our communities (and preventing ICE from deporting these nefarious criminals)?
Resources
Watch a news report:
---
Watch two interviews with Jamiel Shaw Sr., whose son was murdered by an illegal immigrant in 2008. The murderer had just been released from jail on his third gun charge the day he shot and killed Jamiel Jr.
Interview #1 from March 1, 2017  (Mr. Shaw had been a guest of President Trump during his State of the Union the previous night):
---
Interview #2 from April 19, 2018  (following comments made by California Gov. Jerry Brown on sanctuary cities):
See other "Examples of Serious Crimes By Illegal Aliens" at FAIR.org.  (These Americans' voices deserve to be heard, their stories deserve to be told. This isn't about legal immigration. All Americans welcome and support legal immigration. The controversy is over criminal illegal aliens.)
Daily "Answers" emails are provided for Daily News Articles, Tuesday's World Events and Friday's News Quiz.