redo Jump to...
print Print...
(by Jenny Booth, London's timesonline.co.uk) – Doctors say that the Haiti earthquake victim thought to have endured 27 days trapped under the rubble has become lucid and that what he says backs up his incredible survival story.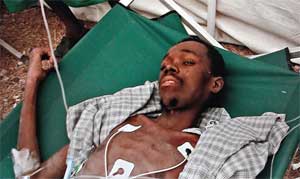 Evans Monsigrace was carried into a Salvation Army clinic on Monday by two rescuers who said that they found him while picking through the ruins of a flea market.
Stick thin and severely dehydrated, with festering open wounds on both feet, at first Mr Monsigrace spoke ramblingly, convinced that he was still trapped and begging to die, medical staff reported.
But yesterday the 28-year-old rice seller began to talk sensibly, and doctors now say that it is feasible that he survived on water and perhaps some fruit, although his story cannot be independently checked.
Mr Monsigrace has told them that he had just finished selling rice for the day at the city centre market when the quake hit. He didn't suffer any major injuries but was trapped on his side, in an area where food and drink vendors were selling their goods.
"Based on that [his story], we believe him," said Dr Dushyantha Jayaweera, who works at the University of Miami Medishare field hospital where Mr Monsigrace was transferred because he was in critical condition.
Dr Jayaweera said that Mr Monsigrace originally claimed that he had not had any water or food at all. Doctors found however that he had normal kidney function with only some heart palpitations, suggesting that he at least had drunk something, but not enough to avoid getting dehydrated.
Medical experts say that disaster survivors may be able to sustain themselves with a water supply and without medical attention for up to two weeks, as did Darlene Etienne, the 17-year-old Haitian survivor who was rescued after 15 days in which she reportedly sipped water from the bathroom.
The circumstances of Monsigrace's rescue remain mysterious. Mr Monsigrace's mother, who was at the field hospital, has told doctors that people clearing rubble in the city centre discovered him and alerted his brothers.
The two men who carried him into the Salvation Army medical centre in Port-au-Prince assured doctors that he had been trapped since the earthquake.
A statement on the Salvation Army website said that the two unidentified rescuers told them that they found the man in the debris of the market.
A video filmed by Michael Andrew, an Arizona-based freelance photographer, shows doctors at the Salvation Army clinic trying without success to insert a needle into the man's arm to give him fluid. Doctors then referred the man to the field hospital at the airport, Mr Andrew said.
It wasn't clear whether other people had provided food and water to the man before he got to the clinic, said Mr Andrew. It also wasn't known why teams of international search and rescue workers were not alerted to the discovery of the survivor.
"He came in delirious, asking to die," said Nery Ynclan, a University of Miami spokeswoman.
She said that Mr Monsigrace was last night in a stable condition and nibbling chocolate as he was treated for dehydration and malnutrition.
"Someone could not survive 28 days without water," Ms Ynclan said. "You can go nine weeks without food."
"It's not just amazing that he survived – the amazing fact is that they found him," said Dr Jayaweera. "You never say never in medicine. I think it tells us about people not giving up on their loved ones – they kept looking and kept hoping."
Reprinted here for educational purposes only. May not be reproduced on other websites without permission from The Times Online. Visit the website at timesonline.co.uk.
Questions
1. What is miraculous about Evans Monsigrace's recovery from the Haiti earthquake rubble?
2. What type of injuries did Mr. Monsigrace sustain?
3. a) Who is Dushyantha Jayaweera?
b) What does he say about the validity of Mr. Monsigraces's story?
4. How long can a person go without food, according to a University of Miami spokeswoman?
5. Some people would say Mr. Monsigrace was lucky. Others would acknowledge that God saved his life. What do you think?
Daily "Answers" emails are provided for Daily News Articles, Tuesday's World Events and Friday's News Quiz.