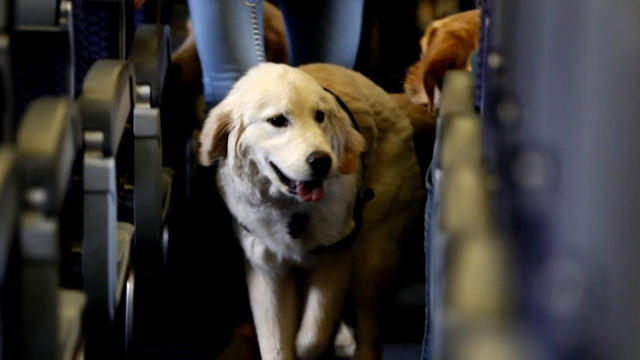 (from an Associated Press report at CBS News) –  DALLAS – Soon Delta Air Lines will require additional documentation for passengers taking service animals with them on flights. This comes amid an increase of incidents involving animals, including a dog attack last year.
Starting March 1, customers will have to show proof of health or vaccinations for their animals 48 hours in advance. In addition, owners of emotional-support animals will need to sign a statement confirming their animal can behave. However, the new requirements don't apply to pets that stay in kennels during flights.
Delta's new rules are aimed at two different types of animals. The first are service animals, which receive specific training to help blind or disabled passengers. Then there are emotional-support animals, which require no training at all. Both fly for free and are not required to be caged during the flight.
Federal regulators have interpreted a 1986 access-to-travel law to allow support animals in airplane cabins and in apartment buildings that do not allow pets. But some people use untrained pets in order to get them on a plane for free, especially since it's easy to go online to buy vests or ID card with a "service animal" insignia.
Delta said the idea behind the new regulations is to keep trained service animals and emotional-support animals safe from aggressive ones. Overall, the airline says it carries 700 service or support animals every day. But people have tried to fly with everything from turkeys, to snakes, spiders and even gliding possums, which are also known as sugar gliders.
Since 2016, the company reported an 86-percent increase in 'animal incidents', that include animals urinating, biting or showing acts of aggression. Last June, a 70-pound dog flying as a support animal bit another passenger several times in the face on a Delta plane in Atlanta. The victim was hospitalized.
According to CBS News correspondent Don Dahler, Tom Panek, CEO of Guiding Eyes for the Blind, was on a Delta flight recently, made miserable by a misbehaving support dog.
"For two and a half hours, passengers had to tolerate this dog while it was barking, lunging and disrupting the flight," Panek said. "No one wanted to confront this individual and say that that dog is not appropriate as an emotional support dog."
It might seem like a harmless way to travel with your pet, but Panek says there are serious repercussions.
"It profoundly affects us because the next time that we go into a restaurant, they may tell me, 'no, you don't have access here', and I wouldn't be able to take three steps without Gus."
Nineteen states have laws against calling untrained dogs, service dogs. Arizona is considering legislation to become the twentieth.
From a Jan. 19 report by Associated Press (last updated 3:48 p.m. EST. Reprinted here for educational purposes only. May not be reproduced on other websites without permission from CBS News. Visit the website at cbsnews .com.
Questions
1. The first paragraph of a news article should answer the questions who, what, where and when. List the who, what, where and when of this news item. (NOTE: The remainder of a news article provides details on the why and/or how.)
2. For what reason is Delta implementing the new regulations?
3. a) Describe the new rules.
b) What two different types of animals are currently permitted on flights?
4. What problem has arisen by allowing service animals in the cabin during flights?
5. "Animal incidents" have increased by 86% since 2016, Delta reports. List the types of incidents that have occurred.
6. It appears that the problem is not with service animals but with emotional-support animals.
a) What do you think is the best way for airlines to protect their passengers from untrained animals? Explain your answer.
b) What, if any, limitations should be placed on travelers taking their emotional-support animals on a flight with them, as opposed to these animals being transported the same way other travelers pets are transported?
Resources
Watch a CBS News report:
Daily "Answers" emails are provided for Daily News Articles, Tuesday's World Events and Friday's News Quiz.