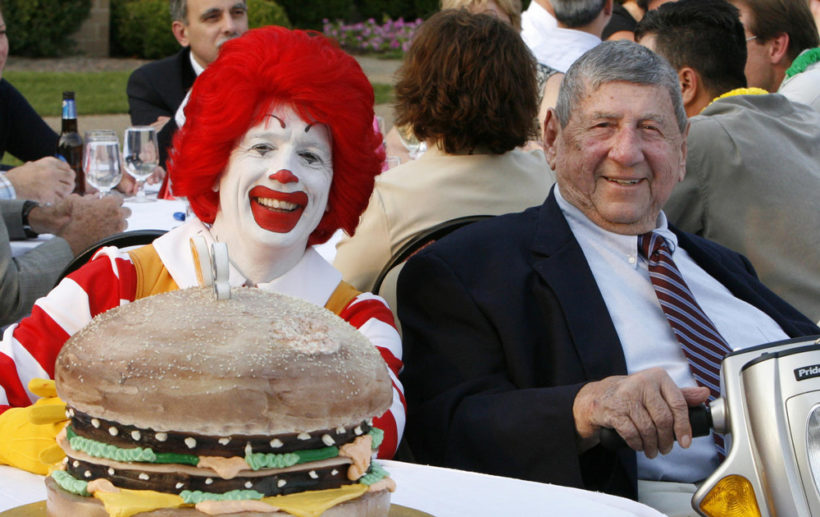 redo Jump to...
print Print...
(Compiled from WSJ and ABC News) – As a McDonald's franchisee in the Pittsburgh area, Jim Delligatti in the mid-1960s believed the burgers-and-fries menu needed something bigger and jazzier [and that customers wanted a bigger sandwich]. He came up with the Big Mac, tested it in one of his restaurants and saw it swiftly become a national sensation, heralding an era of ever-increasing reliance on novelty in fast food.
Mr. Delligatti died Monday at his home in Fox Chapel, a suburb of Pittsburgh, his family said. He was 98 years old.
He came up with the idea for the Big Mac in 1967 and first served it at his Uniontown, Pa., McDonald's. The hamburger features two beef patties, a mildly tangy sauce, lettuce, cheese, pickles and onions slathered over a soft sesame-seed bun sliced into three layers. The original price was 45 cents, compared with an average of about $5 today. McDonald's put the Big Mac on its national menu in 1968.
Delligatti told The Associated Press in 2006 that McDonald's resisted the idea at first because its simple lineup of hamburgers, cheeseburgers, fries and shakes was selling well.
"They figured, why go to something else if (the original menu) was working so well?" Delligatti said then.
McDonald's has sold billions of Big Macs since then, in more than 100 countries. When the burger turned 40, McDonald's estimated it was selling 550 million Big Macs a year, or roughly 17 every second. Delligatti received no payment or royalties for coming up with the burger, the company said. "All I got was a plaque," he once said.
Mr. Delligatti acknowledged that the Big Mac was derived from double-deck hamburgers made popular by rival fast-food restaurants. "This wasn't like discovering the lightbulb," he told the Los Angeles Times in 1993. "The bulb was already there. All I did was screw it in the socket." Even so, his initiative helped launch McDonald's on a long-running diversification of a menu once limited to little more than basic hamburgers, fries, shakes and soft drinks.
The corporate headquarters initially opposed Mr. Delligatti's plan to use a triple-deck bun with sesame seeds, said Michael Delligatti, one of his sons. But the elder Mr. Delligatti went ahead with the new bun anyway. Without it, he thought, the Big Mac would be too sloppy.
"Delligatti was a legendary franchisee within McDonald's system who made a lasting impression on our brand," the Oak Brook, Illinois-based company said Wednesday in a statement. The Big Mac "has become an iconic sandwich enjoyed by many around the world."
Ann Dugan, a former assistant dean of the University of Pittsburgh's Katz School of Business and an expert on business franchises, said Jim Delligatti's genius was simple: He listened to customers who wanted a bigger burger.
"In franchising, there's always this set playbook and you have to follow it. Jim saw an opportunity to go outside the playbook because he knew the customer," Dugan said. "He persevered and (McDonald's) listened, and the rest is history."
Mr. Delligatti also innovated by coming up with an early version of the chain's breakfast offerings—hotcakes and sausages initially aimed at steelworkers returning home from overnight shifts.
He wasn't alone among franchisees in coming up with a hit product. McDonald's said other franchisees invented the Egg McMuffin and the Filet-O-Fish.
Delligatti headed M&J Management, a four-generation family business and McDonald's franchise organization, for more than 60 years. He opened his first McDonald's in Pittsburgh's North Hills suburbs in 1957. In 1979, he co-founded Pittsburgh's Ronald McDonald House, then the seventh such facility in the country, where families can stay when children travel to Pittsburgh for life-saving medical care, and he was involved in several other charities.
Compiled from news reports by The Wall Street Journal and ABC News.  Reprinted here for educational purposes only. May not be reproduced on other websites without permission.
Questions
1. Define the following as used in the article:
-franchisee/franchise
-royalties
-initiative
2. a) When did McDonald's franchise owner Jim Delligatti come up with the idea for the Big Mac?
b) How did McDonald's corporate headquarters initially respond to Mr. Delligatti's idea?
3. Why did Mr. Delligatti want to use a triple bun?
4. What did Delligatti say about his idea for the double burger Big Mac?
5. How does franchise expert Ann Dugan explain her view of Jim Delligatti? Be specific.
6. How many Big Macs has McDonald's sold worldwide?
7. Mr. Delligatti received no royalties for his idea for the Big Mac. (But he did profit through the sales of Big Macs in the 21 McDonald's restaurants he and his family own.) He doesn't appear to have viewed a lack of royalties as unfair, but instead appears to have always been an optimistic and generous man who enjoyed owning McDonald's restaurants.
In 1979, ten years after the national launch of the Big Mac, Mr. Delligatti co-founded Pittsburgh's Ronald McDonald House, then the seventh such facility in the country, where families can stay when children travel to Pittsburgh for life-saving medical care. He was involved in several other charities as well.
Mr. Delligatti most likely would have liked to receive some type of compensation or royalties for his creation. However, he did not let it stop him from growing his franchises and even opening a Ronald McDonald House to help others.
How does Mr. Delligatti's story inspire you?
Background
A franchisee is an individual who purchases the rights to use a company's trademarked name and business model to do business. The franchisee purchases a franchise from the franchisor. The franchisee must follow certain rules and guidelines already established by the franchisor, and in most cases the franchisee must pay an ongoing franchise royalty fee to the franchisor.
Daily "Answers" emails are provided for Daily News Articles, Tuesday's World Events and Friday's News Quiz.