redo Jump to...
print Print...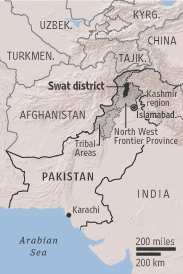 (by Zahid Hussain, WSJ.com) ISLAMABAD – Thousands of residents fled Swat Valley on foot and crammed into buses, vans and trucks, following the breakdown of a truce between Pakistani forces and the Taliban.
Authorities lifted a curfew for a few hours to allow residents to evacuate as the militants took control of Mingora, the main town of the valley, about 100 miles from Islamabad, Pakistan's capital.
As many as 500,000 people are expected to flee the valley — formerly home to 1.5 million people — in the near future, said Mian Iftikhar Hussain, the information minister for North West Frontier Province, which includes Swat.
Khushal Khan, head of the local administration, urged residents to leave their homes before evening as fighting between the army and militants broke out again. Pakistan's military resumed fighting the Taliban in Swat this week after each side accused the other of failing to honor the terms of a peace accord struck in February to end the conflict in Swat in return for the imposition of Islamic law.
Tuesday's exodus worsened a humanitarian problem stemming from the displacement of more than half a million people from the tribal region near the Afghan border and in parts of North West Frontier Province where militants have been trying to expand their influence.
Pakistan's army was unable to clear Swat of Taliban influence in 18 months of fighting that led to the February truce. With the government in need of a fresh strategy for dealing with the Taliban, President Asif Ali Zardari is to meet Wednesday with U.S. President Barack Obama and Afghan President Hamid Karzai in Washington to discuss a coordinated approach.
While the Taliban have had de facto control of Swat, the presence of Taliban fighters had been muted since February. That changed Tuesday as Taliban fighters patrolled the streets of Mingora and took positions on rooftops in the town, which has a population of more than 300,000. Residents said militants attacked a police station where some troops were based. Mr. Khan said the Taliban also planted mines.
Military officials said 8,000 to 10,000 troops were ready to begin an offensive against the militants.
Also Tuesday, a suicide bomber rammed his explosive-laden vehicle into a paramilitary jeep in Bara, outside Peshawar. The blast killed five people and wounded several others.
Many refugees from Swat and neighboring districts are living in crowded camps set up by the government in various parts of the province. The camps lack basic facilities, leaving thousands without shelter.
The refugee crisis is likely to increase pressure on Mr. Zardari's embattled government if it doesn't adequately provide for the refugees or resolve a military conflict that has caught many civilians in the crossfire.
"We were crushed in the fighting between Taliban and the military," said Khan Gul, a trader who last week fled Buner district, which neighbors Swat. "We don't like any of them."
Copyright 2009 Dow Jones & Company, Inc. All Rights Reserved. Reprinted here for educational purposes only. Visit the website at wsj.com.
Questions
1. Why are residents of Pakistan's Swat Valley evacuating their homes?
2. a) What is the population of the Swat Valley in Pakistan?
b) How many residents are expected to evacuate?
3. Why did Pakistan's military resume fighting the Taliban in Swat this week?
4. What is Pakistani President Zardari doing to deal with the Taliban?
5. What problems do the refugees from the Swat Valley face? (View photos of the refugees at online.wsj.com/article/SB124150904436386673.html#articleTabs%3Dslideshow.)
Background
THE TALIBAN
The Taliban is an Islamic fundamentalist movement that stated it wanted to "to set up the world's most pure Islamic state" when it effectively ruled over 90% of Afghanistan from 1996 until 2001.
The Taliban is currently engaged in a protracted guerilla war against NATO forces within Afghanistan, and also a war in Pakistan with the Pakistani government and military.
The Taliban implements the "strictest interpretation of Sharia law ever seen in the Muslim world" including the complete ban of education for girls, and is widely criticized internationally for its treatment of women.
SHARIA LAW
Marriage and divorce are the most significant aspects of sharia, but criminal law is the most controversial. In sharia, there are categories of offenses: those that are prescribed a specific punishment in the Quran, known as hadd punishments, those that fall under a judge's discretion, and those resolved through a tit-for-tat measure (ie., blood money paid to the family of a murder victim). There are five hadd crimes: unlawful sexual intercourse (sex outside of marriage and adultery), false accusation of unlawful sexual intercourse, wine drinking (sometimes extended to include all alcohol drinking), theft, and highway robbery. Punishments for hadd offenses include flogging, stoning, amputation, exile, or execution.
TALIBAN'S TREATMENT OF WOMEN:
While in power in Afghanistan, the Taliban became notorious internationally for their treatment of women. Their stated aim was to create "secure environments where the chasteness and dignity of women may once again be sacrosanct."
Women were forced to wear the burqa in public, because, according to a Taliban spokesman, "the face of a woman is a source of corruption" for men not related to them.
They were not allowed to work.
They were not allowed to be educated after the age of eight, and until then were permitted only to study the Qur'an.
Women seeking an education were forced to attend underground schools, where they and their teachers risked execution if caught.
They were not allowed to be treated by male doctors unless accompanied by a male chaperone, which led to illnesses remaining untreated.
They faced public flogging and execution for violations of the Taliban's laws.
The Taliban allowed and in some cases encouraged marriage for girls under the age of 16. Amnesty International reported that 80 percent of Afghan marriages were considered to be by force.
Daily "Answers" emails are provided for Daily News Articles, Tuesday's World Events and Friday's News Quiz.