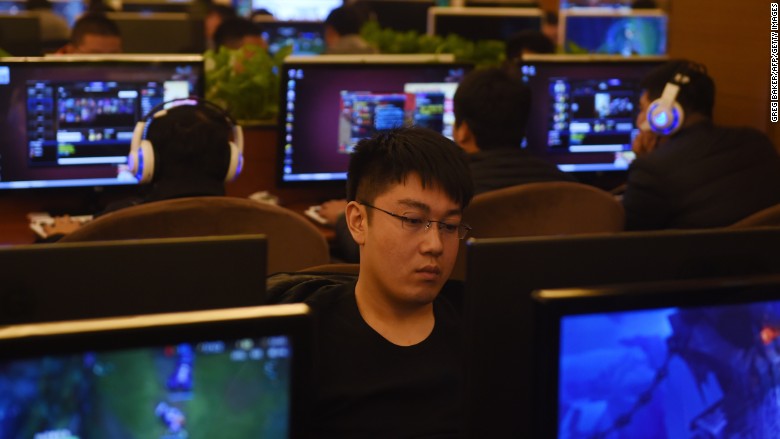 PLEASE NOTE: Daily posting and "Answers" emails will end for the school year on Friday, May 26th.
(by Associated Press at New York Daily News) BEIJING — China is tightening rules for online news as censors try to control a flood of information spread through instant-messaging apps, blogs and other media sources that are proliferating across the country.
The rules announced May 2nd will require online publishers to obtain government licenses and block foreign or private companies from investing in online news services or directly disseminating news.
Chinese news outlets will have to undergo a security review before working with foreign companies, according to a statement from the Cyberspace Administration of China (CAC), [China's internet regulator], which take effect June 1.
The move follows a crackdown on dissent under Communist Party leader President Xi Jinping that has led to tighter controls on what can be published online.
With the latest rules, the government will require internet companies to censor what their customers see or risk losing their right to distribute news, Chinese media expert Qiao Mu said.
"This is aimed at the companies rather than the individual users," he said. "It's not only to ideologically control information, but also to control the source of the information."
There are more than 700 million internet users in China. Authorities have long sought to block material considered subversive by erasing objectionable items off news sites and microblogs. …[China is notorious for its tight grip on online content. It put in place a censorship firewall, commonly known as the Great Firewall, which blocks popular sites such as Google, Twitter, Facebook, YouTube and Wikipedia, leaving Chinese internet users only with Chinese duplicates of the services such as Baidu and Weibo. The mainland is also set to release its version of Wikipedia in 2018. Today, the country ranks fifth from the bottom on the World Press Freedom Index, as compiled by Reporters without Borders.]
Many internet users in China regularly circumvent (find a way around) that system by using virtual private networks, or VPNs. Those offer encrypted connections intended to thwart censorship and allow access to banned sites.
The new rules adopt a more proactive approach, placing restrictions on news site ownership and funding – and targeting companies or individuals that violate them. News services will face penalties such as criminal prosecution if they fail to "persist in … serving socialism," promote a "benign online culture," and "safeguard the national interest."
Qiao said three of China's biggest internet companies — Baidu, Tencent, and NetEase — could be affected. Each provides access to news: Baidu via its popular search platform, Tencent through the WeChat messaging app and NetEase through its Mobile News app.
Numerous smaller news providers that use the larger companies' platforms also would fall under the new rules, Qiao said. …
The rules target Chinese internet services and seem unlikely to affect foreign news organizations and websites based overseas, many of which are already blocked in China.
How much information gets filtered out will be determined by how forcefully agencies including the Cybersecurity Administration enforce the new rules, said Zhan Jiang with the Department of International Journalism and Communication at Beijing Foreign Studies University.
The official Communist government's Xinhua News Agency characterized the rules as a security measure intended in part to protect the privacy of users. …
Reprinted here for educational purposes only from an Associated Press story. May not be reproduced on other websites without permission from the New York Daily News. 
Questions
PLEASE NOTE: Daily posting and "Answers" emails will end for the school year on Friday, May 26th.
1. Define the following words as used in the article:
censor/censors (para. 1)
proliferating (para. 1)
disseminating (para. 2)
dissent (para. 4)
subversive (para. 7)
2. a) Describe the new rules China's CAC is implementing. Be specific.
b) When will the rules take effect?
3. What is the CAC?
4. What led to the new rules?
5. What are the consequences of ignoring the new rules?
6. What is the aim of the new rules, according to Chinese media expert Qiao Mu?
7. What is the Communist government's Great Firewall? What does it do?
8. CFR .org notes:
"The Chinese government has long kept tight reins on both traditional and new media to avoid potential subversion of its authority. Its tactics often entail strict media controls using monitoring systems and firewalls, shuttering publications or websites, and jailing dissident journalists, bloggers, and activists."
The AP reported the following observation from Xiao Qiang, director of the China Internet Project at the University of California at Berkeley:
But the [new internet] rules also reveal rising anxiety among [China's communist party] rulers over a "digital activism" that is driving change across Chinese society… Those worries have been heightened…by the sudden rise in popularity of quasi-autonomous services such as WeChat, which has become ubiquitous in some major cities. "There are millions of Chinese citizens capable of circumventing the Great Firewall,…that has left leaders fearful of losing control of online media, which plays an essential role of shaping public minds in China today.
China has a population of 1.371 billion people. With "millions of Chinese citizens capable of circumventing the Great Firewall" do you think China's communist government will "lose control of online media, which plays an essential role of shaping public minds in China today"? Explain your answer.
Daily "Answers" emails are provided for Daily News Articles, Tuesday's World Events and Friday's News Quiz.