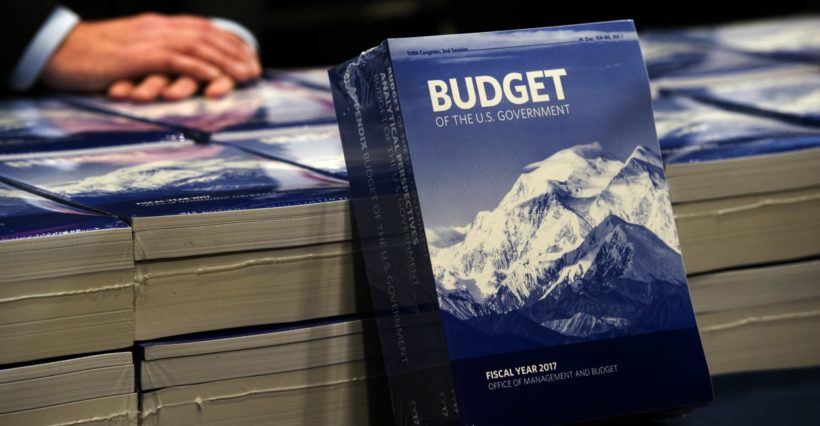 (by Kevin Liptak, CNN) WASHINGTON, D.C. — President Donald Trump previewed a budget plan Wednesday he said would be focused intently on slashing spending in a bid to reduce the national debt.
It's one of three major legislative proposals the White House is preparing ahead of Trump's address to lawmakers next week on February 28, his first speech to a joint session of Congress as President. [In addition to the budget, President Trump is expected to address health care and tax reform.]
Trump said Wednesday that plans were nearly final for a health care measure that would replace the Affordable Care Act, and for the tax reform package that he promised on the campaign trail.
The White House said Trump was aiming to release his budget blueprint by mid-March, though officials acknowledged the document would amount to only a framework, and not a full plan, since key members of the White House team have just begun work [because Congress took so long to confirm them]. Mick Mulvaney, Trump's budget director [OMB], was only confirmed last week. [The Office of Management and Budget (OMB) is the largest office within the Executive Office of the President. OMB's most prominent function is to produce the President's Budget. Trump's OMB director Mulvaney was confirmed by Congress on Feb. 16; President Obama's first OMB director was confirmed by Congress on January 20, 2009, the day Obama was inaugurated. In January 2009, Democrats held the majority in both houses of Congress; in January 2017, Republicans hold the majority in both houses of Congress.]
Speaking ahead of his meeting Wednesday, Trump promised a plan that would allocate taxpayer dollars carefully, with an eye toward reducing wasteful spending.
"I want the American people to know that our budget will reflect their priorities. We'll be directing all of our departments and agencies to protect every last American and every last tax dollar. No more wasted money," Trump said at his meeting, which took place at the White House. …

"We're going to be spending the money in a very, very careful manner," Trump told reporters. "Our moral duty to the taxpayer requires us to make our government leaner and more accountable. We must do a lot more with less. And we must stop the improper payments and the abuses, negotiate better prices and look for every last dollar of savings."
… The White House has already identified certain government programs that could come under the knife in the budget proposal. People familiar with the budget plan confirmed reports that a series of federal programs were being considered for major cuts in Trump's budget. The affected organizations include the Corporation for Public Broadcasting and the National Endowments for the Arts and Humanities.
At the same time, Trump has vowed to [cut taxes and] increase military spending. Vice President Mike Pence repeated that promise [on the military] in Europe over the weekend on his first trip abroad since taking office.
"As we speak, the United States is developing plans for significant increases to ensure that the strongest military in the world is stronger still," Pence said during remarks at the Munich Security Conference.
A president's budget typically acts as a statement of White House priorities rather than an actual legislative vehicle. Members of Congress are responsible for drafting and passing a federal budget plan, though with Republicans in control of both chambers of Congress, this year's plan is more likely to reflect White House thinking….
Whatever plan does emerge will face stiff Democratic resistance, particularly if it contains the type of deep cuts to domestic programs that have been promised. Increasing military spending will require Congress to eliminate mandatory spending caps that were put in place in 2011 under Obama; Democrats are likely to insist that similar caps on domestic spending also be lifted.
Speaking Wednesday, [the President said] … "We have enormous work to do as the national debt doubled over the last eight years. Our debt has doubled over a short period of time." …
Reprinted here for educational purposes only. May not be reproduced on other websites without permission from CNN. For the original article, visit CNN .com.
Questions
1. a) What does President Trump say is the main focus of his budget plan?
b) What is purpose of this focus?
2. A president gives an annual State of the Union address to a joint session of Congress, however, as he has only been in office for a month in his first year, it is just an address to a joint session of Congress. President Trump will address Congress (and the American people) next Tuesday, February 28. What three major legislative proposals will he present in that address?
3. The White House said President Trump was aiming to release his budget blueprint by mid-March, but it will only be a framework, and not a full plan. Why is this so?
4. When speaking to reporters before his budget meeting on Wednesday, what did President Trump promise his plan will do?
5. a) What federal programs could potentially be cut under Trump's plan?
b) To reduce government debt, conservatives favor cutting spending; progressives favor increasing taxes. Ask a parent: with whom do you agree? Why?
6. a) What duty did President Trump say his administration has to taxpayers?
b) What is your reaction to this? (optimistic? pessimistic?) Explain your answer.
c) Ask a parent the same question. Discuss your answers.
CHALLENGE: Watch President Trump's address to Congress and the nation on February 28th.
Resources
Watch a CNN report:
Daily "Answers" emails are provided for Daily News Articles, Tuesday's World Events and Friday's News Quiz.