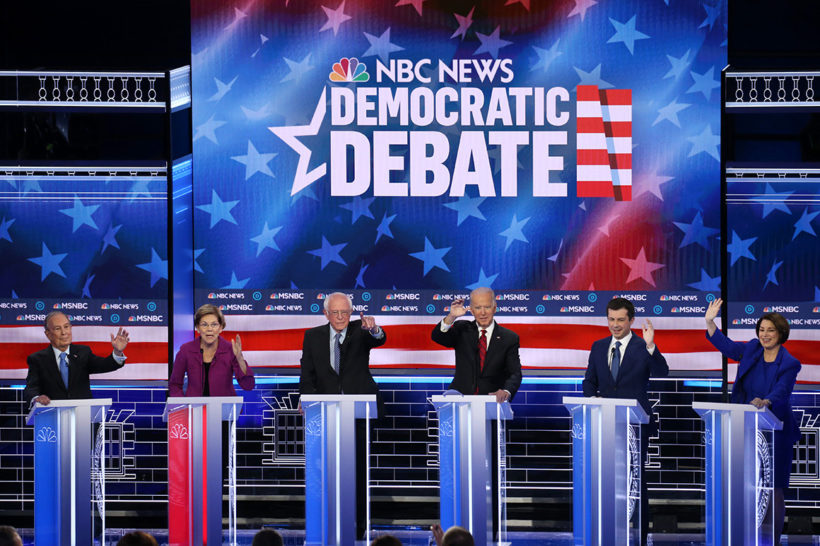 redo Jump to...
print Print...
(by Marc Caputo, NOlan D. McCaskill and Jesse Naranjo, Politico) — Democrats came out hot in Las Vegas on Wednesday with a new target onstage: Mike Bloomberg.
For the first time since his late entry into the race and after a $400 million ad campaign, Bloomberg faced five other Democrats eager to take him down in an unscripted environment.
But Bloomberg wasn't the only one to draw fire. Bernie Sanders, the primary's new frontrunner, faced questions on his health care plan and his refusal to release medical records after his heart attack.
Wednesday's debate is the last before Saturday's Nevada caucuses.
Here are some of the night's biggest moments [from the reporters'  and editor's point of view].
---
Sanders, the millionaire socialist:
A new NBC News/Wall Street Journal poll showed that two-thirds of voters are uncomfortable with a socialist candidate for president, which could be a problem for Sanders. But when asked about it, Sanders pointed out that he was leading in that very poll.
"Let's talk about democratic socialism," Sanders said, adding: "We are living in many ways in a socialist society right now. The problem is, as Dr. Martin Luther King reminded us, 'We have socialism for the very rich, rugged individualism for the poor."
Applause rang out.
"When Donald Trump gets $800 million in tax breaks and subsidies to build luxury condominiums, that's socialism for the rich," Sanders said. "We have to subsidize Walmart's workers on Medicaid and food stamps because the wealthiest family in America pays starvation wages. That's socialism for the rich. I believe in Democratic socialism for working people. Not billionaires. Health care for all. Educational opportunity for all."
Bloomberg quipped: "What a wonderful country we have. The best-known socialist in the country [Bernie Sanders] happens to be a millionaire with three houses. What did I miss here?"
Sanders: "You missed that I work in Washington."
Bloomberg then cut in: "That's the first problem."
Sanders continued, saying he has a home in Burlington, Vt. "I do have a summer cabin. Forgive me for that. Where is your home?"
"New York City, thank you very much," Bloomberg responded. "And I pay all my taxes. And I'm happy to do it because I get something for it."
---
Bloomberg appears to step in it on women and NDAs:
One debate moment can cause a candidate to slip badly, and Bloomberg's refusal to release women from non-disclosure agreements struck with his company marked a low point for his nascent candidacy.
"I have no tolerance for the kind of behavior the #MeToo movement has exposed. Anybody that does anything wrong in our company, we investigate it, and if it's appropriate, they're gone that day," Bloomberg said when asked about complaints women have made against him over the years. Bloomberg pointed out that his company was rated as the second-best place in America to work.
That's when Warren moved in for the kill: "I hope you heard his defense was: 'I've been nice to some women.' That just doesn't cut it."
She added: "What we need to know is exactly what's lurking out there. He has gotten some number of women — dozens, who knows? — to sign nondisclosure agreements both for sexual harassment and for gender discrimination in the workplace. So, Mr. Mayor, are you willing to release all of those women from those nondisclosure agreements? So we can hear their side of the story?"
Cheers and applause followed.
Bloomberg started to say, "We have a very few nondisclosure agreements," when Warren interrupted him, asking, "How many is that?"
Bloomberg didn't answer, but said none of the women "accuse me of doing anything other than, maybe, they didn't like a joke I told."
The audience jeered.
"There's agreements between two parties that wanted to keep it quiet. And that's up to them. They signed those agreements, and we'll live with it."
Warren: "I want to be clear. Some is how many? And when you say they signed them, and they wanted them, if they wish now to speak out and tell their side of the story about what it is they alleged, that's now OK with you?"
She went on: "This is also a question about electability. We are not going to beat Donald Trump with a man who has who knows how many nondisclosure agreements and the drip, drip, drip of stories of women saying they have been harassed and discriminated against. That's not what we do as Democrats."
Bloomberg responded finally: "I said we're not going to get — to end these agreements because they were made consensually, and they have every right to expect that they will stay private."
More jeers followed.
---
Warren savages Bloomberg, the rest pile on:
Elizabeth Warren welcomed Mike Bloomberg to the stage and whacked him rhetorically in a way so far unseen in the Democratic primary.
"I'd like to talk about who we're running against: A billionaire who calls women fat broads and horse-faced lesbians, and no, I'm not talking about Donald Trump. I'm talking about Mayor Bloomberg," Warren said to kick off the debate.
"Democrats are not going to win if we have a nominee who has a history of hiding his tax returns, of harassing women, and of supporting racist policies like redlining and stop and frisk," she continued. "Look, I'll support whoever the Democratic nominee is, but understand this: Democrats take a huge risk if we just substitute one arrogant billionaire for another."
Amy Klobuchar followed up, saying the Bloomberg campaign arrogantly said three moderate Democrats should just step out of the way to help him win the nomination and defeat President Donald Trump.
"I think we need something different than Donald Trump," she said. "I don't think you look at Donald Trump and say, 'We need somebody richer in the White House.'"
After noting that an NBC poll showed he leads Trump by the widest margin of anyone in the Democratic field, Joe Biden piled on.
"The mayor says that he has a great record. The fact of the matter is, he has not managed his city very — very well when he was there. He didn't get a lot done," Biden said. "He has stop and frisk, throwing close to 5 million young black men up against a wall."
---
Dems criticize Sanders for online behavior of his supporters:
A question to Warren about whether behavior of some Sanders supporters would hurt unity in the general election sparked a pile-on to the self-described democratic socialist.
"I've said many times before, we are all responsible for our supporters and we need to step up," Warren said. "That's what leadership is all about."
Sanders responded to Warren, saying of the millions of Twitter followers, "99.9 percent of them are decent human beings, are working people, are people who believe in justice, compassion and love. And if there are a few people who make ugly remarks, who attack trade union leaders, I disown those people." He then pivoted to harassment he said some of his campaign's female and African American staffers had received.
Buttigieg jumped in soon after, prefacing that he did not believe Sanders was directing the online activity, but then saying, "I think you have to accept some responsibility and ask yourself what it is about your campaign, in particular, that seems to be motivating this behavior more than others."
---
Serious as a heart attack
Sanders backed away from his pledge to provide full transparency after he had a heart attack late last year. When asked about it, Sanders made sure to pivot to how Bloomberg had a medical procedure as well.
"I think the one area maybe that Mayor Bloomberg and I shared, you have two stents as well," Sanders said.
Bloomberg chimed in: "25 years ago."
"Well, we both have two stents. It's a procedure that is done about a million times a year," Sanders said, pointing out that numerous physicians have attested to his health. "Hey, follow me around the campaign —three, four, five events a day, see how you're doing compared to me."
Buttigieg chimed in and said it wasn't enough.
"First of all, let me say we're all delighted that you are in fighting shape," Buttigieg said and then transitioned to how Sanders has not provided enough details about his health care plan's costs.
Sanders was happy to fight on more solid ground concerning health care, and pointed out that "Yale epidemiologists in 'Lancet' — one of the leading publications in the world — what they said, my friends, is Medicare for All will save $450 billion a year."
---
Buttigieg blasts Bloomberg, Sanders:
Questions
1. His fellow Democratic and Democratic-Socialist candidates attacked Michael Bloomberg during last night's debate. Why do you think they came out against Bloomberg specifically?
2. a) What remarks about women made by Mayor Bloomberg did Elizabeth Warren criticize?
b) What did you think of Bloomberg's response?
3. From the brief video clips in the article, how do you think Bloomberg did responding to the criticisms made against him? (Note: the debate was over an hour and a half long. To gain the best understanding of how each candidate did, watch it in its entirety.)
4. a) One of Bernie Sanders' top issues is "income inequality" and what he sees as the immorality of anyone being a billionaire. What point did Mayor Bloomberg make about Senator Sanders' financial status?
b) Are you surprised by this information? Explain your answer.
5. a) What problem did Mayor Pete Buttigieg have with both Bloomberg and Sanders?
b) What is your reaction to this criticism?
CHALLENGE: Watch the entire debate. Who do you think should be the Democratic nominee? Explain your answer.
Read the full transcript of the 9th Democratic debate, Feb. 19, 2020, hosted by NBC.
Watch the entire debate at NBC News.
Daily "Answers" emails are provided for Daily News Articles, Tuesday's World Events and Friday's News Quiz.