redo Jump to...
print Print...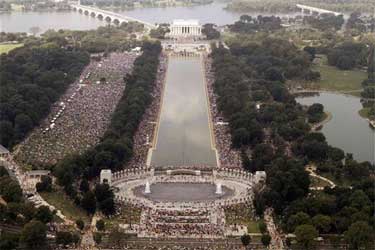 (by Neil King, Jr., The Wall Street Journal.com, wsj.com) WASHINGTON — Throngs of people carrying flags and lawn chairs packed nearly a mile of the National Mall at the foot of the Lincoln Memorial Saturday for a rally, organized by conservative broadcaster Glenn Beck, that carried the tone of a spiritual revival.
Many at the rally said in interviews that they were drawn by a sense of disenchantment over the country's direction, alarm over government spending and a sense that the country's political system was broken. The event featured three hours of religious and patriotic speeches but offered few details on how to fix the country's problems. …
The event, billed by organizers as a non-political gathering to honor U.S. troops and "restore honor" to the nation, was tinged with controversy in advance, as it fell on the same day that Martin Luther King Jr. gave his famous 1963 "I Have a Dream" speech at the same location.
Civil-rights leaders, who accused Mr. Beck of trying to co-opt and distort Mr. King's message, held a counter rally at the site of a nearby future memorial for Mr. King.
The National Park Service, conforming with its recent practice, said it would not provide a crowd estimate. But the gathering packed a vast area of the Mall and appeared to be one of the largest rallies of recent years in the nation's capital.
Organizers of the Beck rally tried to tamp down tensions over what Mr. Beck insisted was a mere coincidence of timing. The rally featured snippets of Mr. King's speech, while a niece, Alveda King, drew loud applause with a speech that was almost entirely religious in theme.
There were references during the rally to Mr. King's famous appeal in 1963 that people be judged by their character rather than their skin color. "We are a nation that has terrible, terrible scars, but we must look past them," Mr. Beck said. "We must look at the person inside."
Taking the stage early, former Alaska Gov. Sarah Palin, a potential 2012 presidential candidate and tea party favorite, told the crowd that she was speaking not as a politician but "as something much more" — the mother of a combat veteran. Her son, Track, served in Iraq. …
As did other speakers, Ms. Palin called for a renewal of American values. In a comment that appeared to be a veiled barb aimed at President Barack Obama and the Democratic agenda, she said: "We must not fundamentally transform America, as some would want. We must restore America and restore her honor."
"May this day be the change point," she said. "Let's stand together. Let's restore America."
The size of the rally, and Mr. Beck's position at center stage, marked a pivotal career turn for the controversial TV personality, who was clearly the rally's main attraction and has become an increasing force in U.S. political life. Mr. Beck's television program appears on Fox News, owned by News Corp., which also owns the Wall Street Journal.
Many of those in attendance said they were ambivalent toward Ms. Palin, but nearly everyone interviewed [said they really liked] Glenn Beck.
Saying he wanted to revive a practice begun by George Washington, Mr. Beck used the rally to award badges of merit to an array of what he called "exemplary Americans," including St. Louis Cardinals star Albert Pujols. He invited pastors, rabbis and gospel singers to deliver short sermons and perform.
But it was Mr. Beck who dominated the stage. He read the whole of Abraham Lincoln's Gettysburg Address, and quoted from Mr. King and Mr. Washington. He told personal testimonials of his own doubts and moments of despair, suggesting at one point that only a conversation with God earlier this year had given him the confidence to go ahead with the rally.
He urged the crowd to pray on its knees–"and with your doors open, so your children can see."
He portrayed an America on the verge of disaster, with only months left to set itself back on course. "We must advance or perish," he said. "And I choose advance."
He predicted that the rally would "start the heart of America again."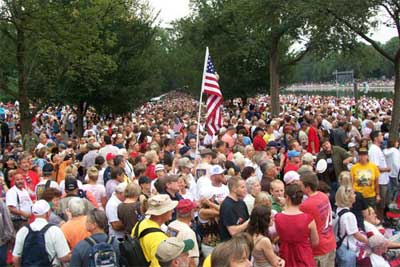 At a time when many voters are deeply uneasy over high unemployment and the country's struggling economy, the rally was strikingly free of allusions to the day-to-day issues that dominate on the campaign trail.
But those who came said they didn't want stump speeches. Julie Budrick drove down from Point Pleasant, N.J. with her husband, Steven. Dressed in a T-shirt emblazoned with an American flag, Ms. Budrick said she came because she wants "to restore the country to the way it was." She said she was alarmed by what she called the rising levels of "debt, dishonesty and corruption."
Fred Maresca, a small-business owner from West Windsor, N.J., found a perch with his wife and son in a nook of the World War II monument. A self-described "disenchanted former Republican," he said he was miffed at both parties. "I say we just vote them all out," he said.
Thousands of people came to the Mall on overnight bus rides from as far away as Missouri and Illinois. A blurry-eyed David Escue, a retired Postal Service worker, came in by bus from Colombus, Ohio, "to show how concerned I am about where this country is headed."
The Beck rally organizers say the event is a fund-raiser for the Special Operations Warrior Foundation, a Tampa, Fla.,-based group that gives scholarship grants to the children of special-operations soldiers killed in battle. The group, which took in $5.7 million in contributions last year, also is paying for the event, which is expected to cost at least $2 million. The foundation's website says it is currently providing educational grants to more than 800 children.
Mr. Beck said at the end of the rally Saturday that $5.5 million had been raised. …
Many people wore shirts with American flags and faces of heroes from the American Revolution. People followed the instructions to bring no political signs.
"These are just totally normal, go-to-work, Honey-can-I-do-the-dishes people — who are fed up," said David McGregor, a real-estate developer who had flown to Washington from Orlando, Fla.
After the rally, a number of people said they took as the main message of the gathering that they had to get their own houses in order. "This is about each of us individually," said John Houck, a Vietnam War veteran who had come from Raleigh, N.C.
The gathering was also his first-ever political event. "We are not rally people," he said, standing beside his wife, Louise.
Write to Neil King Jr. at neil.king@wsj.com.
Copyright 2010 Dow Jones & Company, Inc. All Rights Reserved. Reprinted here for educational purposes only. Visit the website at wsj.com.
Questions
1. From para. 5: "The gathering packed a vast area of the Mall and appeared to be one of the largest rallies of recent years in the nation's capital." Approximately how many people attended the "Restoring Honor" rally on Saturday in Washington D.C. organized by talk-show host Glenn Beck? (see "Background" below)
2. Americans traveled to Washington from all over the country, many traveling on buses for 10-20 hours or more. For what reasons did people say they attended the rally? (para. 2, 19-21)
3. What was the purpose of the rally, according to organizers? (see para. 3)
4. What practice begun by George Washington did Glenn Beck revive at the rally?
5. The reporter states "The event featured three hours of religious and patriotic speeches but offered few details on how to fix the country's problems." What suggestion did Mr. Beck have for the crowd for how to fix the country's problems? (see para. 15)
6. What was your initial impression of the rally based on news reports you saw/read?
7. How significant do you think the size and message of this rally will be? Be specific.
Background
from an Associated Press
report
in The Washington Times:
The crowd … was a sea of people standing shoulder to shoulder across large expanses of the Mall.
The National Park Service stopped doing crowd counts in 1997 after the agency was accused of underestimating numbers for the 1995 Million Man March.
However, based on official counts of similar events in the area, the crowd likely numbered more than 500,000.
and
[The rally took place on the 47th anniversary of Dr. Martin Luther King Jr.'s "I Have a Dream" speech, in the same place that Dr. King gave the speech – the steps of the Lincoln Memorial.]
Clarence B. Jones, who served as Dr. King's personal attorney and his speechwriter, said he believes King would not be offended by Beck's rally but "pleased and honored" that a diverse group of people would come together, almost five decade later, to discuss the future of America.
Jones, now a visiting professor at Stanford University, said the Beck rally seemed to be tasteful and did not appear to distort King's message, which included a re-commitment to religious values.
"I think it is the testimony to the power and greatness of the legacy of Martin Luther King Jr. in enabling America to make a peaceful transition from apartheid and racial segregation to a multiracial society where Glenn Beck or anyone would hold a rally at the Lincoln Memorial," Jones said in a telephone interview.
Alveda King, a niece of the civil rights leader, appealed to Beck rally participants to "focus not on elections or on political causes but on honor, on character…"
Daily "Answers" emails are provided for Daily News Articles, Tuesday's World Events and Friday's News Quiz.