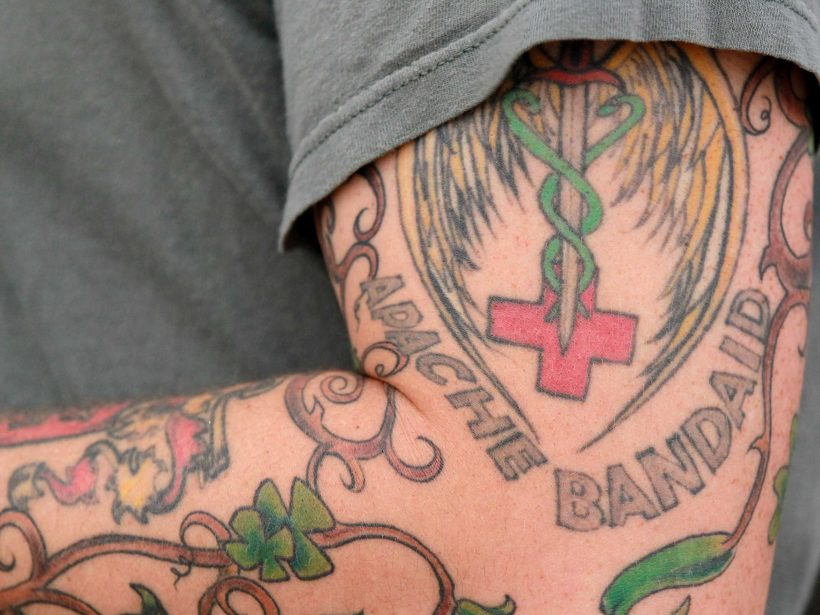 redo Jump to...
print Print...
(by Michelle Tan and Kathleen Curthoys, Army Times) – Under the Army's new tattoo policy, soldiers will be able to have ink on their arms and legs as long as it isn't visible in the Army Service Uniform.

This means sleeves are once again authorized as long as they don't extend past the wrist, Sergeant Major of the Army (SMA) Dan Dailey told Army Times.

"As long as it's not visible in the Army uniform … that's the spirit of what we went after," he said.

Army Chief of Staff Gen. Ray Odierno announced the upcoming policy change on Wednesday, April 1….The more lenient tattoo rules are based on input from soldiers, Odierno said.

"Society is changing its view of tattoos, and we have to change along with that," Odierno said. "It makes sense. Soldiers have grown up in an era when tattoos are much more acceptable and we have to change along with that." …

Under the new policy, there are no longer limits on the size or number of tattoos soldiers can have on their arms and legs, Dailey said.

Soldiers are still not allowed to have tattoos on their neck, head, face, wrists or hands. The exception is a ring tattoo on each hand, Dailey said.

Also banned are tattoos that are sexist, racist, extremist and derogatory, he said. "Those have not changed, regardless of position or location," he said.

The new policy will not take effect until a newly revised version of Army Regulation 670-1 is published. Army officials said they expect the regulation to be official in the "very near future."

Dailey saw firsthand soldiers' frustration with the current tattoo policy during his travels across the force.

The current tattoo regulation was released last March and updated in September. The highly unpopular policy limited to four the number of tattoos soldiers can have below the elbow and knee. It also limited the size of the tattoos to the wearer's hand.

The regulation also initially barred soldiers who ran afoul of the rules from requesting a commission, sparking anger among many soldiers. The September update grandfathered enlisted seeking a commission or appointment, as long as they have their commander's endorsement.

Dailey was surprised how strongly soldiers still objected to the tattoo policy. He found this out during his first troop visit in early March as sergeant major of the Army.

In a Q&A session with soldiers at Joint Base Lewis-McChord (JBLM), Washington, one solder stood up and argued that tattoos should be allowed, so long as they are not visible when a soldier is in his dress uniform.

"How many of you agree with that?" Dailey asked the group of about 100 soldiers. Almost all of them immediately raised their hands.

After his session with the soldiers, Dailey told Army Times he was surprised by the soldiers' almost overwhelming opposition to the tattoo policy.

"I thought this had settled quite a bit," said Dailey, who has no tattoos. "Obviously it has not."

He added: "I don't want this to be the deciding factor for a good soldier to get out [leave the military]."

Since his trip to JBLM, Dailey has solicited feedback on the tattoo policy from soldiers at places such as Fort Benning, Georgia, and Fort Bragg, North Carolina.

This issue was "something the chief of staff of the Army [Ray Odierno] asked me to take a look at as the new sergeant major of the Army," Dailey said. "This wasn't something SMA Dailey led. The chief has a very good pulse on the force."

What he found when talking to soldiers was they were "still very much concerned," Dailey said. "This is very much a morale issue for the United States Army," he said.

In his reports to Odierno and Army Secretary John McHugh, Dailey said he was "very clear. I asked soldiers in a very straightforward way, 'will good soldiers get out as a result of this?'" Dailey said. "That's what I didn't want to happen. I made a recommendation to the Army leadership based upon that." …

[Daily also explained that] not only were the stricter tattoo rules controversial among soldiers, it also had an impact on recruiting. "There is a large portion of the American society that has tattoos," he said. "There was a population that we were disqualifying from military service because of this new regulation."

Dailey said the new policy is "the right decision."

"I don't think there was any wrong in the past, I was part of the previous decision, too," he said. "We had gotten too far out of the regulation, but I think what we're doing is appropriate with regards to maintaining the trust and confidence of the American people and maintaining discipline and standards in our great Army." …

Leaders who are more informed are less emotional, Dailey said, and leaders need to listen to soldiers.

"Do we have to listen to everything soldiers have to say? No, you don't," he said. "But you do have to listen to soldiers. You still have to be out there with them every day. You've got to be present."

Reprinted here for educational purposes only. May not be reproduced on other websites without permission from Army Times. Visit the website at armytimes .com.
Questions
1. What policy change announcement did Army Chief of Staff Gen. Odierno make on April 1?
2. How long had the current policy been in place? What did it initially bar but then revise in September?
3. When will the new policy take effect?
4. a) How is the policy changing?
b) What requirements will stay the same?
5. Why is the Army making this change? List at least 3 reasons.
6. Ask at least two people from each age group: teens, parents' age, grandparents age:
What do you think of the change in the Army's tattoo policy? Makes sense, bad idea, makes no difference. Explain your answer.
Background
Army Regulation 670-1, the rule governing soldiers' appearances, was tightened last March when the Army expressed a wish to maintain a more professional look.
The rules stated: "No tattoos on the head, face, neck and hands. No extremist, indecent, sexist or racist ink. No more than four visible tattoos below the elbows and knees. In addition, those tattoos must be smaller than the size of the wearer's hand. Visible band tattoos cannot be more than 2-inches wide. Sleeve tattoos are not allowed."
Soldiers were unable to request commissioning without a waiver if their tattoos fell into one of the categories listed above.
Daily "Answers" emails are provided for Daily News Articles, Tuesday's World Events and Friday's News Quiz.