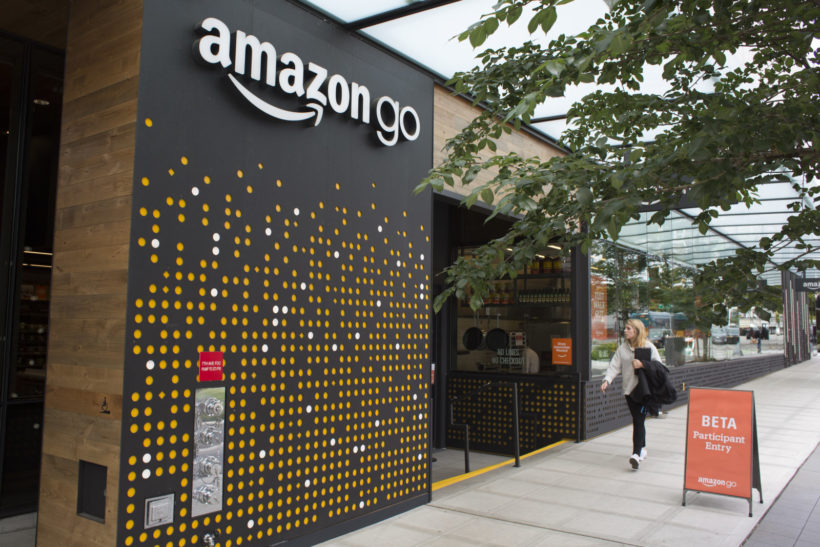 (by Olivia Zaleski, Bloomberg News) – For the past year,  Amazon employees have been test driving Amazon Go, an experimental convenience store in downtown Seattle. The idea is to let consumers walk in, pick up items and then pay for them without ever standing in line at a cashier. Amazon is vague on the mechanics, but the store relies on a mobile app and some of the same sensing technology that powers self-driving cars to figure out who is buying what. …
Amazon Go represents Amazon.com Inc.'s most ambitious effort yet to transform the brick-and-mortar shopping experience by eliminating the checkout line, saving customers time and furthering the company's reputation for convenience.
The push into groceries is a way for the company to get consumers to shop at Amazon more often. In September, the e-commerce giant acquired Whole Foods Market for $13.7 billion and has been cutting prices at the upscale grocery chain to drive traffic. On Wednesday, Whole Foods began offering deep discounts on Thanksgiving merchandise, including antibiotic-free turkeys, and signaled that the markdowns will get more aggressive as it adopts Amazon's Prime subscription service. Shares at Kroger and Sprouts tumbled after the announcement.
Amazon unveiled Amazon Go last December, saying it planned to open the store to the public early this year. However, the company encountered technical difficulties and postponed the launch to work out the bugs, The Wall Street Journal reported in March.
Seven months later, challenges remain, but the "just walk out" technology [that allows you to choose pick up your groceries and go] has improved markedly, according to a person familiar with the situation, who requested anonymity to speak freely about the project. And in a sign that the concept is almost ready for prime time, hiring for the Amazon Go team has shifted from the engineers and research scientists needed to perfect the platform to the construction managers and marketers who would build and promote the stores to consumers.
Amazon declined to comment.
Shoppers visiting an Amazon Go store will scan their smartphones upon entering. Cameras and shelf sensors will then work together to figure out which items have been removed and who removed them, the [anonymous source] says; there will be no need for tracking devices, such as radio frequency chips, embedded in the merchandise. When shoppers leave, algorithms will total the order and bill their Amazon account.
The system is working well for individual shoppers but still struggles to accurately charge people who are moving around in groups, such as families with grabby kids, the [source told Bloomberg News]. Go engineers have been studying families shopping together and are tweaking their sensors to recognize when a child eats an item while wandering around the store. Engineers are also figuring out which person to charge when a couple goes shopping together. Amazon has encouraged employees to enter the store in pairs and buy lunch.
The company is conducting further tests and focus groups from an undisclosed building in Seattle, the person said. The focus groups are used to design protocols for in-store returns, spoiled or damaged merchandise and customer service issues that are common to brick-and-mortar retail.
It's unclear how quickly Amazon Go will ramp up. The company has moved deliberately with its brick-and-mortar book stores, opening just 13 in seven states since launching the first one in Seattle two years ago. Analysts expect a version of Amazon Go technology to be rolled out eventually at Whole Foods. That's a far more challenging prospect because Whole Foods locations are much larger than the 1,800-square-foot convenience store and carry thousands more products. Amazon, which says it currently has no such plans, would need a lot more testers…to pull that off.
Reprinted here for educational purposes only. May not be reproduced on other websites without permission from the Bloomberg.
Questions
Please Note:  In place of next week's content there will be a special Thanksgiving post. Regular schedule will resume Monday, Nov. 27.  Best wishes for a Happy Thanksgiving!
1. The first paragraph of a news article should answer the questions who, what, where and when. List the who, what, where and when of this news item. (NOTE: The remainder of a news article provides details on the why and/or how.)
2. Define 'brick and mortar' and algorithm as used in the article.
3. What is the idea of Amazon Go? (How will it transform the grocery shopping experience?)
4. a) For what reason did online shopping giant Amazon getting into the grocery store business? (Jeff Bezos purchased Whole Foods recently.)
b) What strategy is Amazon using with Whole Foods to grow the customer base?
c) How has this affected grocery store chains Kroger and Sprouts?
5. How does Amazon Go work?
6. What main challenge do engineers still face before the store can open? How are they working to solve it?
7. Jeff Bezos, who with a net worth of $72.8 billion, was listed as the richest man in the world this summer (before being bumped down to 3rd place) is also opening Amazon brick and mortar bookstores – one near the location of a giant Borders Bookstore that closed in NYC and one down the block from a large Barnes and Noble that closed outside of Washington DC. He also bought The Washington Post newspaper.
Some people believe Amazon is becoming a monopoly. If true, would that make you less likely to shop at an Amazon Go in your neighborhood? Explain your answer.
Resources
Watch a Nov. 15 Bloomberg report:
Daily "Answers" emails are provided for Daily News Articles, Tuesday's World Events and Friday's News Quiz.