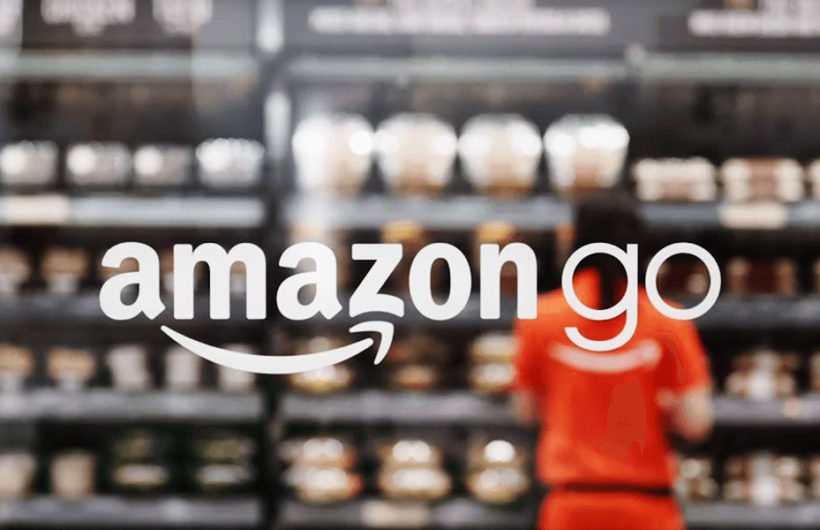 redo Jump to...
print Print...
(by James Covert, Linda Massarella and Bruce Golding, NY Post) – Amazon on Monday unveiled [Amazon Go], a futuristic grocery store without any cashiers.

High-tech sensors and artificial intelligence are allowing shoppers at the Seattle food market to swipe an app when they enter, then roam the aisles and grab staples like bread and milk, artisanal cheeses and chocolates and ready-made meals.

Customers can watch as the items they pluck off the shelves get added to a virtual cart on the app — and subtracted if they put them back — with receipts emailed to them once they leave, according to the company.

The 1,800-square-foot Amazon Go store is currently open only to employees of the online retail giant, but the company plans to start letting the public in next year.

Amazon will also test out "large, multifunction stores with curbside pickup capability" and "drive-through prototype locations," sources told the Wall Street Journal.

The company wants to open more than 2,000 brick-and-mortar grocery stores, compared with about 2,800 operated by The Kroger Co., now the nation's largest full-service grocery retailer.

Amazon's plans mark its latest push into the $800 billion-a-year grocery business, following its AmazonFresh grocery delivery service that began expanding across the country in 2013 and arrived in Brooklyn in late 2014.

[Amazon's launch] also threatens countless jobs at grocery stores, which are the leading employers of cashiers and had 856,850 on their payrolls in May 2015, according to the latest figures from the federal Bureau of Labor Statistics.

Britt Beamer, president of America's Research Group, a consumer-behavior research and consulting firm, estimated that Amazon's cutting-edge technology had the potential to wipe out 75 percent of typical grocery-store staff.

"It'll be a big job-killer," Beamer said. "It'll eliminate the cashier, it'll get rid of the baggers, it'll eliminate the stock clerks. This could be big."

Neil Saunders, managing director of the retail research firm Conlumino, called checkout lines "the most inefficient parts of the store experience," and said Amazon could both "save a lot on labor costs" and "make the process much quicker for consumers and much more satisfying." …

An Amazon spokeswoman declined to say how the company planned to prevent shoplifting.

The opening of Amazon Go follows the company's increasing use of warehouse robots and its heavily hyped scheme to deliver online purchases via a fleet of Prime Air drones, which Amazon predicts will one day "be as normal as seeing mail trucks on the road." …

In 2011, President Obama blamed automation for a lack of hiring.

"There are some structural issues with our economy where a lot of businesses have learned to become much more efficient with a lot fewer workers," he told NBC News.

"You see it when you go to a bank and you use an ATM, you don't go to a bank teller, or you go to the airport and you're using a kiosk instead of checking in at the gate," Obama said.

… The use of robots and other manufacturing efficiencies were responsible for 88 percent of the 7 million factory jobs the US has lost since peak employment in 1979, according to a study last year by Ball State University's Center for Business and Economic Research.

Additional reporting by Danielle Furfaro

Reprinted here for educational purposes only. May not be reproduced on other websites without permission from the New York Post.
Questions
1. Explain how Amazon's new grocery store – Amazon Go – will work.
2. a) Who is currently able to shop at this first Amazon Go in Seattle?
b) Why do you think this is so?
3. a) How many grocery stores does Amazon plan on opening?
b) How does this number compare to the number of stores operated by Kroger, the largest full-service grocery retailer in the U.S.?
4. What service did Amazon launch in 2013 as a precursor to AmazonGo?
5. What impact will Amazon Go have on jobs? Be specific.
6. What benefits will Amazon Go offer shoppers?
7. In what other ways has Amazon implemented automation in its business?
8. Some lament the loss of jobs with this type of growing automation; some hype the efficiency of this type of automation. Amazon utilizes practices that are aimed at offering good customer service, efficiency and time savers for consumers. It will cause certain jobs to be lost, but the company hires people in other areas (warehouses, shipping and receiving, delivery, management, etc.)
It still gives many people an uncomfortable feeling. Some are just opposed because they do not want one company dominating (and driving the 'little guy' out of business). What do you think: get with the times or fight the conglomeration?
In the long run, will Amazon Go drive all competition (like Kroger) out of business? If so, will this be good for consumers? Why or why not? Will it be good for workers? Why or why not?
Is Amazon's success and innovation inspiring to you, or is its growth and dominance discouraging? Explain your answer.
Background
A conglomerate is a corporation that is made up of a number of different, seemingly unrelated businesses. In a conglomerate, one company owns a controlling stake in a number of smaller companies, which conduct business separately. Each of a conglomerate's subsidiary businesses runs independently of the other business divisions, but the subsidiaries' management reports to senior management at the parent company.
The largest conglomerates diversify business risk by participating in a number of different markets, although some conglomerates elect to participate in a single industry – for example, mining. (from investopedia)
See list of companies acquired by Amazon at wikipedia.
Resources
Watch a promotional video from Amazon explaining Amazon Go:
Daily "Answers" emails are provided for Daily News Articles, Tuesday's World Events and Friday's News Quiz.