redo Jump to...
print Print...
EUROCONTROL is the European Organization for the Safety of Air Navigation. Its primary objective is "to develop a seamless, pan-European air traffic management."
NATS is the British air traffic control service.
(by Doug Cameron and Kaveri Niththyananthan, The Wall Street Journal, wsj.com) – More than half of Europe's regularly scheduled commercial flights were expected to remain grounded Friday and many of the regions busiest airline routes will be closed until Saturday, as the fallout from a volcanic eruption in Iceland continued, leaving thousands of travelers stranded and impacting global trade.
Airlines across the world were affected, with Eurocontrol, the 38-country agency in Brussels that coordinates European flights, estimating that only 11,000 flights will take place Friday in European airspace, compared with 28,000 flights on an average day. About 100 trans-Atlantic flights arrived of the 300 typically expected.
Air-traffic problems shifted Friday as the clouds of ash were blown across Europe. While limited airspace was reopened in Scotland, Ireland and Sweden, air-traffic controllers began to close down airspace in Germany, the Czech Republic and Bulgaria.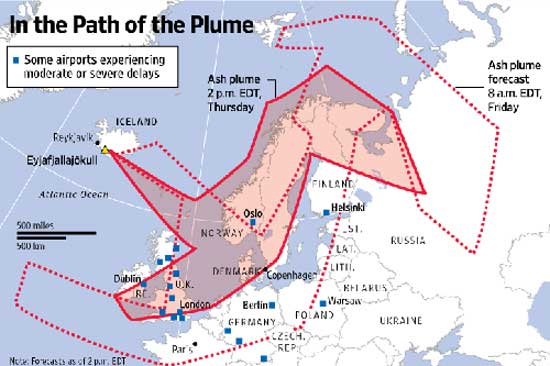 The U.K.'s National Air Traffic Control Service said it would restrict flying until 1 a.m. Saturday "at the earliest," extending a ban that had spread across Europe as the volcano's ash cloud drifted south.
Many of Europe's busiest passenger and cargo aircraft faced a second day of closure Friday, though the weekend could give operators an opportunity to reposition aircraft and staff if the flying ban is lifted.
A volcano under Iceland's Eyjafjallajokull glacier erupted Wednesday for the second time in a month, spewing clouds up to 30,000 feet into the air. Aircraft travel at altitudes up to 35,000 feet.
Volcanic ash is a significant safety threat to aircraft, and the cloud has spread across one of the busiest travel and trade routes in the world, forcing the closure of many of the region's key gateways, from Norway to France.
"In general, the situation cannot be said to be improving with any certainty as the forecast affected area appears to be closing in from east to west," NATS said Friday on its Web site. "We continue to work closely with airports, airlines and the rest of Europe to understand and mitigate the implications of the volcanic eruption."
Ashley Steel, who heads transport and infrastructure at KPMG, said the longer the disruptions continue, the harder it will be to clear the backlog of passengers on any spare capacity that may have existed on flights.
"Airlines will incur their biggest losses in the trans-Atlantic business passenger category; the impact on economy class revenues is likely to be diluted because people will change their bookings and eventually still fly," she said. "However, the bottom line is, for an airline like [British Airways], every day of their fleet being grounded is likely to cost tens of millions of pounds."
Ms. Steel added that some businesses such as rental-car firms, ferries, trains and hotels would benefit for the disruptions to air travel. Eurostar said seats were still available on Saturday and Sunday, but tickets for Friday sold out Thursday evening.
Dutch airspace remained closed Friday, while airspace over Poland also closed. Sweden reopened airspace in the north of the country, but restrictions remained in place in the south. German airports in Hamburg, Bremen, Dusseldorf, Bonn and Hanover were closed, and traffic at Frankfurt-the country's busiest airport-was expected to come to a partial halt as ash clouds moved into German airspace. No takeoffs were permitted after 8 a.m. local time (2 a.m. ET), a Fraport spokesman said.
France aimed to reopen its airspace at 2 p.m., Environment and Energy Minister Jean-Louis Borloo said in a radio interview. And the U.K.'s NATS said flights in Northern Ireland and the western isles of Scotland to and from Glasgow and Prestwick continued to be allowed until 7 p.m., subject to individual coordination. North Atlantic traffic to and from Glasgow, Prestwick and Belfast may also be allowed in this period, the service added.
BAA asked passengers not to travel to London's Heathrow or Stansted airports, and said that those with flights from Scotland should check with airlines.
Scores of flights from Asia and the Americas, meanwhile, were canceled or delayed for a second day. The Centre for Asia Pacific Aviation, or CAPA, estimated that some six million passengers could be affected world-wide if the closures continued for up to three days.
All major airlines in Asia were forced to cancel, delay or divert flights to and from Europe leaving thousands of passengers stranded. Japan Airlines said it had canceled 13 flights to and from London, Frankfurt, Amsterdam and Paris, while some that had departed for Europe earlier were forced to return. ….
The flight disruptions may also have grounded about half of the daily cargo volume between Asia and Europe, according to an Asia-based aviation analyst. About 7,000 tons of goods on average are flown daily from Asia to Europe and another 4,000 tons from Europe to Asia, the analyst estimated.
Oil traders were considering the potential impact on jet-fuel prices and trade in Asia, but they said the impact on fuel use would depend on how many days airspace around Europe remains restricted or closed.
Experts say the Icelandic eruptions could continue on-and-off for months, potentially leading to continued delays and closures. An expedition team that returned from the volcano Thursday found that the eruption was still going strong, with a lot of ash being propelled into the sky.
"We are most likely going to have an ash cloud for the next couple of days at least," said Oli Aranson, a meteorologist at Iceland's national meteorological office. He added that wind would continue to flow toward the British Isles until the middle of next week.
-Paul Sonne, Daniel Michaels, Mike Esterl, Costas Paris, Yoshio Takahashi, Wayne Ma and Marcin Sobczyk contributed to this article.
Write to Doug Cameron at doug.cameron@dowjones.com and Kaveri Niththyananthan at kaveri.niththyananthan@dowjones.com.
Copyright 2010 Dow Jones & Company, Inc. All Rights Reserved. Reprinted here for educational purposes only. Visit the website at wsj.com.
Questions
1. a) What is Eurocontrol?
b) How many flights did Eurocontrol estimate would take place in European airspace on Friday? How many flights take place on an average day?
c) By how much will trans-Atlantic flights be reduced on Friday?
2. As limited airspace was opening in Scotland, Ireland and Sweden, in what countries were air-traffic controllers closing airspace?
3. What type of businesses will benefit from the disruptions to air travel?
4. How many passengers worldwide could be affected if the closures continue for three days?
5. How will commerce be affected by the airspace closures?
6. When are the eruptions expected to end and therefore bring air traffic back to normal?
Background
from volcanoes.usgs.gov/hazards/tephra/ashandaircraft.php:
What can volcanic ash do to aircraft?
More than 80 commercial aircraft have unexpectedly encountered volcanic ash in flight and at airports [from 1980-1994]. Seven of these encounters caused in-flight loss of jet engine power, which nearly resulted in the crash of the airplane. A range of damage may occur to airplanes that fly through an eruption cloud depending on the concentration of volcanic ash and gas aerosols in the cloud, the length of time the aircraft actually spends in the cloud, and the actions taken by the pilots to exit the cloud.
Ash Reduces Engine Performance and May Cause Engine Failure
Ash ingested by jet engines may lead to the immediate deterioration in engine performance and engine failure. The principal cause of engine failure is the deposition of ash in the hot sections of the engine. Glass from melting volcanic ash will coat fuel nozzles, the combustor, and turbine, which reduces the efficiency of fuel mixing and restricts air passing through the engine. This causes surging, flame out, and immediate loss of engine thrust. Ash may also seriously erode moving engine parts, including the compressor and turbine blades, which reduces the efficiency of the engine.
Ash Abrades External Components of Airplanes
Volcanic ash is highly abrasive because it consists of hard, sharp rock fragments that easily scratch and erode plastic, glass, and metals. Any forward-facing surface of an airplane is likely to be damaged, including the cockpit and forward cabin windows, landing light covers, leading edges of wings and tail rudder, engine cowlings, and the radar nose cone. Cockpit windows may become so abraded and scratched that pilots have extreme difficulty seeing the runway on which to land the plane.
Ash Contaminates Interior of Airplanes
Air that enters an airplane's interior first passes through the engines. Some ash particles ingested through the engines will travel through the plane's ventilation ductwork throughout the plane. The ash may clog air-filter systems and spread throughout the cabin, contaminating cabin fixtures, carpeting, seat covers, and cushions. The ash can also damage the plane's electronic system, including power generators and navigation instruments.
Daily "Answers" emails are provided for Daily News Articles, Tuesday's World Events and Friday's News Quiz.