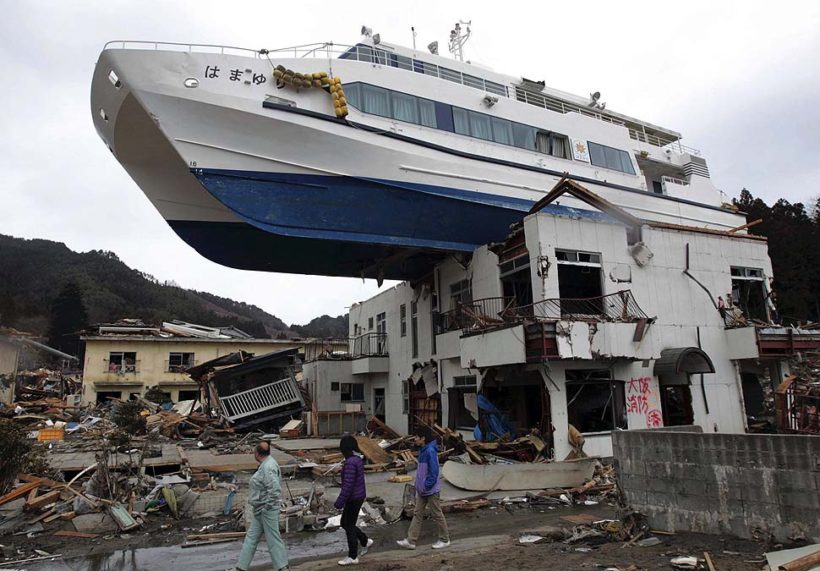 redo Jump to...
print Print...
(USA Today) OTSUCHI, Japan — Kozo Hirano can never forget that day five years ago (last) Friday.
Hirano and other town officials were discussing how to respond to a shattering earthquake that had just struck Japan's northeastern coast when cold, black water suddenly crashed into the town hall. Only 10 of 100 people in the building reached the safety of the roof. The others died in a 30-foot-high tsunami that struck 30 minutes after being triggered by the quake.
In all, the raging waters killed nearly 20,000 people, wiped out entire towns and city centers, caused one of the world's worst nuclear disasters and forever changed this part of the country. "We had too much faith in the levees," said Hirano, now Otsuchi's mayor.
Ceremonies to mark the anniversary of the 2011 disaster took place across Japan on Friday, as the long recovery efforts continue. Emperor Akihito and Empress Michiko appeared at a national service in Tokyo, and a minute of silence was observed nationwide at 2:46 p.m., the exact moment that the magnitude-9.0 earthquake — one of the most powerful ever recorded — struck about 40 miles offshore.
The government promised a massive response to the catastrophic damage. Nearly 400,000 buildings as far as 2 miles inland were damaged or destroyed. The nuclear power plant in Fukushima, about 150 miles northeast of Tokyo, suffered a partial meltdown. And 470,000 people were forced to find temporary homes, about half from the region surrounding the crippled nuclear plant.
Much has been accomplished since then. About 53 million tons of debris was hauled off to massive landfills and incinerators. New roads and rebuilt bridges dot the coastal area. Permanent housing has been found for nearly half of the evacuees, and residents have been allowed to return to some of the areas surrounding the Fukushima plant.
Yet, in many respects, the recovery is just beginning. According to the Japan Reconstruction Agency, 58,948 people still live in temporary homes — mostly prefabricated structures intended to last just two years. Many residents won't move to permanent housing until at least 2018.
Of nearly 600 levees and seawalls that the government plans to build, repair or replace along the rugged coastline, only 70 have been completed, and construction has yet to begin on many others.
Some of the delays appear to stem from a shortage of construction workers and materials diverted to the massive repair of the Fukushima nuclear plant and projects for the 2020 Tokyo Olympics.
Recovery plans in this small fishing village hemmed in by steep mountains provide a glimpse of the massive scale of the reconstruction efforts.
Otsuchi took more than a year just to develop a recovery plan, because nearly all of its government administrators were killed and records were destroyed in the tsunami. Altogether, 813 residents died and 421 remain missing. That's roughly 10% of the town's pre-disaster population, one of the highest fatality rates.
Recovery plans include raising the level of the town center by 8 feet in a spot where only the shell of the two-story concrete town hall remains standing. That will match the height of an adjacent highway and other higher ground. A new seawall nearly 50 feet high will be built, as well.
It took more than two years just to haul away the debris and rebuild roads and other basic infrastructure here. About 60% of the town's pre-tsunami population remains in temporary housing. Few will be able to relocate until the landfill project is complete and new homes can be built there.
Even then, no one really knows if the town will be spared from the next tsunami in this earthquake-prone area of the world.
"It's never going to be completely safe, but this will buy time to get to higher ground, and the water won't reach as far inland," said Hiroyasu Haga, 66, a school monitor and chairman of a residents' committee at a temporary housing complex just outside Otsuchi. Haga's home was destroyed in the tsunami, but he, his wife and many neighbors evacuated to higher land before the wall of water struck.
Hirano said strengthening evacuation procedures is a big part of the recovery plan. Just as important, he said, is the emotional recovery for Otsuchi's surviving residents.
"This town was built over hundreds and hundreds of years, but in … just 10 or 15 minutes it was completely destroyed," Hirano said. "I saw people lose their lives just in front me. How do you recover from that? You have to rely on your family and your friends and your neighbors. That's the only way."  (Psalm 46)
Reprinted here for educational purposes only. May not be reproduced on other websites without permission from USA Today. Visit the website at usatoday .com.
Questions
1. Describe the devastation brought about by the 9.0 earthquake that struck off the coast of Japan on March 11, 2011.
2. What does Kozo Hirano blame for the huge loss of life in his town that day?
3. How did Japan commemorate that tragic day five years later?
4. What type of recovery has been accomplished in the past five years?
5. What work still needs to be done?
6. What is believed to be the reason for some of the delays in reconstruction?
7. Why are recovery efforts taking so long in Otsuchi?
Background
Ancient stone markers warned of tsunamis
MIYAKO, Japan (Associated Press) – Modern sea walls failed to protect coastal towns from Japan's destructive tsunami in 2011. But in the hamlet of Aneyoshi, a single centuries-old tablet saved the day.
The stone slab reads: "Remember the calamity of the great tsunamis. Do not build any homes below this point."
It was advice the dozen or so households of Aneyoshi heeded, and their homes emerged unscathed from a disaster that flattened low-lying communities elsewhere and killed thousands along Japan's northeastern shore.
Hundreds of such markers dot the coastline, some more than 600 years old. Collectively they form a crude warning system for Japan, whose long coasts along major fault lines have made it a repeated target of earthquakes and tsunamis over the centuries.
The markers don't all indicate where it's safe to build. Some simply stand — or stood, washed away by the tsunami — as daily reminders of the risk. "If an earthquake comes, beware of tsunamis," reads one. In the bustle of modern life, many forgot.
…
"It takes about three generations for people to forget. Those that experience the disaster themselves pass it to their children and their grandchildren, but then the memory fades," said Fumihiko Imamura, a professor in disaster planning at Tohoku University in Sendai, a tsunami-hit city..
The tightly-knit community of Aneyoshi, where people built homes above the marker, was an exception.
"Everybody here knows about the markers. We studied them in school," said Yuto Kimura, 12, who guided a recent visitor to one near his home. "When the tsunami came, my mom got me from school and then the whole village climbed to higher ground."
Aneyoshi, part of Miyako city, has been battered repeatedly by tsunamis, including a huge one in 1896. Isamu Aneishi, 69, said his ancestors moved their family-run inn to higher ground more than a hundred years ago.
But his three grandchildren were at an elementary school that sat just 500 feet from the water in Chikei, a larger town down the winding, cliffside road. The school and surrounding buildings are in ruins. Their bodies have not been found.
Farther south, the tsunami washed away a seven-foot tall stone tablet that stood next to a playground in the middle of Natori city. Its message was carved in giant Japanese characters: "If an earthquake comes, beware of tsunamis."
Resources
Watch "2011 Japan Tsunami in 60 Seconds" from London's Dialy Telegraph:
---
Watch a report from London's Channel 4 News one week after the March 11, 2011 tsunami:
---
Watch a Sky News report with helicopter footage as the tsunami hit:
---
For photos of the aftermath of the earthquake and tsunami, go to boston.com/bigpicture/2011/03/japan_continuing_crisis.html.
Daily "Answers" emails are provided for Daily News Articles, Tuesday's World Events and Friday's News Quiz.