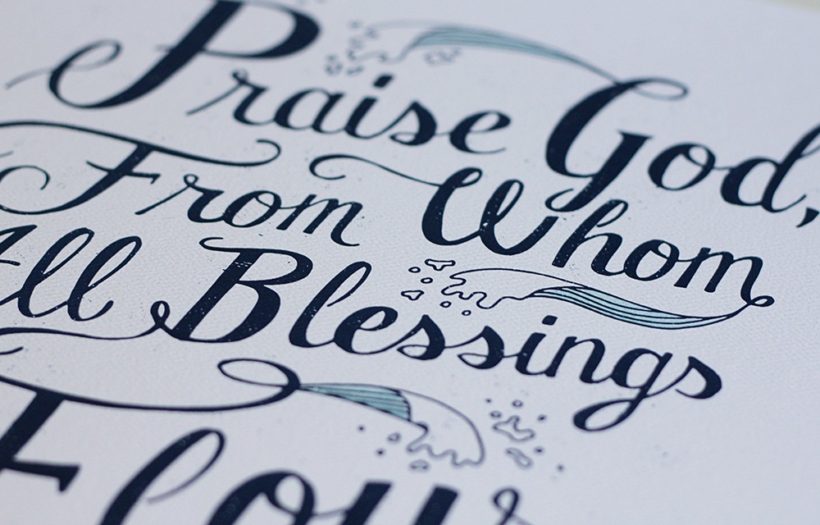 The following quotes are taken from Presidential Thanksgiving Proclamations:
"For the harvest that has sustained us and, in its fullness, brought succor to other peoples; for the bounty of our soil, which has produced the sinews of war for the protection of our liberties; and for a multitude of private blessings, known only in our hearts, we should give united thanks to God.  To the end that we may bear more earnest witness to our gratitude to Almighty God, I suggest a nationwide reading of the Holy Scriptures during the period from Thanksgiving Day to Christmas."
President Franklin D. Roosevelt, Nov. 1, 1944
"As was written in the first Thanksgiving Proclamation 120 years ago, 'No human counsel hath devised nor hath any mortal hand worked out these great things. They are the gracious gifts of the Most High God.' God has blessed America and her people, and it is appropriate we recognize this bounty."
President Ronald Reagan, 1982
"I earnestly recommend that, withdrawing themselves from secular cares and labors, the people of the United States do meet together on that day in their respective places of worship, there to give thanks and praise to Almighty God for His mercies and to devoutly beseech their continuance."
President Dwight D. Eisenhower, 1958
"It is eminently fitting that once a year our people should set apart a day for praise and thanksgiving to the Giver of Good, and at the same time that they express their thankfulness for the abundant mercies received should manfully acknowledge their shortcomings and pledge themselves solemnly and in good faith to strive to overcome them."
President Theodore Roosevelt, Nov. 2, 1905
"On [Thanksgiving] let us gather in sanctuaries dedicated to worship and in homes blessed by family affection to express our gratitude for the glorious gifts of God; and let us earnestly and humbly pray that He will continue to guide and sustain us in the great unfinished tasks of achieving peace, justice, and understanding among all men and nations and of ending misery and suffering wherever they exist."
President John F. Kennedy, Nov. 4, 1963
"Today let us take heart from the noble example of our first President. Let us pause from our many activities to give thanks to almighty God for our bountiful harvests and abundant freedoms. Let us call upon Him for continued guidance and assistance in all our endeavors."
President Ronald Reagan, Oct. 13, 1986 Thanksgiving Day, 1986
"America's oldest tradition, Thanksgiving is also a reaffirmation of our most deeply held values; a public recognition that, in the words of Thomas Jefferson, 'God who gave us life gave us liberty.' In gratitude for God's gift of freedom and 'for all the great and various favors which he hath been pleased to confer upon us,'  George Washington made Thanksgiving his first proclamation for the new Nation, and it is one we are privileged to renew each year."
President William J. Clinton, Nov. 11, 1996
"On that day let all of us, in accordance with our hallowed custom, forgather in our respective places of worship and bow before God in contrition for our sins, in suppliance for wisdom in our striving for a better world, and in gratitude for the manifold blessings He has bestowed upon us and upon our fellow men."
President Dwight D. Eisenhower, 1953
---
John Kennedy, 1963, quoted from Washington's Proclamation, including the plea to
"[B]eseech Him to pardon our national and other transgressions…"
Ronald Reagan, 1988, quoting Washington:
"[A] recognition of our shortcomings and transgressions and our dependence, in total and in every particular, on the forgiveness and forbearance of the Almighty."
President George H.W. Bush, 1990, quoting Washington:
"Let us seek His forgiveness for our shortcomings and transgressions and renew our determination to remain a people worthy of His continued favor and protection."
Read all of the presidential Thanksgiving proclamations at: pilgrimhallmuseum.org.
From the Thanksgiving Proclamations of several more Presidents:
George Washington, 1789
"Whereas it is the duty of all Nations to acknowledge the providence of almighty God, to obey his will, to be grateful for his benefits, and humbly to implore his protection and favor…"
George Washington, 1789:
"And also that we may then unite in most humbly offering our prayers and supplications to the great Lord and Ruler of Nations and beseech him to pardon our national and other transgressions…"
John Adams, 1798:
"[W]ith the deepest humility, acknowledge before God the manifold sins and transgressions with which we are justly chargeable as individuals and as a nation, beseeching Him at the same time, of His infinite grace, through the Redeemer of the World, freely to remit all our offenses, and to incline us by His Holy Spirit to that sincere repentance and reformation which may afford us reason to hope for his inestimable favor and heavenly benediction;"
James Madison, 1814:
"[A] day on which all may have an opportunity of voluntarily offering at the same time in their respective religious assemblies their humble adoration to the Great Sovereign of the Universe, of confessing their sins and transgressions, and of strengthening their vows of repentance and amendment.
Abraham Lincoln, 1863:
"[A]nd finally to lead the whole nation through the paths of repentance and submission to the divine will back to the perfect enjoyment of union and fraternal peace."
Abraham Lincoln, 1865:
"Whereas righteousness exalteth a nation, while sin is a reproach to any people. … And I do further recommend that on that occasion the whole people make confession of our national sins against His infinite goodness, and with one heart and one mind implore the divine guidance in the ways of national virtue and holiness."
Grover Cleveland, 1887:
"On that day let all secular work and employment be suspended, and let our people assemble in their accustomed places of worship and with prayer and songs of praise give thanks to our Heavenly Father for all that He has done for us, while we humbly implore the forgiveness of our sins and a continuance of His mercy."
Grover Cleveland, 1896:
"And let us, through the mediation of Him who has taught us how to pray, implore the forgiveness of our sins and a continuation of heavenly favor."
For the full text of every Presidential Thanksgiving Proclamation, go to: pilgrimhallmuseum.org.