"I thank God for keeping us alive all this while, while were drifting out in open sea. We prayed every day that someone will find us and rescue us. We thought we would die."
14 year old Edward Nasau, one of three teenage boys from the Tokelau Islands, a New Zealand-administered territory in the South Pacific, who had been given up for dead after an unsuccessful search. The teens – Samu Perez and Filo Filo, both 15, and Edward Nasau, 14 – left Atafu atoll in a small aluminium boat after an annual sporting event on October 5th. They were presumed to have died after unsuccessful searches by the New Zealand air force. When no sign of the tiny boat was found, their village of 500 people held memorial services for the boys. The teens spent 50 days adrift in the South Pacific and were rescued Nov 25.
"It's a miracle, it's a miracle. The whole village, they were so excited and cried and they sang songs and were hugging each other in the road. Everybody was yelling and shouting the good news."
Tanu Filo, the father of Filo Filo.
"We believed he was still alive anyway, we thought that God was still with them." Samu Perez's aunt told the BBC.
Read the story here. Watch a video below the map.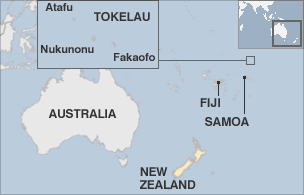 NOTE: Tokelau is a territory of New Zealand that consists of three tropical coral atolls with a combined land area of 6.2 miles and a population of approximately 1,400 in the South Pacific Ocean. The atolls lie north of the Samoan Islands, east of Tuvalu, south of the Phoenix Islands, southwest of the more distant Line Islands (both islands groups belonging to Kiribati) and northwest of the Cook Islands.