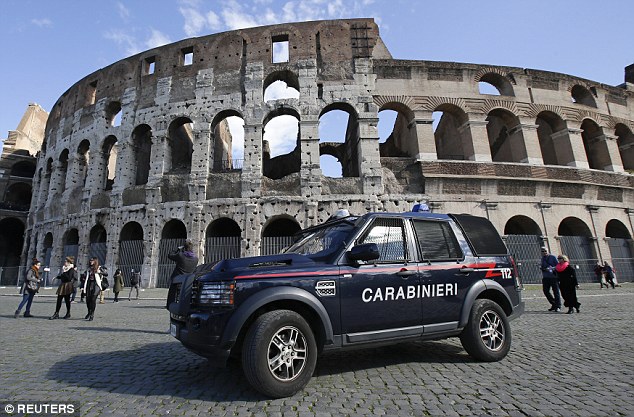 "We apologize for what we did. We regret it but we did not imagine it was something so serious."
Two tourists from California after they were arrested for carving their initials into a wall at the Roman Colosseum. The two women, ages 21 and 25, who snuck away from the tour group they were traveling with and used a coin to etch the 3 inch high letters "J" and "N" into a wall on the west side of the Roman amphitheater. Fellow tourists who spotted the vandals alerted security, who called the police.
The women, both from California, reportedly snapped a selfie of themselves with their initials before they were arrested. Their names have not been released.
The young women, whose names were not released, now face a fine for "aggravated damage to a building of historical and artistic interest," according to Italian newspaper La Stampa.
Though signs against vandalism are posted all over the site in Italian and English, the girls said they didn't realize that defacing a 2,085-year-old relic was that big a deal. After apologizing, they added, "We'll remember for a lifetime."
(The two Californian women aren't the only visitors to carve their initials on the Italian landmark. Last year, a Russian tourist was fined €20,000 ($21,727) for carving a 10-inch "K" on to the Colosseum. The 42-year-old man was spotted by a security guard scratching the letter on a wall using a pointed stone. The tourist was arrested by police at the scene, and given a suspended four-year jail sentence this past Saturday.)