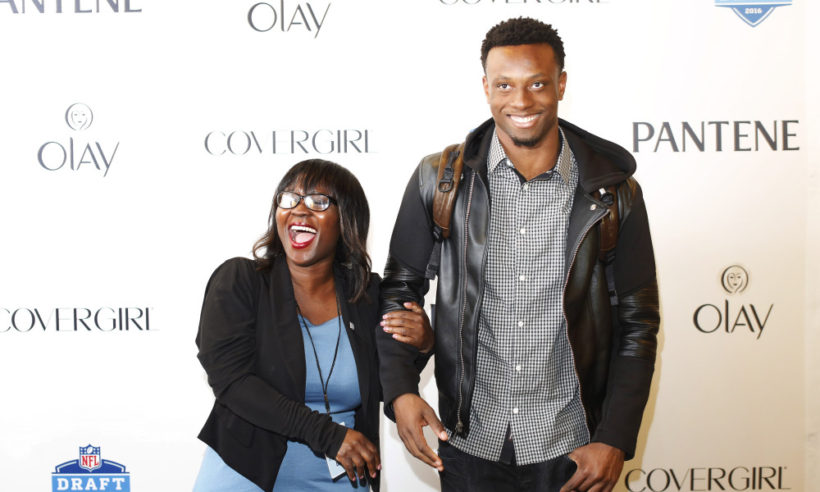 "Eli was offered Rolex watches and diamonds to wear on draft day. I told him, 'Dude, you're an unemployed college dropout. You will not be on TV with a Rolex.' So we decided if he needed to know what time it was, he could just look at his phone. I bought him a portable charger."
Annie Apple, the mother of Ohio State standout Eli Apple, who was taken 10th overall in the 2016 NFL draft by the New York Giants.
While Annie said "no" to free, shiny watches, she did say "yes" to the idea that her son could be like the other Eli — 12-year veteran, two-time Super Bowl MVP (and Apple's new teammate) Eli Manning. "He's like a black Eli Manning," she told The New York Post last week. "The personality, his facial expressions, the whole nine."
The cornerback isn't taken aback one bit by his mother's new-found fame or her pride in expressing herself.
"It does not surprise me one bit," Apple said. "I kind of expected it. It was something that I was thinking that I would have to account for because I know how she is and I know her personality on Twitter and out in public. I'm fine with it. It's nothing surprising at all."
Mrs. Apple further tweeted:
"There was a wonderful welcome reception for the family, though whomever planned the event forgot to include desserts. This is what happens when skinny women rule the world: they forget the chocolate. Clearly the commissioner owes me a brownie."
According to ESPN on Friday, NFL Commissioner Roger Goodell made sure she got her dessert. NFL spokesman Brian McCarthy sent an email to Annie's husband, Tim, a five-star chef himself.
"Just a head's up to be on the look out for a delivery of brownies today," McCarthy wrote. "The Commissioner was aware of Annie's disappointment in the lack of desserts at the Draft in Chicago and wanted to make up for it."
She tweeted her thanks: "Thank so much @nflcommish for the wonderful brownies &the nice note. That was incredibly thoughtful. So blessed to be part of the NFL family."