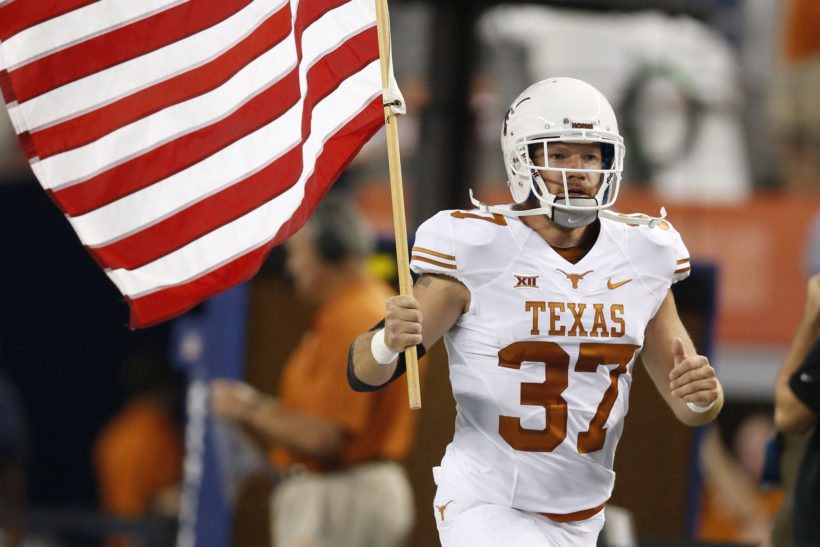 "I need teams to look past the fact I'm 34 years old, obviously. I'm not your average 34-year-old."
34-year-old Nate Boyer, who is trying to achieve the seemingly impossible for a man of his age: make an NFL roster for the first time.
After volunteering at a refugee camp in Chad in his early 20's – his 60-day visa could not be extended – Boyer decided to try to earn a spot with the US Army Special Forces in Fort Benning, Ga. Of the 145 who entered Special Forces training, 11 made it through.
"At my best, I could run two miles in less than 11 minutes. I could do 145 pushups in two minutes," he said.
Boyer traveled the world on missions, from Okinawa to Korea, from Bulgaria to Greece, and more. While in Afghanistan on his final deployment, the captain of the Afghan forces was shot in the throat and died. The bullet missed hitting Boyer in the face by 3 inches.
When asked how many people he killed, Boyer could not say for certain. "I am not going to answer that," he told the website. "I honestly don't know. I can tell you I am no Chris Kyle [the most lethal sniper in US military history, with 160 confirmed kills].
"But you don't really know because – well, you are in these battles, and you come back, and, last year, we had one firefight with 30 enemy KIA [killed in action], and you never know for sure who got who."
After his deployment, he wanted to go to college on the GI Bill. He enrolled as a 29-year-old freshman at the University of Texas, and tried to walk onto the football team, relying on his extreme physical condition to earn a spot. He had no game tap. He had never played football before in his life.
When coach Mack Brown found out Boyer had been a Green Beret, he gave Boyer the chance to lead the team onto the field each week, carrying the American flag.
Boyer said after his second year on the team, two long-snappers left, giving him a chance to win the job. He honed his skills during his final mission in Afghanistan and would go on to serve as the long snapper for 38 straight games for the Longhorns.
Now, he's fighting an uphill battle: trying to make the NFL at the not-so-young age of 34.
"I need teams to look past the fact I'm 34 years old, obviously," Boyer said. "I'm not your average 34-year-old."
Boyer is unlikely to get drafted, given his specialized position, but is expected to get a chance in a training camp as an undrafted free agent.
There are factors working for and against Boyer in his quest to make an NFL roster. The 5-foot-11, 220-pound Boyer is on the small side for a long snapper – the average long snapper is 6 feet 2, 245 pounds. There are also very few job openings at the position, as long snappers make very little money and can be easily retained for years.
Working for Boyer? He's accurate (he never once had an errant snap during his time at Texas) and has the proper velocity (the ball reaches the punter or holder at NFL-caliber speed), and comes with a "job recommendation" from Matt Overton, who is currently the Colts' long-snapper.
"His velocity is definitely there, and his accuracy is definitely there," Overton told MMQB. "This was my chance to see if this was just a good story or if he has a legitimate shot to make it. And there is no question in my mind he can do it. None. He can legit long-snap at the NFL level."
Read more about Boyer at: armytimes.com