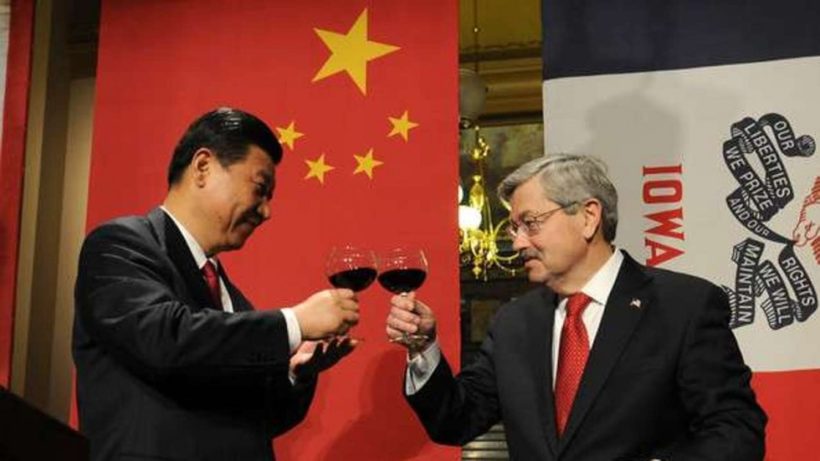 The following is an excerpt from OpinionJournal's "Best of the Web" at The Wall Street Journal written by the editor, James Taranto.
Pride and Prejudice
President-elect Trump has announced that he will nominate Gov. Terry Branstad of Iowa as ambassador to Beijing, the Washington Post reports. PJMedia notes that the news prompted a snotty tweet from Ian Millhiser, "justice editor" of ThinkProgress, a website published by John Podesta's progressive Center for American Progress: "I'm sure the governor of a small, rural, landlocked state full of white people will totally know a whole lot about China, and stuff."
Millhiser later followed up: "I deleted my tweet expressing concerns about the Branstad nomination as I've been convinced that my concern was not justified." It turns out Branstad does totally know a whole lot about China, and stuff, as the Post reports:
Branstad has extensive ties to China and a personal friendship with Chinese President Xi Jinping that dates back decades. If his nomination goes through, the move could help reassure China's leadership that Trump understands the importance of healthy relations with Beijing. . . .

Last month, less than week after Trump's victory, Branstad paid his seventh visit to China, meeting the country's agriculture minister as well as officials from Iowa's sister province, Hebei.

He has described Xi as an "old friend" and, during a 2015 interview with state news agency Xinhua, proudly displayed photographs of two meetings with the Chinese leader.

The first dated to 1985, when Xi made his first trip to the United States as a young agriculture officer from Hebei. The other was from 2012, when Branstad hosted a dinner at the Iowa Capitol for the then-vice president of China.

Branstad also met Xi on a visit to China in 2011. He said the pair spoke for 45 minutes as Xi reminisced about the hospitality he had received when he was in Iowa.
The Post adds that "under the Obama administration . . . the post of ambassador to Beijing had declined somewhat in importance," as "China policy was largely run out of the White House."
Oh, and the current ambassador to China is Max Baucus. Until 2015 he was a senator from Montana—a small, rural, landlocked state full of white people, and stuff.
For more "Best of the Web" from The Wall Street Journal's James Taranto click here.